Installing And Using The Fingerfox SE Fingerprint Addon For Firefox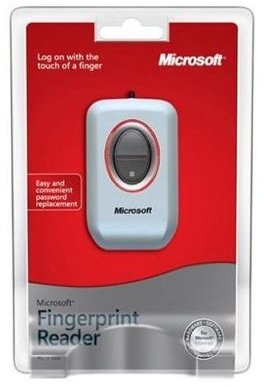 Using the Microsoft Fingerprint Reader With Firefox
Password security can be a hassle for the most savvy of users. Creating strong, unique passwords and then remembering them all is a lot to ask. On September 4th, 2004, Microsoft aimed to solve that issue by releasing a device that would replace passwords completely, conveniently allowing users to log into their computer and into websites with a touch of their finger instead. Called the fingerprint reader, it was just that. It registers and stores an image of your fingerprint, and when you touch the reader, it recognizes your unique fingerprint and accesses your passwords from there. The fingerprint reader for Firefox works in conjunction with Digital Persona, which securely stores the passwords for you.
All of that sounds great, but Microsoft stopped manufacturing the reader, and they offer no drivers for any 64-bit versions of their operating systems. In addition, as of the release of Windows 7, Microsoft has announced that they have no intention to offer further support for the product. However, if you have the 32-bit version of Windows 7, it is still possible to get it to work by changing a couple of things in the installation. It is entirely incompatible with the 64-bit version, unfortunately.
If you already have a fingerprint reader, great. If not, they're no longer manufactured, but you should be able to obtain a used one. As for installing, if you have a 32-bit Windows operating system installed on your PC that is Vista or older, the drivers for the device will work be readily available and the device will work as it should. If you have the 32-bit version of Windows 7, Blogfeld, a digital tips and tricks blog, provides a great guide to installing the reader on your PC. If you have a 64-bit operating system, you are out of luck.
Screenshot fingerprint reader courtesy of FatWallet.
Installing The Fingerfox SE Fingerprint Addon For Firefox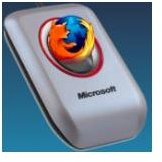 Alright, so you've found a fingerprint reader, and you've managed to get it working on your version of Windows. But why won't it work in Firefox now? Well, it's made by Microsoft, which means it was designed to work in Internet Explorer. There was an addon made years ago called Fingerfox, which caused Firefox to support the reader. However, the newest version of Firefox it works with is 2.0, so unless it's been a long time since you've updated your version of Firefox, that's going to be of no use to you.
Luckily, there's Fingerfox SE (second edition). This is an extended edition of the original plug-in, designed to work with the newest versions of Firefox. Also, in case the link in the addons section of Mozilla's page ever doesn't have the latest version available for download, that can always be found on the developer's website. Once you've downloaded it, go ahead and open the installer and follow the prompts you're given. As well, since Fingerfox SE is an addon with current and consistent support, the rest of your software should be current as well. Make sure you've got a new version of Digital Persona, and be sure to have MS. Net Framework 2.0 installed as well. With all of that in place, your fingerprint reader should work just fine in Firefox now.
Screenshot FingerFox SE credit courtesy of Mozilla Addons.
Using Fingerfox SE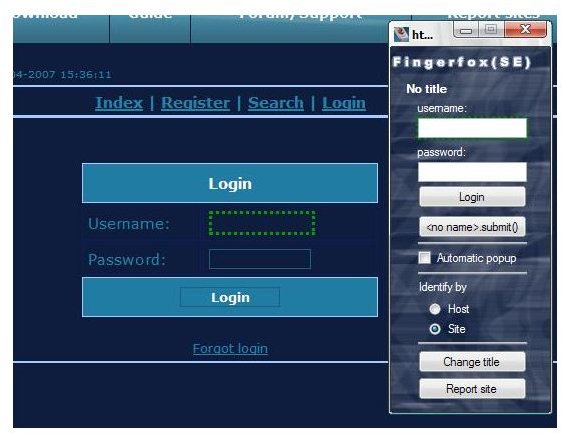 Using the Fingerfox addon is pretty simple as well; it works just the same as it would on Internet Explorer. Go to a site that you want to save your password to and click the icon in the status bar or press Alt+X to open the Fingerfox window. Now, teach Digital Persona your information by pressing your finger to the fingerprint reader, and filling in the login information in Digital Persona. This should now be stored and remembered for future use.
To login using this information later, go back to the site and open Fingerfox by again clicking on the icon or pressing Alt+X, and then simply press your finger to the reader and your login information will be filled in. To eliminate the hassle of always having to manually open the reader first, it can be set to automatically open on that site using the automatic pop-up option once the icon is selected. There is also an Identify field in the options, where it can be set to identify either by host or by site. If set to host, the addon will pop up on all sub-sites of the current site (meaning if login is required in various areas of the site it will pop up for all of them). If set to site, it will pop up only on the current site.
Finally, because the reader was designed for IE, there are some sites that may not work automatically with the addon. It shouldn't come up often, and it shouldn't come up with bigger sites, but some poorly coded sites may cause issues. Those sites need to be manually added by the developer. There is a report site feature in the addon options that you can use to inform the developer, and then hopefully, it will be added soon.
Again, refer to the developer's site, which provides a guide to usage as well as a FAQ, if you have any further issues, but if you've got the proper software in place, you should have no trouble at all. Now you can just tap your finger to log in, instead of having to type out all those usernames and passwords with these easy tips on how to use the fingerprint addon for Firefox.
Screenshot FingerFox SE Login courtesy of Amews.