Suggested Deep Web Search Engines for Academic or Scientific Research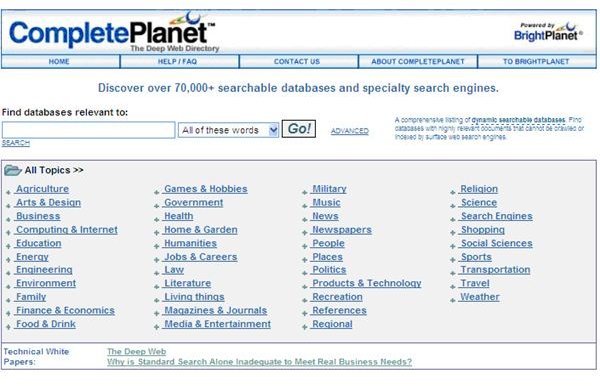 With deep web search engines you can gain access to the vast plethora of information that the spiders or crawlers of the usual search engines like Google, Bing, Yahoo Search and the like fail to index. In point of fact, the gamut of information available on the visible web is only a small fraction of the total information that the web holds. Deep web search engines offer a potent solution for extracting more specific information, especially of academic or scientific nature. Here's some information on some of the best deep search engines out there.
This easy to use search engine lets you scan more than seventy thousand databases for your search term. Specific searches can be performed across the fifty broad categories enlisted on its home page - ranging from agriculture to games, from finances to religion and from literature to science. The range of categories covered is astounding. To further facilitate you in making specific searches, the advanced search feature can be put to use which allows additional functions like searching for documents with Boolean queries, searching for documents with a specific title or you can even choose the time period in which the document was last updated.
If you wish to dig deeper into academic, research, government, print media or even military databases, CompletePlanet is worth a try.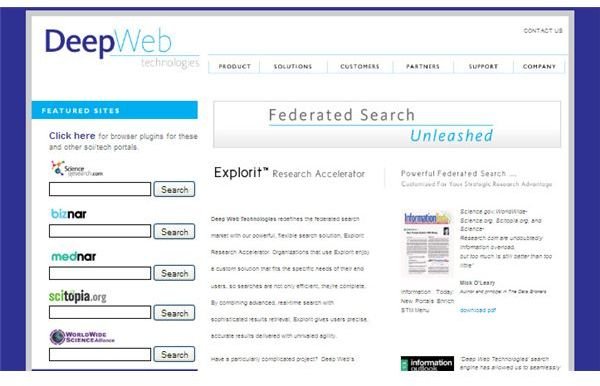 This deep web search solution is somewhat limited in its extent for it provides searching across three major categories only – science, business and medicine. It is a paid service that allows you to search all your databases through one interface. However it also includes a free trial. Try your search query with one of the five search engines enlisted on its home page.
Four More Options
There are dozens of other deep web search engines – each catering to one or more specific subject areas. For instance
Screen Shots taken by: Sidharth Thakur