Bible Study Help: Free Online Bible Concordance Search Websites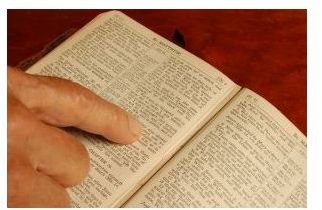 How to Use a Bible Concordance
A traditional, hard copy Bible concordance lists words in alphabetical order. You can purchase separate concordances and some Bibles include a concordance in the back of the book, although these may not be as in-depth due to their size. The benefit of using an online Bible concordance search is that you do not have to thumb through pages looking for the word or phrase you are researching. Instead, all you have to do is type a word or phrase into the site's search box.
You can use a concordance to find the chapter and verse of scripture you know but are unable to find on your own. This is especially helpful when you cannot quite recall the verse verbatim, but do know the gist of it. You can use a concordance to look up various verses centered around a theme or keyword, such as "hope" or "grace." Another way to benefit from a concordance is to learn the origin of the word and a deeper meaning of its use in a particular verse. In fact, you can build a comprehensive Bible study this way.
Make use of any or all of the online Bible concordance websites listed here to grow in biblical wisdom and understanding.
Bible Gateway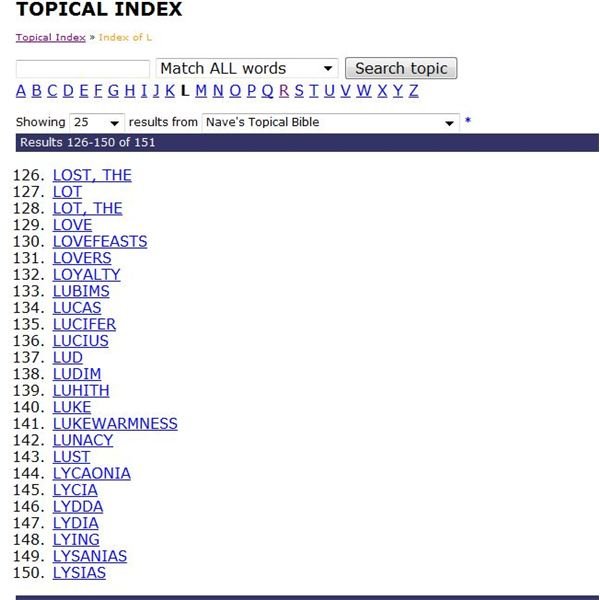 One of the most popular websites for Bible concordance searches, Bible Gateway allows you to search the Bible in dozens of different translations and languages. There are there different search options, as well.
The Passage Lookup option enables you to lookup one or several specific passages if you know the "address" of a scripture and would like to read it in a specific Bible translation, such as "Matthew 6:9-13."
The Keyword Search has several options. Enter a word or phrase and select Match ALL Words, Match ANY Words or Match EXACT Phrase. Choose the translation you want to search, such as King James or New International Version. Use the advanced options to determine how your results will be displayed.
Finally, the Topical Index is much like a traditional hard copy concordance. You can select a letter and choose a word that begins with that letter to view verses in which the word is used as well as similar words that you may wish to research.
Blue Letter Bible
Blue Letter Bible is a Christian ministry website that offers several free Bible study tools, including Bible concordance searches. Enter a word or verse and select the Bible version you wish to search. You can also use the advanced search options, such as a specific book of the Bible, a range of books or a custom location search.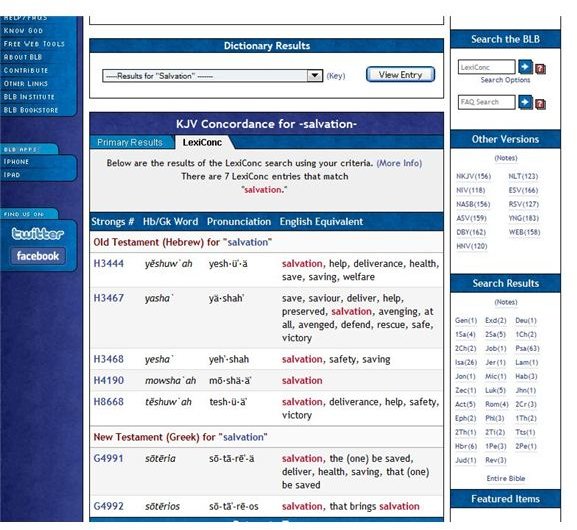 The first entry in your search results is Dictionary Results. Choose an option from the drop-down list and click View Entry to read more about the result.
Next are the concordance results. On the Primary Results tab, you will see scriptures that match your search word or verse. Go to the LexiConc tab if you wish to view LexiConc results, which provide you with the English definitions of the Hebrew and Greek words used in those specific verses. For example, in one instance the word "salvation" means deliverance or help while in another it may mean avenged. These options enable you to deepen your understanding of a word or verse as you study the Bible.
Online Parallel Bible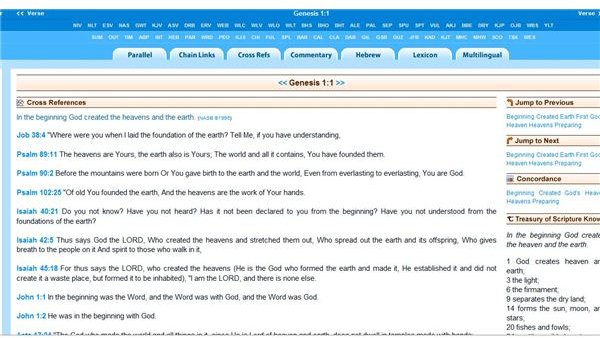 The final entry in this list of Bible concordance websites is Online Parallel Bible. Not only can you use this site to compare verses in several different translations side-by-side, but you can also perform a search with many advanced options. For instance, you can choose to search for verses with all of the words entered or narrow it down by excluding a word or words.
Go to the Cross Ref tab to view other biblical references of a verse you are reading. Check out the  Lexicon tab for Lexicon entries or the Commentary tab to read commentaries that provide detailed insight and explanations of search results.
As you begin to use a Bible concordance search, don't be surprised if you find it taking you deeper and deeper into God's word. You will discover eeper meaning and a richer understanding, even of those verses you know by heart.
Image Credits
Reading the Bible: sxc.hu/Julia Freeman-Woolpert
Screenshots: Tricia Goss