How to Delete Dogpile Web Search Results From the Dogpile Toolbar

Dogpile is a meta search engine. What this means is it grabs search results from various search engines like Google, Yahoo and MSN and compile them in a single listing. Dogpile claims that it can return 50% more search results than you get when you use a single search engine. As such it's known as the searcher's search engine. If relevant information is what you're looking for your search term, then it's Dogpile you should consider using.
If you don't wish to navigate to Dogpile's site each time you want to undertake a search, you may want to install the Dogpile Toolbar to enhance your search experience.
You should already know that your web browser keeps a record of your browsing history to speed up the loading of the same web pages you may visit the next time. What if you don't want your search history or visited websites seen by others who would be using your computer?
With web browsers like Internet Explores or Mozilla, you could easily delete the history. That's not going to be the case when you use the Dogpile Toolbar. With Dogpile you have to undertake a special step-by-step procedure to remove your search or browsing history.
This article will show you how to go about removing traces of your Internet-surfing activity while still being able to benefit from the Dogpile toolbar.
Clearing Dogpile Browsing History
The Dogpile toolbar is laid out in such a way that the options available are not clearly visible. So, you may not see the option for clearing browsing history in the toolbar mode. However, it could easily be located by clicking on the arrow button, next to the Dogpile button.

If you don't want to go through the trouble of deleting the search history each time after browsing, you can have the search history feature turned off permanently. You can do this easily by choosing Layout Manager in the drop down menu.
In the Layout Manager mode choose Settings. Under the Searches section, untick the Enable search history box and click OK.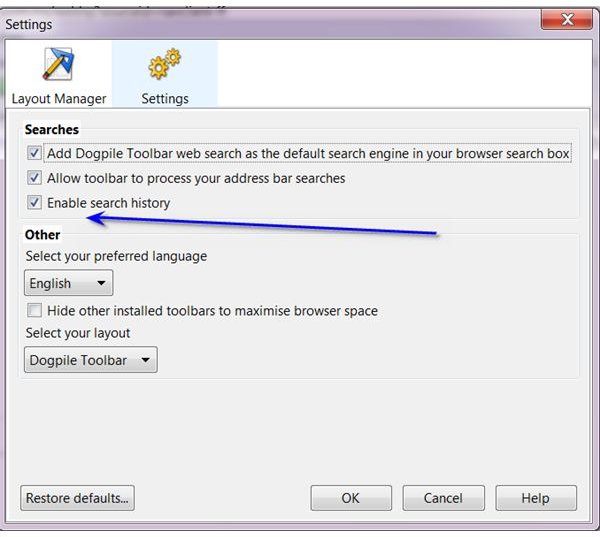 .
Removing Dogpile AutoComplete Information
You may also want to remove the AutoComplete feature which browsers employ to bring up information you've recently typed in the website address box or in forms. The whole idea is to save you time the next time you type in the same information. Here's the procedure to remove such information if you don't want it to be visible to others.
In Mozilla Firefox, click on Tools, then choose Options and click on the Privacy tab. Once there, click on Clear your Recent History. Make sure the Clear Saved Form Information is ticked before you click on Clear Now.
In Internet Explorer, select Tools and then click on Internet Options and then click on Content. Once there, choose Settings in the AutoComplete panel. Make sure the necessary options are ticked before you hit the Delete Autocomplete history.