Using the Google Scholar Search Engine, Find Scholarly Literature, Patents, and Legal Opinions Online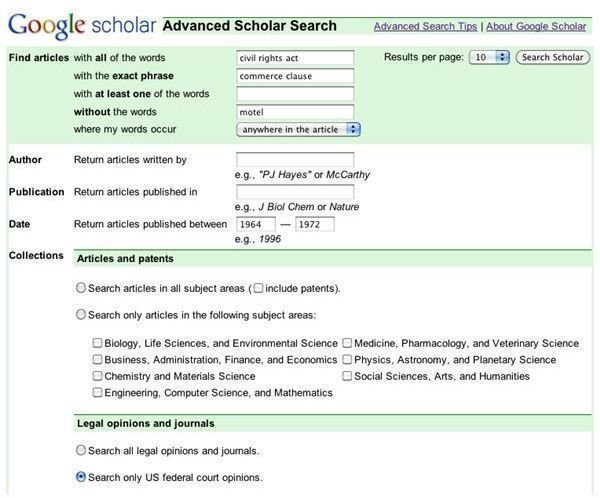 About Google Scholar
Google Scholar is a search engine for scholarly literature, abstracts, court opinions, patents, and more. It is based on the search technology that powers Google's web search engine. However, unlike Google's web search engine, the Google Scholar search engine ranks its results based on credentials that are important to researchers, such as who published the document and how many times it has been cited in other scholarly literature.
Like many Google resources, Google Scholar is in beta. This means that the service is still being tested and improved, and there may be known issues or bugs. However, in most cases Google Scholar should work normally and supplement other scholarly literature resources you may have.
Using Google Scholar
If you are familiar with other web search engines, then using Google Scholar should be fairly straightforward. To do a basic search, enter keywords or a subject in the search field. Any combination of keywords and subjects is allowed.
If you wish to search for a specific phrase, enter the phrase into the search field, and surround it with quotes. This will tell Google Scholar that you are looking for those words, in that specific order.
By default, Google Scholar will search for articles, including patents. If you do not wish to see patents, simply uncheck the "include patents" option under the search field. Legal opinions and journals can be searched by selecting the "legal opinions and journals" radio box.
Advanced Search Options
Google Scholar has advanced search options, similar to those in Google's web search engine. However, the advanced options in Google Scholar are geared towards finding scholarly literature based on credentials that are common among research material.
To access the advanced search options, simply click the Advanced Scholar Search link next to the search field. This will bring up a new page with a multitude of search options. At the top of the page you will find a few filtering methods that are common between Google's web search and Google Scholar. You can search by looking for all the words in your search, by exact phrase, with at least one word from your search, and without specific words. You can also determine if your search should be performed anywhere in the article, or just in the title.
To search for a specific author, publication, or within a date range, simply enter your criteria in the corresponding fields. Note that each option on the advanced scholar search page further filters search results.
Next, decide whether you wish to search articles/patents or legal material. Within the articles and patents area, you can search articles in all subject areas or only within specific areas. If you are searching for legal materials, then you can decide to search all legal opinions and journals, federal court opinions, or opinions from any number of states.
Tips to Save Time
Most of the options within the advanced search options page for Google Scholar can be manually entered into the search field. If you search Google Scholar often, it may be beneficial to learn this shorthand.
Google Scholar has an advanced tips page that describe how to take full advantage of the search field. Most of these search operators are similar to those of other search engines, including Google's web search engine.
As mentioned above, you can place your search phrase within quotes to search for that exact phrase. Additionally, you can use the + operator to include words that the Google Scholar search engine might typically ignore (for example, using +the will prompt Google Scholar to include the article "the" in its search).
Separating keywords or phrases with "OR" will indicate that you will accept either of the terms, or all of them.
Credits
https://scholar.google.com/intl/en/scholar/refinesearch.html