Perform a Facebook People Search Using These Tips and Tricks

Your Address Book
If you use a Web-based mail product such as GMail, Yahoo! or Microsoft's Hotmail, you already have a potent tool for your Facebook people search: your contact list. To make use of this features, click the "Find Friends" options in the top right hand corner of your Facebook home page.
After clicking the "Find Friends" option, you will see a list of the most common Web-based mail services, including AOL and Comcast. You can even click the "Other Email Service" option if the service that hosts your email is not listed.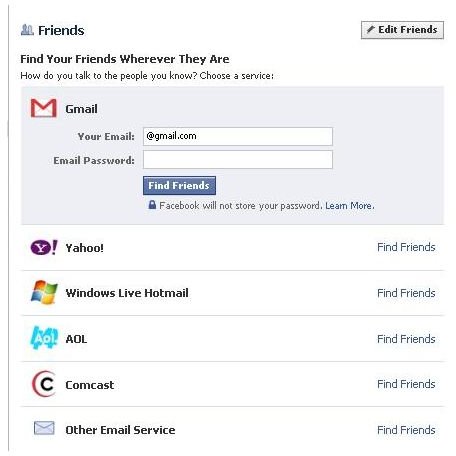 When you choose this method of Facebook name search Facebook will peruse your contact list and attempt to match people listed there with people who have Facebook accounts. You can then submit "Friend" requests to them to quickly and easily connect to people you communicate via email.
Other Tools
After you use the Facebook people search tool with your email contact list you can click the "Other Tools" option to continue your search.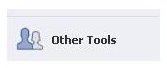 After clicking that icon, you will see that you have the option to upload a contact file that you have prepared on your computer, search for high school or college classmates, and even current and former coworkers.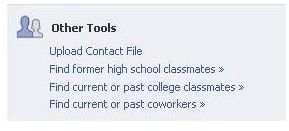 The "Upload Contact File" option allows you to upload your contacts from your Apple Mail, Outlook Express, or Mozilla Thunderbird programs.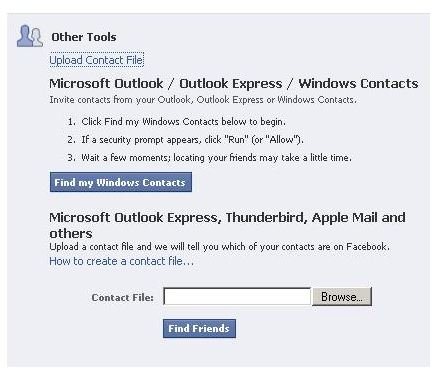 All you do is click the "Browse" button and browse to your contact file. If you aren't sure how to create a contact file, click the "How to create a contact file" link.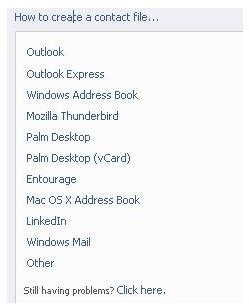 You will get instructions for how to create a contact file from a variety of sources including LinkedIn, Windows Mail, and Palm Desktop. Once you make a file, you upload it to Facebook and the Facebook system will search for matches and list them for you so you can make connections.
hen you click one of the other options, you will be taken to a search page that lets you find people by their name, or look for people from your school or college. Optionally, you can search for people in your graduating class. You can also enter your company name or the name of a former employer. Facebook will scour the site, looking for people that match your criteria.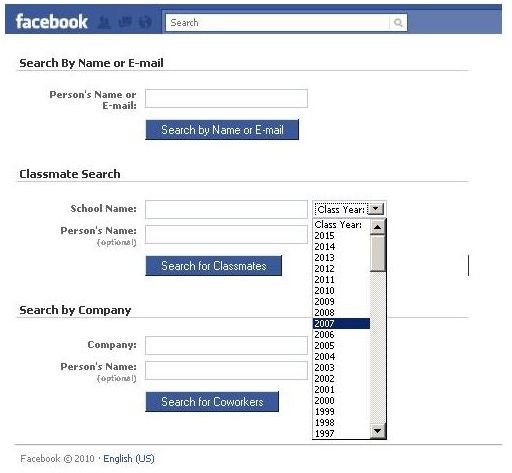 Using each of these methods will help you find the most people possible on Facebook with surprisingly little effort.
People You May Know
At the bottom of your "Find Friends" page is a section where Facebook suggest different people that the system thinks you might know. These suggestions are based on your profile. who your existing friends are, and other metrics in the system. Be sure to check these listings periodically and you will occasionally find people here that you have long forgotten.

Use these tips to conduct your Facebook people search more effectively. Now all you have to do is enjoy catching up on old times with all the people you reconnect with.
Image Credits: Screen shots taken by Bruce Tyson