How to Download, Install and Use the Dogpile Toolbar for Firefox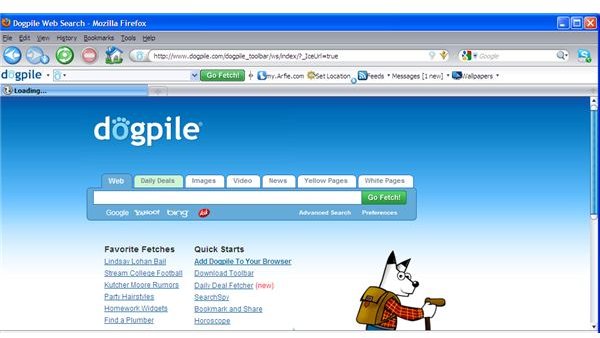 Dogpile is a whole new way of searching for information on the Internet. The Dogpile toolbar for Firefox, which works equally well with some other Internet browsers as well, is based on the concept of meta-search, where the search results are pulled in not just from one search engine but from most of the popular search engines, shown on the basis of relevance. This is a must have toolbar for all people whose work involves intensive researching on the Internet.
This browser add-on can be added either as a toolbar or as an addition to the inbuilt list of search engines provided in the search bar of the browser.
With the Dogpile search toolbar, getting search results from leading search engines such as Ask.com, Bing, Google and Yahoo Search can be done by just entering the search text into the Dogpile search box. There is no need to flip through various search engines to get better search results. One click and you'll get search results from all over the web.
Downloading and Installing in Firefox
To install the toolbar to your Firefox browser, just browse to the Dogpile website, and click on the 'Add Dogpile to your Browser' link. A popup will appear on your screen asking you whether you wish to add Dogpile to the list of search engines on your browser. Click on 'Add'. This will allow you to select Dogpile as the search engine when searching for information using the inbuilt search box in Firefox (mostly found in the upper right corner).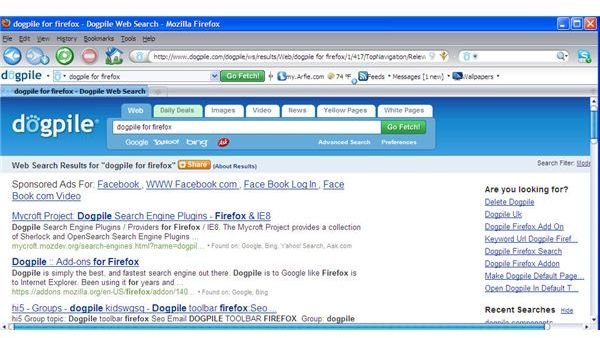 Next, click on the 'Download Dogpile Toolbar' link, and when asked, click on the 'Install' button. Once the installation is complete, you will be required to restart Firefox. When Firefox restarts you'll see the Dogpile toolbar.
To begin using it – just enter the search text into the search box provided in the toolbar, and click 'Go Fetch'
Downloading, installing and using the Dogpile add-on and toolbar is as quick and easy as this description.
Advanced Searching
Besides using the Dogpile toolbar for getting results from a range of search engines, it can be used to conduct more specific and more advanced searches as well. Here's more on how to use the Dogpile toolbar for Firefox for advanced or specific searches.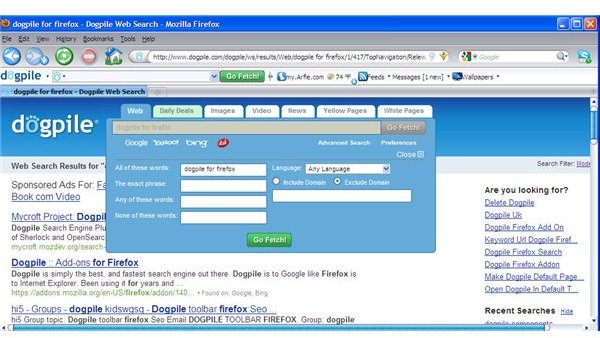 The Dogpile search toolbar lets you choose specific categories that you wish to search. Like the leading search engines, Dogpile lets you search for text, images, shopping sites, videos, etc. In addition to these you can perform specific searches in News, Downloadable files, Dictionary, Thesaurus and Message Boards.
If you are looking for information from a specific category of sources like yellow pages, white pages or public records, these searches can also be made using the different tabs on the search results page.
Once on the search results page you can also make advanced searches using the drop down menu and filling in details like language, the exact phrase to be searched, all words that must figure in search results and a website address if you want results from a specific website.
Other search settings, such as no explicit content or to set searching with bold terms can be done by clicking on preferences.
The Dogpile toolbar for Firefox is a wonderful add-on to save time and make searching across different search engines easier. However, the one marked drawback of using this search toolbar is that it displays a lot of sponsored results as well. They appear at or near the top of the search result pages - just like most other search engines - but they are mixed in with the other results.
Its ability to pull in search results from various search engines promises better search results, but at the same time the sponsored results appearing within the search results can be a problem at times. Read the fine print below each of the displayed search results to see whether it is an actual search result or a sponsored one. Nenetheless, you should download and install Dogpile toolbar and give it a try at least once. And if you're not happy you can always remove the toolbar.
References