How To Add Sage as Firefox's Default News Reader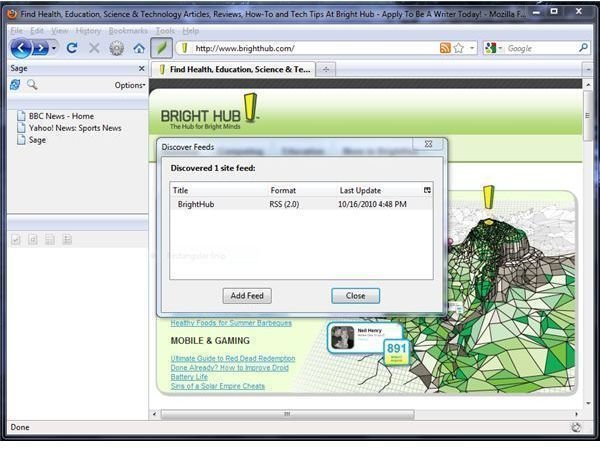 Installing and Opening Sage
Like other extensions, Sage is hosted on Mozilla's official Firefox add-ons website. You can add Sage as default news reader in Firefox from its web page by clicking "Add To Firefox," clicking "Allow" on the information bar at the top of the page, clicking "Install Now" and clicking "Restart Firefox."
The Sage extension displays a sidebar that allows you to see what news feeds are updated. You can open the sidebar by clicking the "Sage" icon in the shape of a green leaf on the Firefox toolbar or by clicking "Tools" and "Sage" on the menu bar.
Adding Feeds
Open your favorite news site(s) in Firefox. If you see a an orange icon that says "Subscribe To This Page" when you hover over it, you can add one or more news feeds from the page to Sage.
Unfortunately, while Sage appears in the "Subscribe to this feed using" list of programs, when you click the feed icon, Sage only previews the page when you click the subscribe button. You have to add news feeds to Sage by clicking the "Discover Feeds" magnifying glass icon in the Sage sidebar on a page with a feed, click the name of the feed in the list and click "Add Feed."
For example, if you wanted to add Bright Hub to Sage, you'd visit the main web page, click the "Sage" icon on your toolbar, click the "Discover Feeds" icon, click "Bright Hub" in the list and click "Add." You can't add news feeds when Firefox is previewing them.
Reading News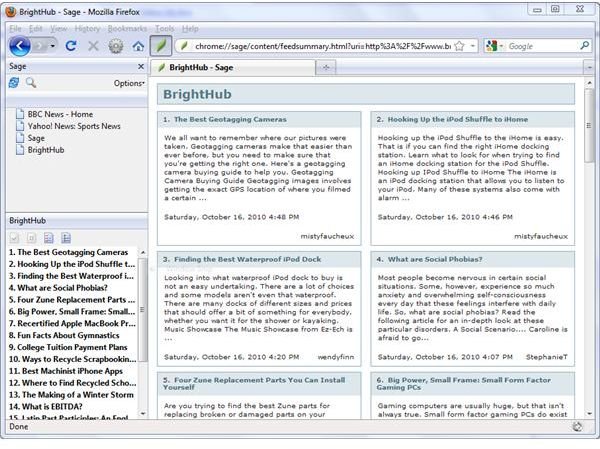 Check your news feeds for updates by clicking the "Check Now" button with the shape of a refresh icon on the Sage sidebar toolbar. Sage automatically checks each feed and highlights their name and icon if they've been updated since you last visited them.
Read news feeds by clicking the name of one. For example, you can click the "BBC News - Home" feed included with Sage. Sage displays a web page with summaries of the available news items in the feed as well as a sidebar with a link to each item. You can skim the page and look at available news or click a link on the page to view a full article. You can also click links to news articles in the Sage sidebar. The sidebar stays open as you read the individual news articles so you can quickly go to the next one that interests you.
Mark items in the feed as read so they won't be highlighted in bold the next time you open the feed by clicking the "Mark as Read" or "Mark All as Read" buttons at the top of the item list in the Sage sidebar.
Customizing Sage
After you add Sage as default news reader in Firefox, you can customize it by clicking the "Options" menu in the Sage sidebar. Hide different parts of the Sidebar or click "Settings" and disable other functions, such as rendering previews of news feeds in the contents area.
You can even customize Sage's feed preview pages by adding custom stylesheets. Check them out on Sage's official wiki site.
If you decide you don't want to use Sage anymore or just want to import feeds into Sage from another news reader, you can click "Options" and "OPML Import/Export."
Screenshots courtesy of Chris Hoffman:
Sage adding Bright Hub's feed
Sage previewing Bright Hub's feed