Download, Install and Use the QuickTime Plugin for Firefox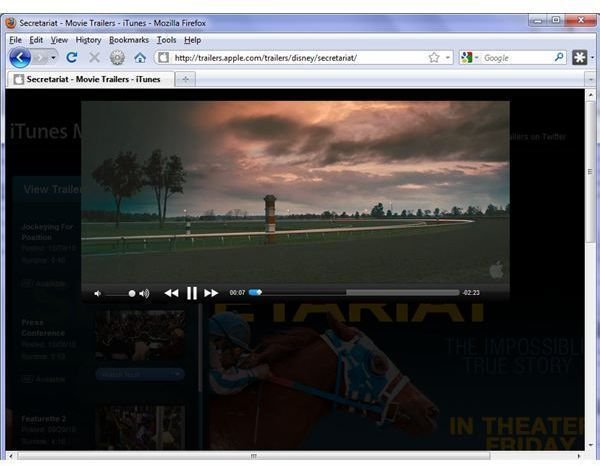 Download and Install QuickTime
You can download Apple's QuickTime plugin for Firefox on Apple's website here. Click "Download Now," save the QuickTimeInstaller.exe file to your computer and double-click it after it finishes downloading.
Click "Next," "Yes" and "Install" in the QuickTime installation wizard. QuickTime installs automatically; click "Finish" when it's done installing.
Restart Firefox to enable the QuickTime plugin by closing all open Firefox windows and opening Firefox again.
Using QuickTime
Navigate to a website containing an embedded QuickTime video in Firefox, such as the Apple movie trailers website. The video starts playing inside the web page, just like Flash videos do on YouTube and on other web pages.
If you don't see the videos, make sure you restarted Firefox after installing the QuickTime plugin. Close all open Firefox windows and re-open one.
You can also play videos in the QuickTime desktop application. Open it by clicking "Start," "All Programs," "QuickTime" and "QuickTime Player."
Update QuickTime
Updating QuickTime and other browser plugins regularly is important. Updated versions are frequently released which patch security bugs; using old versions of Firefox plugins puts your computer and private data at risk online.
Update QuickTime by clicking "Start," "All Programs" and "Apple Software Update." Click the checkbox to the left of an updated version and click "Install." The Apple Software Update application also updates other Apple software installed on your computer, such as iTunes and the Safari web browser.
Configuring QuickTime Plugin
Open the QuickTime player application by clicking "Start," "All Programs," "QuickTime" and "QuickTime Player." Click "Edit," "Preferences" and "QuickTime Preferences" in the QuickTime window and then click the "Browser" tab. You can customize whether movies should start playing automatically in your browser, whether to hide QuickTime setting option in the browser, and set which file types the browser plugin plays from this tab.
Check for QuickTime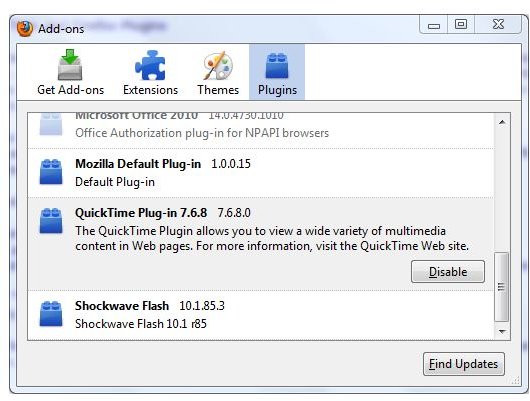 You can use Firefox's integrated plugins manager to view and manage your installed browser plugins, including the QuickTime plugin. Open it by clicking "Tools" and "Add-Ons" in the Firefox window, then clicking the "Plugins" icon at the top of the add-ons window. Verify that the QuickTime plugin for Firefox is in the list and not grayed out. If it's grayed out, click it and click the "Enable" button.
More Plugins
Other plugins are available for playing Adobe Flash, Sun Java, PDF, Windows Media, and RealPlayer content on web pages in Firefox. Mozilla maintains a list of commonly-used third-party plugins on its official add-ons website.
Troubleshoot QuickTime
See Apple's QuickTime support website for more information about using the QuickTime plugin in Firefox. QuickTime supports the latest version of Firefox as well as old versions of Firefox.
Screenshots courtesy of Chris Hoffman: