Make Firefox Reload Bookmark Icons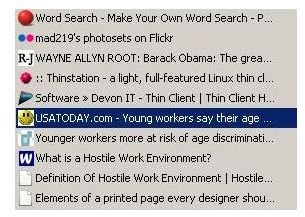 About Firefox Bookmark Icons
Bookmark icons are a feature of Mozilla Firefox that displays favored icons (favicon) from each of your bookmarked websites to the left of its listing in the bookmarks menu. You can see some bookmarked items in the following image:
Bookmark icons makes finding a particular bookmark easy because you can respond to the visual cue faster than you can read the bookmark text. This helps you work faster and smarter, but what do you do when your Firefox is not loading bookmark icons? Follow the next few steps and you should be able to correct the problem.
Troubleshooting Firefox Bookmark Icons
1. Check your Firefox settings. For Firefox bookmark icons to work, you must have your browser set to "Remember history." You can find this setting by clicking the "Tools" option on the menu followed by "Options." You will find the setting for this in the "Privacy" window. Having this setting to "Never remember history" will cause the Firefox not loading bookmark icons problem to apply to all bookmark icons. The rest of the tips apply to correcting problems with individual bookmarks.
2. The bookmarked website does not have a Favicon. When you see that Firefox is not loading bookmark icons (as in the two bottom bookmarks in the above image), it may be something very simple. After all, the website that your bookmark points to may not have a favicon. You can verify this by visiting the bookmarked site and then click "Tools" on the main menu, followed by "Page Info." If the site has a favicon, you should see it on the list after pushing the "Media" option.
If your bookmarked site does not have a favicon, you can install the Favicon Picker 3 add-on for Firefox.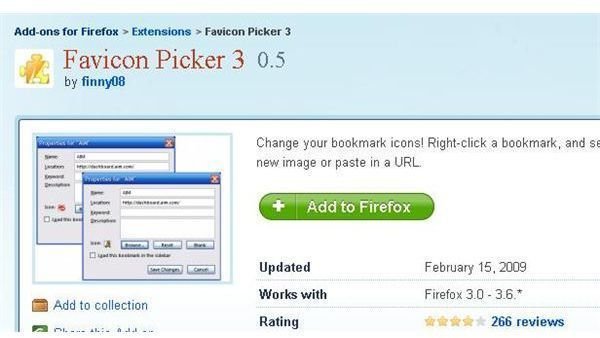 This add-on will add a "Properties" option to the context menu when you right-click on a bookmark. You can then reset the bookmark icon, make it blank, or add an image from your computer as the bookmark icon for that particular site.
3. Remove your bookmark and then add it back. If you still have the condition with Firefox not loading bookmark icon images, you still have another option. Right click on the affected bookmark and choose "Delete." After verifying that the bookmark has been deleted, visit the target website and add a new bookmark for it. This should add fresh data to Firefox and cause Firefox to reload bookmarked icons.
Wrapping it All Up
You now know how to set your Firefox browser to allow it to load bookmark icons. You also know how to correct problems with individual bookmark icons. Regardless of whether your Firefox not loading bookmark icons involves all your bookmark icons or just a few, you now have full control over them. Enjoy.
Image Credits: Screenshots taken by Bruce Tyson