Where to Find Free Blogger Layouts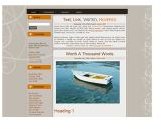 Blog Templates
Blog Templates offers free Blogger layouts in many different categories, such as sports, nature and office designs. There are unpretentious designs such as Green Lush, whimsical designs such as The Tweety Template and polished, professional options such as Worth a Thousand Words, pictured here.
Create Blog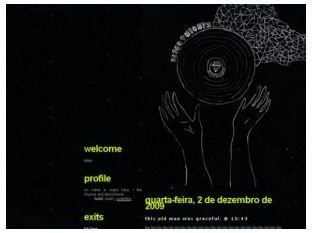 Create Blog offers templates for virtually every blog or social networking site imaginable. Within this compilation you will find a special section boasting 18 pages of free Blogger layouts for you to peruse and potentially choose a winner. You can check out the most recent, most favorites, most views or most comments. Narrow your choices by type, by color or by one of the two dozen available categories, including abstract, seasonal and fashion. If you are a fan of anime, check out favorites such as Vampire Knight. If humor is your strongest sense, check out Grumpy Toast. There is even a complete Retro category with titles such as Disco Nights, pictured here.
Hook Up Your Blog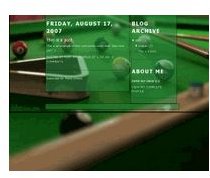 Are you looking to Hook Up Your Blog? Then you have come to the right place. This site offers dozens of innovative blog layouts in a variety of styles. Titles include Let's Get Drunk, a fun layout in bright, girly colors; Toe to Toe Love, a cute, romantic layout in neon pink and black; and Pool Table Game, pictured here, for the blogger who would rather be playing billiards.
Blogger Skins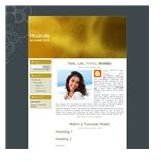 No matter what you call them - layouts, themes, templates or skins - Blogger Skins has 10 pages of them for you to flip through. The Blogger layouts offered on this site all lean toward minimalism and professionalism, which may be precisely what you are seeking. There are no sorting or searching options available, nor do the layouts have titles. You will simply have to click through the various pages. You can preview the templates in full screen view before downloading, such as the one pictured here.
Blogger Templates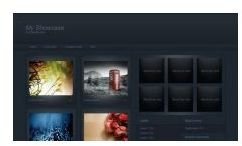 Not to be confused with the aforementioned Blog Templates, Blogger Templates is another place to find a wide variety of free layouts. Sort your choices by number of columns, styles, colors, sidebars and width. You can also check out those that are the most downloaded, viewed, or highly rated. Choose a simple design like the plum and white Symphonic, an attention-grabbing style such as Pattern Art or show off your digital photos in a photo log design such as My Showcase, pictured here.
Final Sense
It only makes sense that the final offering in this list of free Blogger layouts would be a site named Final Sense. This website offers pages upon pages of templates in every theme and color scheme imaginable. Browse through three and four-column templates or limit your options by selecting a category such as Cartoon and Kids, Food and Drink or Simple and Clear. The layouts have interesting, detailed images, such as the high-flying skateboarder in the Roller Skate layout, the friendly penguin in the Linux layout or the tempting piece of fruit in Apple, shown here.
No matter what Blogger layout you select, you will not go wrong as long as you choose one that fits your personality and point of view.