Top 3 Add-ons for Firefox to Find Friends: Firefox Addon Like Yoono Makes Managing Social Media Easier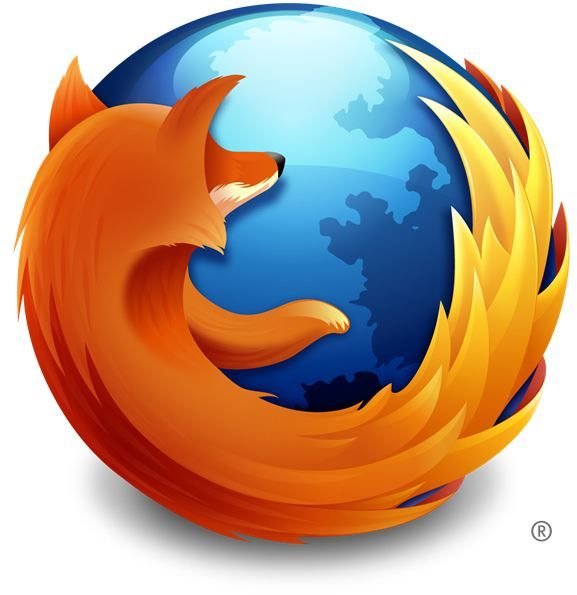 Why All the Social Networking Browser Clutter?
The Mozilla Firefox® browser is now in its third major release (v3.6.10) and claiming first place in the browser market share wars, ahead of Internet Explorer by almost 10 percent, according to W3 Schools. Firefox offers some of the best features available for any browser and it makes it super-easy to customize options, settings, the way the browser looks and many other items. Plug-ins and add-ons afford Firefox users added features and functionality — not to mention fun. Included are hundreds of social networking friend finders for Firefox users who cannot go a single minute without knowing what is going on in their friend's lives.
Some social networking add-ons allow users to easily chat with friends from the browser in a new tab, modify the address bar for use as a status updater for Facebook or Twitter, or simply add a button to press next to the address bar to manage accounts. However, searching for friends is something most of the individual add-ons do not allow for, meaning users either have to install additional plug-ins or visit the physical website; either way, it is more hassle than it is worth, plus a major time waster. Instead, let us look at some of the best Firefox add-ons that find friends at all the most popular social networking sites. These top add-ons for Firefox finds friends with one simple search, while cutting the clutter and time wasting.
Yoono Friend Finder Add-on for Firefox (4 out of 5)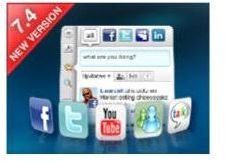 The Yoono friend finder add-on for Firefox versions 3.0 to 4.0b5 was one of the originals offering some of the best features and functionality for users searching for anyone on any social networking website. Offering access to a few more popular websites than Social Friend Finder does such as MySpace, Linked In, Facebook, Twitter, Yahoo, Windows Live, Gmail and AIM messengers, YouTube, Flickr, and FriendFeed, this Firefox friend finder seems a bit more useful. Additionally offered are file uploads, viewing friends' status updates from all connected social networks, searching multiple websites — not just social networking sites — and more. Installing the add-on is the same process as any other Firefox add-on; however, the set up afterwards is somewhat complicated.
Once installed, the user must accept the Terms of Service, which pops up on the left side of the screen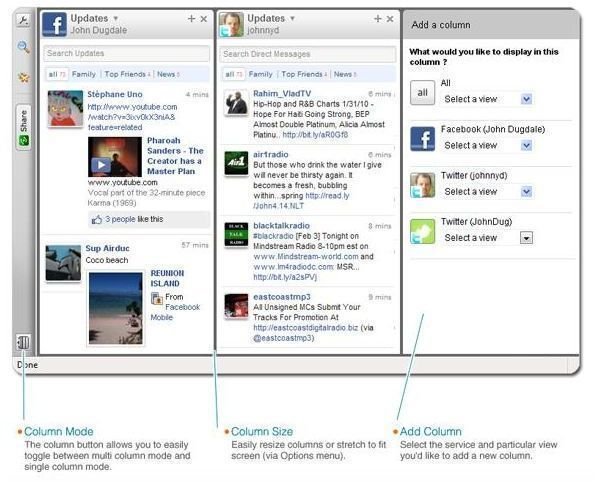 immediately, whether the user is ready to configure the add-on or not. After agreeing to the ToS, in the same sidebar the user then picks the services they want to use. For each one, Yoono opens a tab so the user can sign in to that service and allow Yoono to access it. When the user finishes picking services, they can then configure the global settings and settings for each service. This is a recommended action because once the user activates a service, the user begins receiving pop-ups in the bottom right hand corner about everything. If the user activates every service, they could theoretically receive hundreds of pop-ups in a matter of minutes, just as I did before I turned them off.
Continued Next Page
Yoono Friend Finder and Status Updater for Firefox Continued
The good thing about Yoono Firefox friend finder add-on is that a page instantly opens to explain what the user can do with the Yoono
service and how to do it. However, for the purpose of this article (finding friends using Firefox add-ons), the user must first configure the search options by clicking the wrench and choosing "options" When the menu opens, check off which search engines you want in the "Channels" section. The possibilities include searches from Google, News, Wikipedia, videos, shopping, related websites, [photos](# https://www.brighthub.com/multimedia/photography/articles/29672.aspx), blogs, product reviews and, of course, the social network services. Once this is set, click on the magnifying glass on the left side of the side bar, and then type the name of your friend in the search box. Results are instantly displayed and clicking the listed result takes you to the page.
Personally, Yoono wants too much information from Facebook for my liking. In the screen shot to the right, you can see how it requests for permission to access my friend requests, and information of people who request me as a friend in addition to accessing and reading my Facebook email and accessing/modifying all m
y account information even when I am offline, in addition to other information unnecessary to use Yoono. It also seems a bit resource intensive, as my Firefox "plug-in container" memory jumped over 10k. It seems somewhat intrusive as the sidebar takes double the space as a Google's does but it can be hidden, too. However, with the exception of the privacy and information access issues, Yoono is easy to use, once configured, and its functionality (status updates, general searches, upload photos, etc.) and features are unbeatable, definitely worth the set up.
Social Friend Finder Add-on for Firefox (3 out of 5)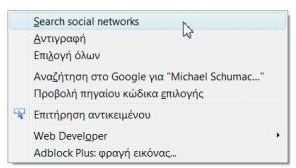 Social Friend Finder 1.1, developed by Costas Athan is an almost perfect add-on Firefox friend finder available for versions 1.5 to 3.6. It allows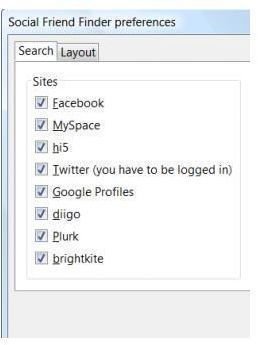 users to search for friends using one simple application across multiple networks. Included social networks are Facebook, Twitter, linked In, MySpace, Hi-5, Google profiles, Blogger accounts, Brightkite, Plurk, and Diggo. Installing the add-on is as simple as any other is, as is using it. To use this friend finder add-on, first set your options by clicking "Tools," then hover over "Social Friend Finder" and click "Options" to determine which of the search-able websites you want to search. To perform a search, navigate again to the Social Friend Finder but click "Search page," instead of "Options" to open a page with a customized Google search box. Then, type the name of the person you want to find ion the box and the results are displayed on a single web page. Additionally, users can instead highlight a name or any word on a web page, right-click on it and choose the "Search Social network" option to instantly open the Social Friend Finder results page.
The only thing that users may find frustrating is there are no instructions on the download page or in the add-on options explaining how to use the add-on. While most Firefox add-ons and plug-ins have buttons or toolbars to work with that are immediately apparent, this one does not-no drop down search menu either. In testing it Socuial Friend Finder, I almsot drove myself crazy looking for how to use it. Overall, Social Friend Finder is a simple, useful, and accurate add-on-just a little frustrating.
Continue to Page 3 to learn about the BuddyFetch add-on for Firefox and final thoughts.
BuddyFetch "Random" Friend Finder and Dating Search for Firefox (3 out of 5)
BuddyFetch is a social networking friend finder add-on for Firefox that searches for random people to meet across multiple networks as well as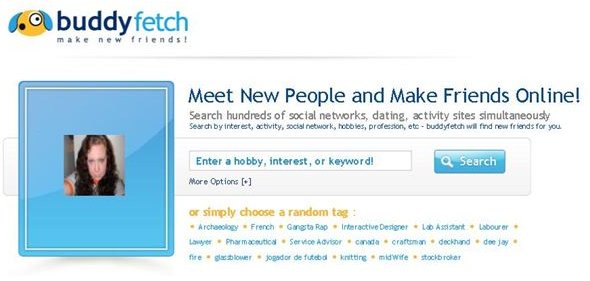 dating websites. According to the developer's website, this add-on for Firefox searches hundreds of websites with one simple search term. And it does: it searches all the basic sites such as Twitter, Facebook, Linked In, and many others. For a complete list, visit the BuddyFetch page to "add your profile" and click the drop down menu titled, "Where can we find you." This was the only way possible to look at social networking site availability. While this might not be the greatest add-on in existence and could benefit from some modifications, it is different; it has a feature set no other add-on for Firefox offers that I know of. (If there is another add-on friend finder like this one, please leave a comment so I may review it.)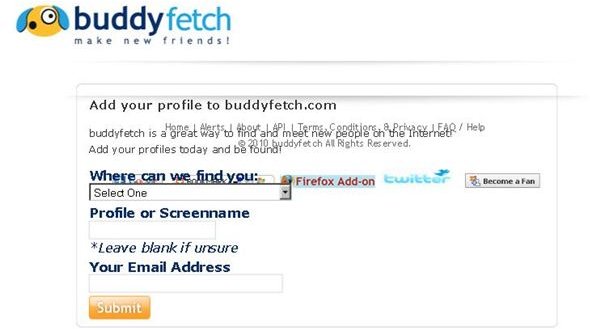 With the added functionality to search by name or by interest, profession, hobby, social network, activity and other related searches, this add-on installs a bit differently. It is not an actual "add-on" in the strictest sense of the word. It adds a search site to the drop down menu of the search bar. By entering a person's name or other search term, such as "computers," in the search bar and changing the search parameters to the BuddyFetch, it will search BuddyFetch's database of people tagged with the term entered. It also allows the user to create alerts for specific people if they are not found with the initial search. While this add-on for Firefox is simple to use, it does not work so well with people's names, as it did not find mine and I am quite prolific on the web. However, I believe users must add their profiles manually, as it did find thousands of entries for specific terms.
Overall, this is a good friend finder for Firefox. While it could offer more features, its basic search functionality is excellent. Not only does it help find people one might never know exist, it also offers hundreds of more social networking site databases than any other friend finder ever seen and promises over 2000 by the end of 2011.
Warning: Mozilla has not yet reviewed the BuddyFetch add-on and the website states that you use it at your own risk. However, I have used it and reviewed all of its features and had no problems with it at all. While it also does not state which versions of Firefox is compatible with it, I use version 3.6.08.