How Does Firefox Work Offline? Offline Mode and Cache Explained in Firefox Web Browser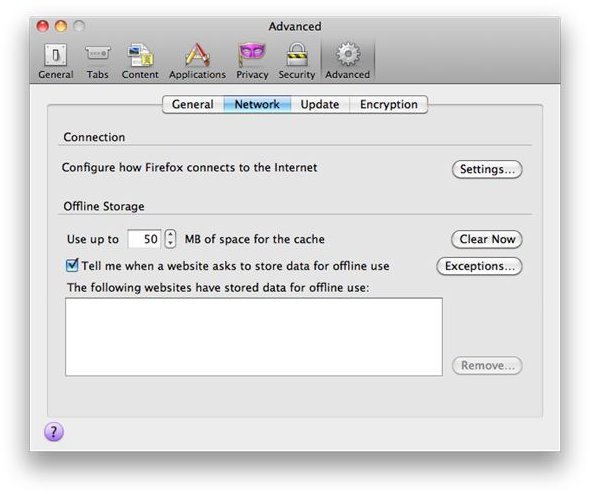 Brief History of Cache
Offline mode has been a common feature in web browsers for a while. The feature takes advantage of techniques that web browsers use to speed up page loading when you are online.
During normal web browsing activity, parts of web pages are stored on your computer's hard drive as something called a cache. This cache allows the web browser to detect page elements that may not have changed since the last time you visited, loading them from your computer instead of waiting for them to download. This technique was helpful when Internet connection speeds were, on average, much slower than they are today. In many cases, broadband users will see little to no benefit from cache, except when loading pages very recently visited (such as by using the browser's back button).
Work Offline in Firefox
Whether or not offline mode is an antiquated feature, it is still included in Firefox as Work Offline under the File menu. So how does Firefox work offline?
Once Work Offline is activated, Firefox does not use an Internet connection to open web pages. Instead, it uses copies of web pages that have been cached, or saved, on your computer. These caches are typically copies of the last time you visited a particular page, and most of the web page elements, such as text and images, will be available.
There are some very good uses for using Work Offline in Firefox. For instance, a laptop computer uses significantly more power when its wireless radio is turned on. By turning the radio off, you can read web pages that you've recently visited in Firefox without the additional battery drain. In another case, if your Internet connection has been interrupted, you can work offline if you simply wanted to revisit a page you have recently accessed.
Since Work Offline is based on Internet cache, it has serious limitations. You can only view pages that have been accessed by your computer and stored in cache. If you have recently cleared your cache, or it has been a while since you visited a particular page, it may no longer be available in offline mode. Additionally, Firefox's Work Offline mode is read-only; in other words, you are not able to fill out forms, play browser-based games, or interact with dynamic media. As such, some features on web pages may not work as expected.
Enabling and Disabling Work Offline
To enter or leave offline mode in Firefox, you simply select Work Offline in the File menu. First, however, you should make sure that cache has been enabled.
You can turn on cache and determine how much storage to allow for offline use in one step. First, select Preferences from the File menu (in Mac OS X, select Preferences from the Firefox menu). Next, select the Advanced tab, and then under Network ensure that space has been allotted for cache in Offline Storage. In most cases 50 MB will have been set aside by default. Increasing the amount of offline storage will allow more web pages to be stored. Likewise, decreasing the number will limit the amount of cache. Setting this number to 0 MB will effectively disable cache.