Downloading Mozilla Firefox Updates And Add-Ons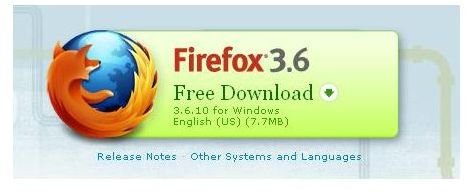 Downloading The Mozilla Firefox Web Browser
The first thing you need to do before updating is to make sure you are actually using the Mozilla Firefox browser itself. If you do not already have Firefox, open whatever browser you do have. By default, many people will have Internet Explorer installed. If that is what you are using to read this, switching your browser to something with some more options, such as Firefox, is strongly recommended.
Go to the Firefox download page in your browser and click on the Download Now button to start a download of the latest version of their browser. Save the download to somewhere easy to find on your computer, such as the desktop. Once finished, open that installer file to begin the installation of the browser. Follow the on-screen instructions that the installer provides, and you will be ready to go with Firefox's latest browser version. Open the program from the shortcut the installer creates, either on the desktop or in the Start menu.
Now you are ready to start browsing the web with Firefox instead of the browser you were using before.
Downloading And Installing Mozilla Firefox Updates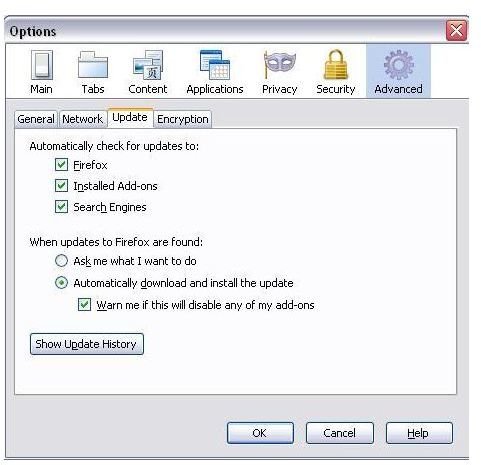 When you download Firefox, you will have the latest version of their browser. Their downloader updates itself by default every time they release a newer version. Once downloaded, though, you will want to ensure that your browser stays updated to the latest version as the Mozilla team release newer versions. By default, Firefox finds updates to its browser and downloads them automatically. If you wish to change this, click on Tools on your toolbar, then click on Options and open the Advanced tab on the far right side. Within that tab, you will have another list of tabs. Click on the one labeled Updates to manage your updating options. You can change whether you want it to automatically check for Mozilla Firefox updates. Even if you decide to leave that on, you can click the Ask me what I want to do bubble to have it inform you of the updates and let you decide when and if you want to install them.
If you choose to turn off the automatic check for updates, you can also check for updates manually by clicking Help on your toolbar and then clicking Check for Updates. If any updates are available, a window will pop up letting you know, and you can click Get New Version in that box to download and install the latest version of Firefox's browser.
Whether you choose to have them download automatically or not, you should always download the latest versions of your browser. Just as with any software, or even your operating system itself, keeping yourself updated to the latest version sometimes comes with new and improved features, and greatly improves your security from attacks when using the internet.
Downloading And Installing Mozilla Firefox Add-Ons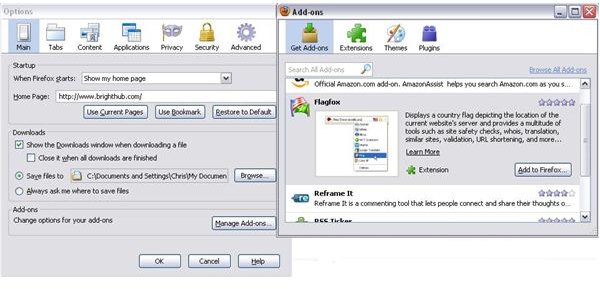 There are an incredible number of add-ons available for Firefox. It is by far the most customizable out of all the browser options. If you are going to be browsing using Firefox, downloading some add-ons to personalize your experience is a great idea.
There are add-ons to do all kinds of things, from increasing productivity to providing fun new ways to waste time online, to anything in between. If you know exactly what you want an add-on to do, you can try typing what you want in a search engine like Google. You will usually be able to find some download pages for the sorts of add-ons for which you are looking. Unless you are searching for a specific add-on you know the name of, however, you are going to get many unrelated responses to your search. For better results, you can also try putting those search terms directly into the add-on search feature that comes with Firefox.
Click on Tools on the toolbar and then select Options. From there, open the tab labeled Main and click on the Manage Add-ons button at the bottom of the box. This will open the Add-On Manager, which has a few tabs of its own. Click on the Get Add-ons tab on the left side to open a search window. Firefox will populate it with a few recommended add-ons by default. Feel free to peruse those, or type what you want into the search bar to have it find what it can. You can also click on Browse all Add-ons to have Firefox open their add-ons page, which provides a list, separated into categories, of every add-on available, and also has a search engine available.
Either way, when you find an add-on you like, simply click Add to Firefox, and that add-on will be downloaded and installed to your browser.
Updating Installed Mozilla Firefox Add-Ons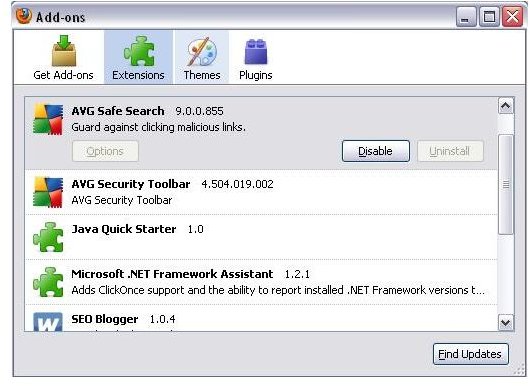 As with the browser version, Firefox's default is to check for updates to your add-ons and any search engines you install directly automatically. One of the nice things about this system is that even if you have everything set to automatic, if any Firefox update ever causes compatibility issues with an add-on Firefox will not download that update automatically. Instead, it will warn you that downloading that update would disable the particular add-on and let you decide whether to update in case that add-on is a crucial part of your browsing experience. Again, you can disable the automatic options if you wish to by following the exact same procedure as with the browser itself.
As for installing updates it finds, add-ons will not download automatically. Instead, they prompt you when you first open the browser to let you know a newer version is available and ask you if you wish to install them. Again, it is recommended that you keep yourself updated to the latest versions at all times.
If you have disabled the automatic check for add-on updates in the Firefox updates window, you can find them manually by opening the Manage Add-Ons window and opening the Extensions Tab. Click on the Find Updates button at the bottom to have Firefox search for updates to all installed add-ons. From there, you can choose to download them if you wish.
With Firefox installed and customized to your preferences as well as having updates set to make sure you will always be using the latest versions, your web browsing should be greatly improved.