How to Use Google Docs Offline with the Google Gears Feature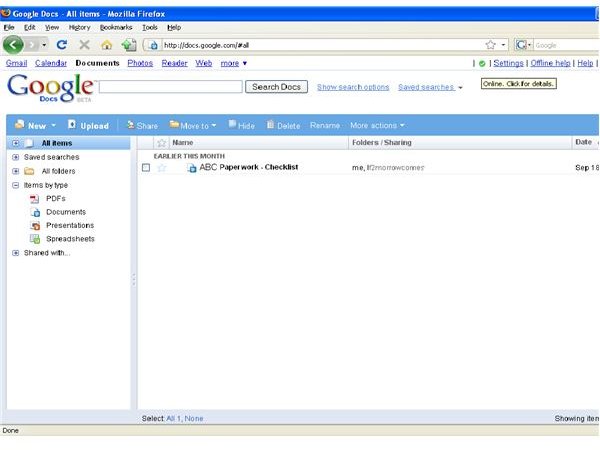 Using Google Gears with Google Docs
On March 31, 2008, Google introduced a major new feature to Google Docs; the ability to work offline. Why is this such a huge innovation? We all work on Microsoft Office suite offline right?
The difference is that Google documents are not stored on your computer. They're stored on Google servers, or in other words on the internet. This is known as Cloud Computing**,** which means that everything exists only on the Internet. As Philip Tucker, Software Engineer at Google states, it's like "bringing the cloud with you" when you go offline.
Before Google Gears, you could work on Google Docs only when online. If you had to work offline, you had to store the document to your computer. Not anymore! Now you can use Google Docs online, or offline, seamlessly.
To use Google Docs offline, you will need a one-time installation of Google Gears. Google Gears is a plug-in for your web browser which synchronizes your online and offline content. You can install Google gears from: https://gears.google.com/.
Working in the Offline Mode
After you installed Google Gears, you can work as you normally do on your Google documents. You will see a link at the top-right of the document named Offline. If you have just installed Google Gears, when you click offline, it will prompt you with Gears security warning. Select the I trust this site checkbox, and click Allow. You'll see a dialog-box asking if you wish to create any shortcuts for Gears. After you have selected your shortcuts, Google Gears will synchronize all your content with the server.
When you are working on your documents while connected to the Internet, you should see a green sign at the top of the window which shows you are online. If you're working on Google Docs on the Internet but you don't see the green sign, either Google Gears isn't installed, or its not working correctly. Try installing or reinstalling using the directions above.
When you go offline either purposely, or because you lose Internet signal for some reason, the green symbol will turn grey showing that now you are working offline.
In offline mode, Google Docs downloads a copy of the document you are working on your computer. You can work as you normally do. You don't have to bother with saving the document; Google Docs does that for you. When you go back online, Google Docs, with the help of Google Gears, seamlessly synchronizes all the revisions from your document with the document online. You will never have to click any buttons, save any documents, upload any files or manually update the online version. Everything is taken care of by Google Gears.
Google Docs had already achieved popularity due to its capability of letting multiple users collaborate on the same document in real time. By providing offline access to Google Docs, users everywhere are raving about the convenience the offline feature provides. Why wouldn't they? Now we can work on our documents when our Internet connection conks out, when we are on a plane or in a foreign country with bad DSL. The possibilities of using Google Docs offline are endless as users worldwide are discovering!
Google Docs in Online and Offline Modes