Steps-by-step instructions tp connect Gmail to iGoogle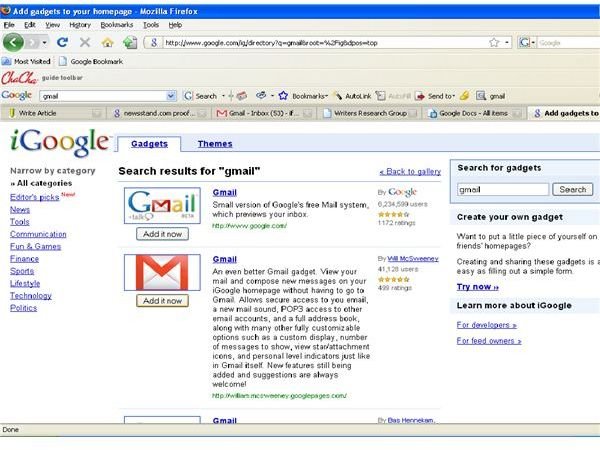 Connecting Gmail to iGoogle
iGoogle is your personalized Google homepage. It still acts like the original Google search engine web page but now you can customize it to display your favorite gadgets. Google Gadgets are add-ons or modules which the user can add to their web pages, desktops or iGoogle to add enhanced functionalities.
When you sign in to iGoogle, some one of the gadgets will be pre-installed for you like weather, YouTube videos, News and more. You can connect your Gmail to your iGoogle too. This will allow you to view any new emails you may receive without accessing your Gmail account while simultaneously checking out the latest news, weather forecast or performing a search.
Gmail has its own gadget which you can add to iGoogle.
Sign-in to your iGoogle page.
Click the Add Stuff link on the right of your Google homepage.
It will take you to the iGoogle Directory which lists all their gadgets. If you don't see the Gmail gadget already, search for it in the search box on the right.
You should see the first result as a Gmail gadget. Click on the Add it now button to add it to your homepage. You should see a confirmation node saying Added along with a tick mark.
You should be able to see your Gmail account on your iGoogle page now. You can click and drag the gadget to place it wherever you want on your Google Homepage.
The Gmail gadget will show you your five more recent emails. You can change this by clicking on the arrow on the top of the Gmail gadget. Now you can set the number of emails you want previewed in the gadget from one message to up to nine. Click on save to set your changes.
To check an email, click on any email in the gadget and it will open the message in a new tab or window. You can also easily compose a message by clicking on the Compose link on the top of the Gmail gadget. You can minimize the Gmail gadget for your privacy, if you feel someone might view your emails while you search the web or check the weather through iGoogle.
To remove the Gmail gadget all you have to do is click on the x button on top of the gadget.
Connecting Gmail to iGoogle is a simple way to keep track of your emails while you perform other activities such as search the web, or check the scores of your favorite sports team. It is uncomplicated to link them together, and also very easy to work and organize.
Connecting Gmail to iGoogle