How to Add Users to Google Docs for Real-time Collaboration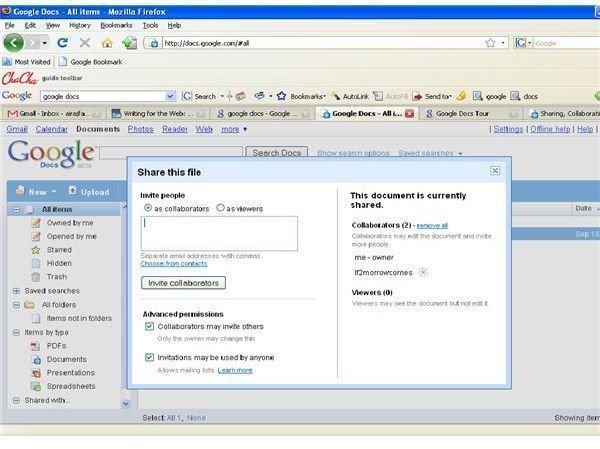 Adding Users to Google Docs
One of the stellar features of Google Docs is that you can add many users to a single document, so everyone eligible can work on it simultaneously. Since Google Docs is an online application, it is be processed in real-time. The long cumbersome process of modifying a document, saving it, attaching it to an email, and then waiting for the other party to reply is virtually eliminated with the help of Google Docs.
Adding users to a Google document is giving them the freedom to work, discuss and suggest changes to the document. To minimize confusion, Google Docs will show exactly what changes a user made to a document, and when, in the form of document revisions. Spreadsheets have chats enabled allowing all the users to discuss the document in real time.
To add users to a Google Document, whether it is a document or spreadsheet, follow the steps below:
After you have logged-in to Google Docs, select a file you want to add users to by selecting the checkbox on the document.
Click on the Share tab. A dialog-box named Share this file will open.
Choose whether you want the added user to be Collaborators or Users. A collaborator can view and edit a document while a user can only view a document.
Enter the email address of the users you wish to add.
Under Advanced Permissions, you can choose if you allow your collaborators to invite other to the document or not, or if you want the invites to be used by anyone, i.e., a mailing list.
Click the Invite Collaborators button.
You will see another dialog-box where you can enter an optional message to recipient. You also have the option of sending them the file without sending the invitation.
Click on Send to email the invitation to a document.
When the user clicks on the link in his invitation email, he will be directly taken to the document.
You should be able to see the name of the new user next to the file.
Screenshot of the Add User Page