Google Apps For Business Email Review Of The Top 5 Google Apps For Businesses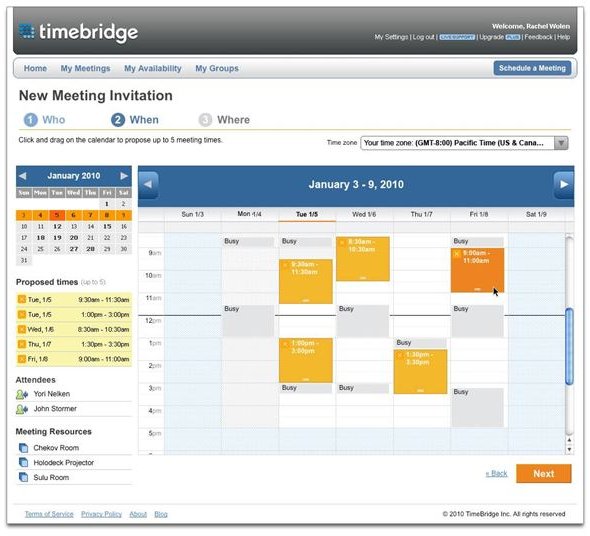 What Is Google Apps?
Google Apps is a great tool for most businesses, with plenty of features to help you streamline your business process. It provides solutions for managing customers, time, workplace communications, and many other things, and at only $50 a year, it's an affordable solution, too.
However, the Google Apps for businesses platform itself is only the beginning. There are many ways you can extend Google Apps to meet your specific needs, tailoring it to your business specifically with additional web-based apps that integrate directly into Google Apps. These are available on the Google Apps Marketplace. Some of them are free, while others offer premium services for a fee. There are a lot of them, however, and you can't be expected to test them all, forcing your employees to learn how to use new things constantly only to end up scrapping them.
To help you get started, we're going to examine the Top 5 essential Google Apps for businesses. All but the first two integrate with your Gmail business email, making workplace communication easier and more efficient. For those of you just getting started with Gmail, you may find my guide to managing your contacts in Gmail helpful. Otherwise, read on for a list of the top five apps for businesses.
Timebridge Meeting Manager
It can be almost impossible to keep track of everything you have to do in a busy office, from the various tasks you need to stay on top of, to the various meetings you may have planned.
Timebridge Meeting Manager is a simple scheduling app to help you organize your time and make sure you're managing it effectively. It allows you to create groups for people who meet regularly to schedule easily, and it allows you to share your availability with the rest of your office to make finding times to meet with people quicker and easier. It also has phone and web-conferencing options for communication over long distances, and will provide automatic reminders to people via SMS text messaging or email that a meeting is coming up or that they are running late, as well as giving you an automatic one-click ability to inform others when you are the one running late.
Timebridge will allow you to stop wasting time planning meetings so you can more effectively spend time having them and getting back to doing the other things you need to do. Timebridge is free for the basic version, and there is also a premium version to allow access to all features for a fee.
Aviary Design Suite

In making presentations or touching up proposals, the basic Windows screen captures and audio captures are often not enough to get the job done right, and your employees will find they need a means to edit these images and documents.
Aviary Design Suite is a set of design tools to allow you to edit documents for your presentations. It integrates directly with Google Docs, allowing you to share your projects easily. Aviary Design Suite comes with an Image Editor to allow you to make minor touch-ups to your images, as well as a Markup Editor to let you make more detailed edits including markups such as annotations. There is also a Vector Editor to allow you to create detailed vector art for things such as logos, and an Audio editor that you can use to record and remix audio for things such as voice presentations or podcasts. Finally, there are Color and Effects editors to provide even more detailed editing options.
Aviary Design Suite provides all of the editing tools you could need for most businesses, and unlike most other editing software available, Aviary Design Suite is completely free.
Away Find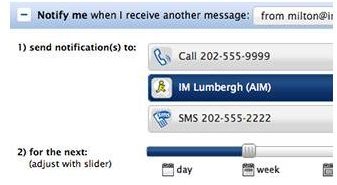 Productivity is an important thing in any workplace, and to increase productivity, it's essential to make sure you're making effective use of your time.
Away Find is an incredible tool for enhancing employee productivity. It integrates with your Gmail and allows you to pick specific users or specific topics that are particularly urgent. Anything matching either of those selections is routed to you directly via either an IM program, or to your mobile device by SMS text message or Google Voice. Google will call you and read the message to you.
You can set these contacts or topics to be routed to you for any period of time you choose, so if it's related to a product or a meeting that day or that week, you can have it expire on its own when it's no longer urgent. Or, if the contact is someone from whom communications would always be urgent, you can have it route those messages indefinitely. Either way, this Google app allows you to rest easy in the knowledge that urgent business emails will find you instead of you having to look for them. You can stay busy getting other things done that are more valuable uses of your time than refreshing your email inbox every five minutes to watch for a particularly essential communication.
Away Find is free, although they are planning to add premium paid features in the future.
Pixetell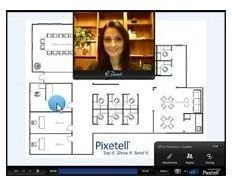 It can be difficult to clearly communicate with someone when text is the primary, and sometimes the only, means of communication available between you. Pixetell allows you to streamline visual communications, adding a much needed visual aid to the messages you send with ease. This Google app integrates with your Gmail and gives you the ability to record video or audio, or to take pictures, all of which you can then drop directly into your business email communications, allowing you the benefits of web conferencing through email, allowing you to communicate at the same level to clearly demonstrate your message without having to wait for your client or colleague to actually be available. You can record the communication, send it, and they can view it at their leisure, combing the best of both worlds. Sending visual messages will allow you to be clearer in your communications when you need to explain a product, a proposal, walk someone through troubleshooting steps, or any number of other things where a visual or audio/video aid may be helpful, reducing the number of email communications necessary between you and a contact to come to an understanding and reducing the number of full-blown misunderstandings as well. Pixetell Lite is free, and there are versions available with more features for a fee as well.
Manymoon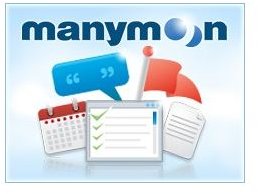 Projects in a busy workplace are often shared between multiple co-workers, and it can become daunting to manage the various things you're working on with various different combinations of people.
Manymoon is a collaboration and social networking tool for your business, allowing you to create projects and assign tasks across multiple members of a team and even across multiple offices that can all be accessed in one shared location.
Sign in with your profile to the Manymoon social network, and you can create or view all the things that need doing in one place, such as documents, tasks, scheduled meetings, etc. You can share any new work you've done on these projects or simply start communications about specific topics relevant to your work.
Manymoon allows you to choose who you share information with, so work that may be of a confidential nature can be shared with only the people that are supposed to see it, and work that may simply not be relevant to certain people can be kept from cluttering their business email inboxes with projects they're not working on.
Manymoon integrates with Google Apps by connecting to Gmail, providing a "create project" and "assign task" button to every email for all users. It also integrates with Google Calendars, allowing you to streamline your scheduling, and it allows you to drop in projects from Google Docs that may already be shared between some users, so all members of a team can work on them. Manymoon has a proven track record and is already in use by many high profile businesses, having even received a glowing recommendation from the Dutchess County Chapter of the American Red Cross on their website, shown here.
Manymoon is free for their standard addition, though they do offer some administrative features and additional storage for a fee.
Using Google Apps In Your Business
Google Apps is a boon to any business, and the marketplace is full of great ways to extend its usefullness and tailor the experience to the specific and unique needs of your business. It is definitely worth a close look for anyone operating a business or for anyone thinking of starting a small business. There are also many more apps available, and I encourage you to look into any of those that you may find helpful as well.
The five Google apps above provide an excellent starting place for any business to explore the apps marketplace and what it can bring them in increased productivity, better team management and team communication, and heightened employee morale.
For those of you that are unsure about Google Apps, there is a free trial available. On the features page, which also provides a nice breakdown of what Google Apps can do, click on the free trial button. Then, If you decide to utilize Google Apps for your business, click to contact sales and go from there.