Using Gmail Chat And Google Talk: Gmail Instant Messenger and Video Calling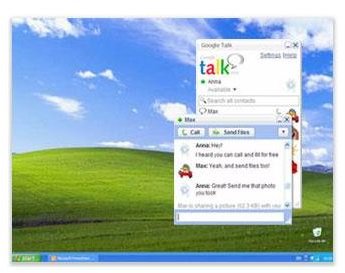 Getting Started With Gmail Chat
Gmail lets you keep in touch with your contacts by emailing them, but emailing your contacts isn't the only way to have a conversation with them in Gmail. You can also use the Chat feature, the built-in Gmail instant messenger, to have real-time conversations with them as long as they're online. From the Chat window on the left sidebar when you're signed into Gmail, you can sign in and out of the Chat feature, giving you an additional way to keep in touch with your Contacts. From either your Contact Manager or your chat page itself, you can click on any one of your contacts. If they have a colored ball next to their name, it means they are eligible for chat. If they don't have any ball next to their name, you'll need to send them an invitation to Chat. At the top of the Chat window is a "search, add, or invite" box, and you can simply type your desired contacts name into that box to select them. You can select multiple contacts at once if you wish, and then simply click "Invite to Chat" followed by "Send Invites" in the next box. A green ball means they're online and available, a yellow ball means they've been idle for more than 15 minutes, and a red ball means they've set their status to busy. If the ball is grey, however, it means they are appearing as offline.
Sending And Receiving Messages
Once you have a list of contacts in your Chat list, simply click on their name or click the Chat link with their name selected in the Contact Manager. A Chat window will open. From there it works like any instant messenger. You simply need to type your message and press Enter to send it, and then you can wait for them to respond. Now you can chat with that person, or you can even click the person icon at the top of the chat window and add as many contact names as you wish to the Add people to this Chat field to start a group chat with as many of your contacts at once as you wish to.
By default, there are sound notifications when you send and receive messages in Chat. If you don't want them coming through constantly, they can be disabled by opening the Settings, selecting Sounds, and simply choosing the Sounds Off option.
Using The Google Talk Client
Additionally, if you don't want to always sign into Gmail, you can download the Google Talk client, which is a desktop version of the same IM features available in Google Chat. Go the Google Talk page and click on the Download Google Talk button. Once you've downloaded the client, you can sign in with your Gmail account and it will carry over your contact list and settings from Gmail. All chat history from Google Talk will be saved to your Gmail account's Chat tab as long as you have history enabled. The only thing Google Talk does not support is the "Invisible" status. If you are signed into Google Talk, you will not be able to set your status as invisible, which is something Gmail allows you to do. With Google Talk installed, you can chat with all of your contacts directly from this client without ever opening a browser and signing into Gmail.
Setting Up Your Chat: Statuses And User Pictures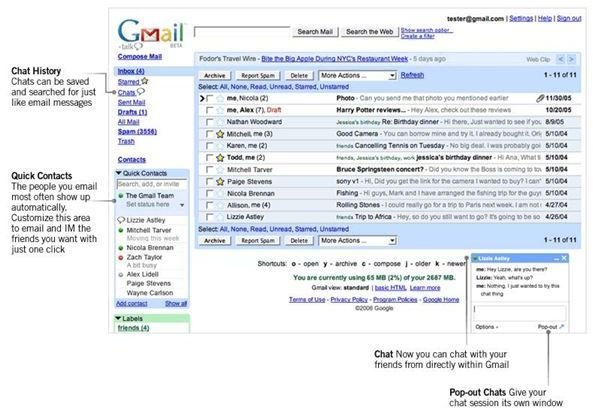 You can change your own status by clicking the Set Status Here button. You can set it to the previously mentioned statuses of Available or Busy. You can also set your status to Invisible. This will cause you to appear offline to your friends, but will still allow you to chat with them if you want to.
If your status is set to Available or Busy, you can also select Custom Message from the drop-down menu and type a custom status message. You can also set a display picture for yourself. Hover over your name in your chat list and click on the default silhouette. Select a picture from your computer and click Apply Changes. This image will now display to your Contacts as a default.
In addition, you can choose not to view your contact's pictures by selecting Only show pictures that I've chosen for my contacts. This will switch them all back to their default silhouettes unless you choose to assign your own pictures to your contacts. This is something you can do from your Contact Manager by selecting a Contact, choosing to edit their information and then selecting My Pick from the Pictures section. Choose a picture to upload in the same way you would for your own picture.
If you do choose to view pictures for your contacts, whether their pictures or ones of your own choosing, you can make those pictures visible in the Chat window next to their name with every message they send instead of simply by their status. From Settings in Gmail, open the Labs tab and click Enable on the Pictures in Chat feature.
Privacy In Chat
Once you have a contact list in your chat menu, you're ready to chat. Unfortunately, on the internet as in all other places, problems may arise between you and someone else. Should anything ever become a serious issue, you have the ability to block contacts from your Gmail instant messenger list.
From a chat window with that person, select Actions and then Block. This will cause them to be unable to see you or talk to you when you are online. You can also select Unblock from the Search, add, or invite field should you make a mistake or change your mind.
Additionally, Gmail automatically stores the history of your chats in a separate Gmail folder labeled Chats. From the Chat tab in your Gmail settings you can choose Don't save chat history in my Gmail account at any time to disable that. In any individual chat you may be having, you can select the Off the record option at the bottom of the Chat window to disable chat history for that conversation alone. Once Off the record is enabled with a contact, that contact remains off the record until one of the two of you changes that setting.
Video And Voice Chat In Gmail And Google Talk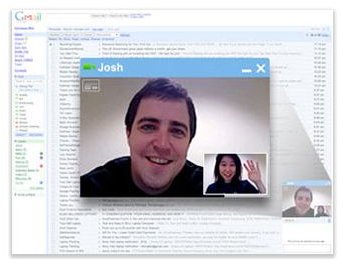 You can use the Chat features in Gmail and Google Talk to make voice and video calls as well. First, go back to the Google Talk page. This time, click the Install Video Chat Plug-In button. Once it's installed, starting a voice call with one of your Gmail contacts is almost the same process as instant messaging with them in the Chat feature. Select the contact you want to call and click Video and More next to the name of any Contact with a camera next to their name to start a two-way voice and video call. If a contact does not have a camera next to their name, it means they have not installed the Voice and Video Plug-In, so you'll need to invite them to do so.
The option to invite a contact to download the plug-in also appears under the Video and More option, so it's easy enough to populate your contact list with people you can call. If the contact on the other end doesn't have a webcam, or if you don't for that matter, it is also possible from the same plug-in to make a voice only call, or to make a voice call with only one-way video. Either way, this video and voice chat can be integrated directly into Gmail or Google Talk. Obviously, because there is no text-based communication, Gmail will not be able to catalogue history for these conversations.
Making The Most Of Gmail Chat And Google Talk
Gmail offers some great ways to stay in touch with family, friends, co-workers, and more. By integrating your Gmail instant messenger into the Google Talk client for your computer, you can maintain conversations with any of these people any time you're at your computer. By adding the Voice and Video Chat, you can get as close to face-to-face contact as is possible over a computer, free. This is great for workplace conference calling, for staying in touch with loved ones where long distance may be an issue or for any other situation where you want to have a more personal conversation than text can provide.
As always, be careful to protect your privacy when starting any chat with anyone, whether text or video, and you'll find that Chat offers another great way to use your Gmail account to get the most out of your conversations with people.
This post is part of the series: Guide to Using Gmail
This series will give you a step-by-step guide to getting the most out of your Gmail account and all of its features.