Google People From Alternative Search Engine Ways to Find Friends Online

Overview
There are lots of reasons why you want to search a persons name. Perhaps you are looking for a long-lost friend. Maybe you are looking for dirt on your sister's new flame. On the other hand, you might be scoping out a potential new employee. There are a number of search engines that you can use to find out information on someone. Here are several ways to google people from alternative search engines, listed in alphabetical order.
MyLife
Whether you are seeking a way to google people from alternative search engines or you want to find out who is googling you, MyLife is an option. You can search someone's name and then see if there is a profile or contact method listed. The catch is that you must register, which is free, in order to view this information. Likewise, once you are registered and logged in you can see if anyone has been searching for you. However, you will need to upgrade to a paid account in order to see specifically who searched for you.
PeekYou

Not only can you use PeekYou to search a person's name, you can also search by interests, school, job or other information, making it a great way to find former classmates or colleagues whose names you cannot quite recall. You can create a profile if you are anxious for others to find you. You can even create profiles for friends and family members.
Pipl

Pipl is becoming a popular way to google people from alternative search engine. Pipl's search engine performs deep web searches that may find information general search engines will not. You can search by name or user name, phone number, business or email address and your results appear in the form of contact information, social networking profiles, public records, photos and more.
SkipEase

SkipEase offers both a way to google people from alternative search engine and a public records search option. Each of those search options offer several subcategories, such as a yellow pages search and a military locator, to help you zero in on the specific type of search you wish to perform.
Spokeo

Spokeo gathers information from various public sources of information, such as social networks, business websites and even phone books. When you use Spokeo to google people from alternative search engine, you get more than just a possible phone number or website address. Click on the result you wish to view and you can find out everything from that person's age, relationship status and zodiac sign (no kidding) to information on their neighborhood and hobbies.
Wink

Wink searches profiles on social networking and other sites to provide results. You can simply type in the person's name for whom you are searching, or narrow down your results by entering a location or keywords such as the person's school, career, interests or just about anything else. You can enter a preferred method of contact if you want anyone searching for you to get in touch, too.
Whozat?

Defining itself as the first semantic people search engine, Whozat? allows users to provide feedback on results, bringing about even better search results over time. Along with the person's name, you can enter keywords to help narrow your result. This could be invaluable if you are searching for someone with a common name, or even someone who shares the name of a widely-known person.
Yasni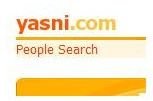 According to its "About" page, Yasni is one of the Internet's most popular people search engine. Much like Google Alerts, Yasni allows you to set up weekly updates that inform you of your name (or any name you enter) being listed somewhere online. If you are hoping to be found, you can create a profile. When someone searches for you on Yasni, this profile will be the top result.
ZabaSearch

ZabaSearch uses various public records to provide information when you search a name or 10-digit telephone number. You can sign up for a free account to learn when anyone searches for you using this search engine. You can check to see if anyone has left you a message (you may be surprised - I was!) or leave a message for someone else, should they come looking.