Change Google Reader Apperance with Themes and Skins - ARCHIVED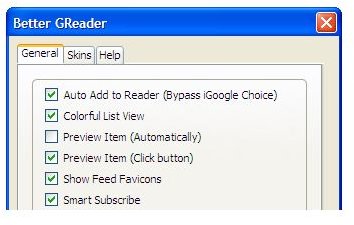 Editor's Note: Google Reader is being shut down on July 1, 2013. Users are encouraged to use Google Takeout in order to transfer their accounts to other RSS feeds. This article was orginally published in 2008 and has been archived but left up for informational purposes.
Google Reader's blue and white layout is crisp, clean, and boring. If you've been using Google Reader for a while, you are probably looking for a more exciting appearance. Feedly is one option, for those who would like a magazine-style layout. However, some users don't like Feedly because it's so completely different from Google Reader. If you want to add just a little something to Google Reader, try a theme.
Better Reader
Better Google Reader is very similar to Better Gmail. It adds a menu of options for you to enhance Google Reader. Among those options is a skins tab. The skins available are: Air Skin, OS X Style (the same as above), Minimalistic, and Optimized. Most change basic elements, like the font, but they're all improvements over the natural Google Reader. This is a great extension if you'd like to switch between a few skins. Better Google Reader does require Firefox and Greasemonkey.You can get Greasemonkey from this Firefox add-on page. If you only want to install one theme, read on.
OS X Style
Hicks Design's Google Reader theme is the most touted around the Internet. His theme is available for download from Hicks Design. There are two versions included in the download. One is for Firefox and the other is for WebKit and Opera. To use the theme with Firefox, you must install the Stylish add-on. You can get Stylish here. Instructions for Camino, Safari, Omniweb, and Opera are listed below the theme download link. Some Safari users have noted problems in the comments, but others say they have no problem with it.
Other Themes
So far there aren't any other radical themes for Google Reader, but we will update when there are. Hick's theme has gotten so much attention that I imagine there will be many more to come. Safari and Opera users may find more options are available to them, like this iPhone skin by David Cann. I can't say how useful it is without having tried it, but the screenshots are aesthetically pleasing.
This article has been placed in our archives.
This post is part of the series: Google Reader
Google Reader is an easy to use, popular web-based feed reader. In this series learn the basics, tips and tricks, and add-ons to enhance your user experience.