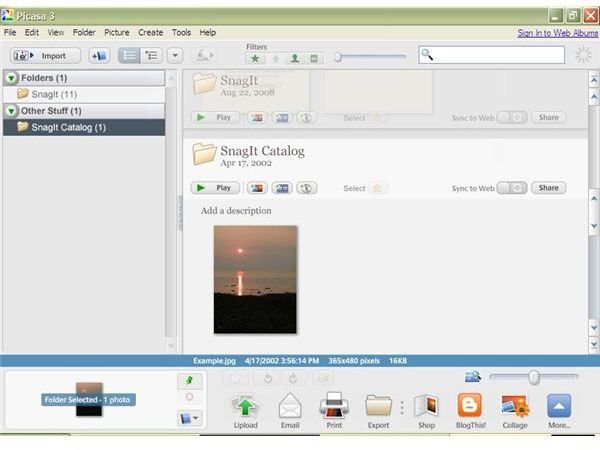 An Introduction to Picasa 3
Google's free photo editing and management program, Picasa 3, is an upgraded version of the Picasa program that Google has offered in the past. Picasa 3 is easier to use than the previous version, and has tons of new and upgraded features that will allow you to have a much more exciting editing and sharing experience. Features of the new version include user-friendly editing tools, a Sync function that allows you to upload and share photos easier and more quickly, screen capture, airbrushing, captioning and many more tools.
With the release of Picasa 3 comes the ability to view all photos on a PC's hard drive, as well as organize those photos by folder and date. Adding new photos to your web albums is as easy as attaching your camera to your PC and clicking the import button. Once your photos are uploaded, they can be grouped together for easier viewing and sharing. Common buttons such as the print and upload to share online buttons are easier to find, keeping you from having to sit and search for them.
Double-clicking on a photo in Picasa 3 will bring up the new control for editing photos with easy to use editing tools. Crop, straighten, remove red-eye, and adjust color, contrast and lighting with the editing tools. Any adjustments made to your photos will automatically update in your Picasa 3 web albums. If you decide that the changes you made are not acceptable, the photo can be reverted back to its original copy.
There have been new collage controls added, and Picasa 3 has several new collage layouts. You also have the ability to personalize slide shows by adding labels, stars or music. You can share these slide shows with family and friends through YouTube using the direct link that Picasa 3 has added.
These are just a few of the new and improved features that Picasa 3 brings to you. Picasa 3 gives you a user-friendly, enjoyable way to store, edit and share your most precious photos.
Images
This post is part of the series: Picasa 3, Google's Online Photo Storage, and Editing System
Picasa 3 lets you upload and edit photos, then store them on Google servers in your secure account. You can even share or publish your photos through Picasa3 photo albums or You Tube. Lots of editing features mean you can tweak those photos to perfection. Learn the ins and outs of Picasa 3 here.