Guide to Contacts in Gmail: Address Search and Managing Your Contacts

Getting The Most Out Of Your Gmail Contacts
Gmail launched as an invitation-only beta on April 1st of 2004, with an initial 1000 people being invited by Google to test the product. Those 1000 people were occasionally given invites to extend to their friends and family, and those people were given invites, and so on.
Gmail officially exited beta on July 9th, 2009, over 5 years after it was first made available to the public, but due to the number of invites given out over those 5 years, it has been widely available to anyone who wished to use it since long before that. As such, it's become pretty popular, and many people, both business users and casual users, have switched from their old email providers to Gmail over the past handful of years.
But if you have a Gmail account, are you sure you're getting the most out of your contact list? Read on for a guide to managing and searching gmail addresses efficiently to insure you make the best use of them, and for those of you who don't have a Gmail account yet, read on to learn what you can do with your Gmail contacts if you're thinking about starting one.
Adding, Editing, And Removing Contacts
To get the most out of your Gmail contact list, first you're going to need to have a contact list. So to start, once you've created a Gmail account, you'll want to create a contact list out of the people who you'll be keeping in contact with, so you can easily search for those addresses when you need them later.
By clicking the "Contacts" button along the left of the page once you're logged into your account, you'll be brought to the Contacts Manager, where you can click the "New Contact" button to start creating your list of contacts. Clicking the button will bring up a form for you to fill out, and once you've entered the correct information for the person you want to add, you can click the "Save" button and that person will now be in your contact list.
Also, any time you reply to an email from someone not in your list, they will automatically be added to it, and you can edit their information from there or remove them if you don't want to save them as a contact. To edit or remove them, you simply select them from the Contact Manager and click on the "Edit" button, where you can change the information saved for them and then click "Save" to apply, or the "Delete Contact" button, which will remove them permanently.
Alternately, if you already have a contact list in another mail provider, you can import those contacts into your Gmail. You'll need to save them as a CSV file, which most mail providers provide as a default option for saving your contacts. If not, you can use any spreadsheet program to create a custom CSV file in the form of a table. Then you simply click "Import" in the contact manager and select the appropriate file from your computer.
Gmail can import up to 3000 contacts at once, so unless you email more than 3000 people on a regular basis, you will only need a single CSV file. You can also easily export your Gmail contact list to a CSV, in case you ever want to start a new Gmail account and carry your contacts over.
Organizing Your Contacts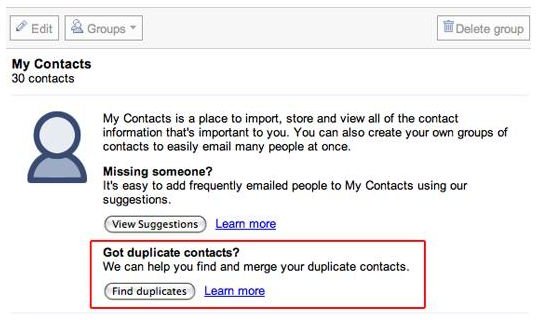 Once you've got a list of contacts, you'll want to organize them. You can separate your contacts into as many groups as you wish, making it easier to keep track of them and create things such as specific filters to sort emails. and you can always create or edit new groups. The default groups are My Contacts, Friends, Family, and Coworkers. These are all pretty self-explanatory.
There is also a "Most Contacted" group which Google maintains for you, by keeping it updated with the 20 addresses you use the most frequently, for an easy shortcut to the people you're most likely to be contacting at any given time.
To add a contact to a group or remove it from one, select the contact you want to move in the Contact Manager, and open the drop-down menu for Groups. Then, either select "Remove From" to take the contact out of the group or "Add to" and select the group you want to move that contact to from the list, or create a new group for it. You can create a new group by clicking "New Group" in the Contact Manager and then entering the name of the group.
You can edit and delete those groups in precisely the same way you would a single contact. Select the group you want to change from the Contact Manager and click either the "Edit" or "Delete Group" button. If you delete a group that has contacts in it, the group heading itself will be deleted, but those contacts will remain in your list unless you delete them individually.
Searching Your Contacts And Sending Emails
Once you've got a neatly organized list of contacts, you'll want to be able to contact the people in that list as easily as possible. After all, that's the reason of having them in a list in the first place. To do an address search for a specific contact, go to your Contact Manager and simply start typing into the gmail search box you see on the page. Google will suggest auto-completions as soon as you type a few letters, and you can click on the correct one as soon as you see it.
As for emailing, you can select a contact, multiple contacts at once, or even an entire contact group from your Contact Manager and click "Email" to start composing a message to all of them. Or if you start from the compose window, as soon as you begin typing a contact name or a group name into the "To:" field, Gmail's auto-complete feature will suggest any address that matches in your contact list, and you can click on that to enter it into the address field. By separating multiple addresses with commas, you can email multiple contacts at once from here as well.
As well, Gmail has a list of "Quick Contacts" down the left side of any page, which populates by default with the people you email the most. You can customize this to your specific needs from the Contact Manager as well.
Synchronizing Your Contacts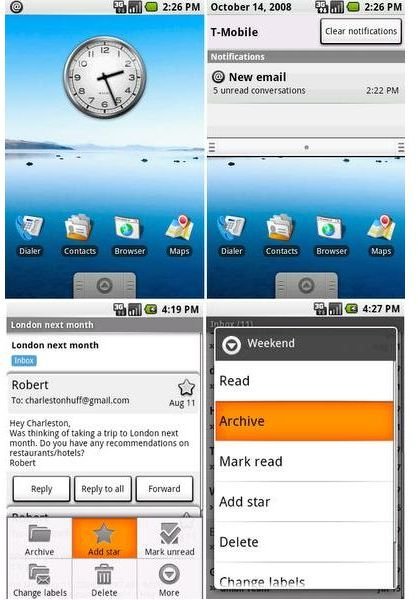 Your Gmail contacts can be synchronized to most mobile phones. Simply go into the Mail settings on your specific phone, and follow the instructions provided on your phone itself to synchronize your Gmail account to your phone. This carries over your contact list for you, which helps to fill the contact list for your phone itself, as well as allowing you to synchronize your email itself to a portable device for easy access to your email on the go.
For those having trouble navigating their phone's email settings, Google has some step-by-step instructions on their website for how to synchronize contacts to various types of phones. Gmail will even merge duplicate contacts in case they were already in your phone in just a couple of clicks. For organizations where employees might prefer the familiarity of Outlook Express but employers might want the added features available with Gmail and Google Apps, Gmail contacts can also be synchronized to Outlook Express through Google Apps, though this is only available to users with the paid versions of Google Apps (Google Apps Premium or Edu) by downloading the Google Apps Sync tool.
More Than Just Emailing
Your contacts have the option to show if they're online, and to set statuses telling you how they're feeling, all of which is instantly visible to you from your Quick Contacts. Of course, you can do the same thing with your own statuses. There are quite a few things you can do with your contacts from there as well, both in the Quick Contact list and from your Contact Manager with any other addresses you search for.
For instance, Gmail has an integrated IM chat feature, so if you see they're online, and you want to say something to them quickly, you can jump right into that instead of sending an email. Chat conversations are archived by default so they can be referenced later as well, and you can even download Google Talk to make free video and voice calls to your Quick Contacts.
When you receive an email with an attachment in it, Gmail also gives you the option to open it as a "Google Doc" which saves a completely formatted and editable version of the document that you can search your addresses to invite as many contacts to as you wish, allowing any of them to save changes to it. This is a great feature for schools and businesses where group input can be so important on so many things. As well, any additional social networking and communication software Google Labs comes up with, such as Google Wave or Google Buzz, will be able to interact directly with your contacts.
Using Your Gmail Account To Its Full Potential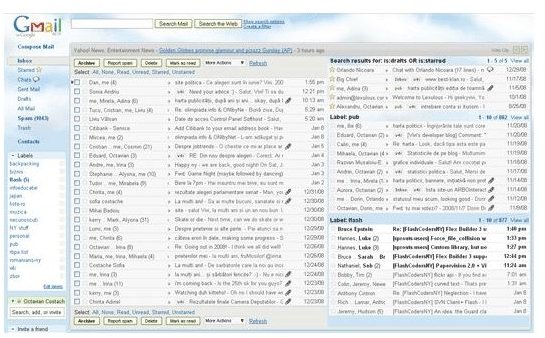 Gmail has been widely available for quite a few years now and has been officially out of beta for over a year. In the time since its creation in 2004, many features have been added, such as the various spam filters, the ability to synchronize and the integration with Google's other applications, or the ability to have multiple inboxes open at once.
Thanks to Gmail Labs, many additional features will continue to be added. If those features are there, there's no reason that you shouldn't be taking advantage of any of them that might be useful to you. You may as well get the absolute most functionality and efficiency as you possibly can from anything they're able to offer you, after all. Hopefully this guide has helped you to get the most out of your Gmail account now and into the future as Google works to create new features.
This post is part of the series: Guide to Using Gmail
This series will give you a step-by-step guide to getting the most out of your Gmail account and all of its features.