Gmail Notifier Download : Get, Install and Use Gmail Notifier For Vista, Windows 7 and Chrome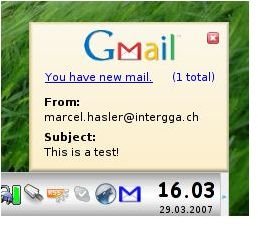 What is GMail Notifier
Gmail Notifier is a free program by Google that notifies you with a small pop-up window and a sound whenever you have a new email in your Gmail inbox. You can install the program on your computer; no matter which operating system you are using. It takes no more than couple of minutes to set it up. If you are a Gmail user and want to try this useful utility, follow the steps below and see how gmail notify feature works.
Image Credit:
rpmlinux.org
Get & Install Gmail Notifier
For setting up the Gmail Notifier program, here are the steps:
1. Download Gmail Notifier from the following link: Gmail Notifier Windows
2. As soon as you click on the download link, a window will open that will give you download information. Select "Save To Disk" to save the software on your disk.
3. Once the Gmail Notifer is downloaded, double-click on the "Gmail Installer" file to start the installation.
4. Read the license agreement and choose "I agree".
5. Select the "Standard" install option and click the "Next" button.
6. In the next step you'll be asked about the location where you want to install the program. Set the new location or leave the current location then click the "Next" button.
7. In the next window, click Next again and in a few seconds the installation will complete.
8. When the installation is successfully completed, click on "Close" to exit the setup.
Now you'll see a small envelope shaped icon at the bottom-right hand side of your desktop, waiting for new messages to arrive and notify you.
Using Gmail Notifier
Whenever you receive a new email in your Gmail inbox, the gmail notifier alerts you with a sound and a small pop up window at the bottom-right side of your desktop with a message that you have received a new email. The pop up tells you about the person who sent you the email. When you click on popup, the gmail notifier takes you directly to the email that's been stored in your Gmail account. The program also allows you to check more than one account, read, delete and mark the messages as "read" directly from the notification utility. Since the program uses IMAP, changes are automatically reflected on the web mail.
If you use more than one internet browser, you have an option to set the default browser for Gmail Notifer to open your inbox with. To change the browser, simply right-click on the envelope icon, select options and select the browser you want to use from the drop-down menu.
Now you don't need to open your browser and sign in to your account again and again to see if there is a new email for you. With Gmail Notifier for Windows 7, be notified with a pop-up message and a sound whenever a new message arrives.