How to Copy Maps from Google Maps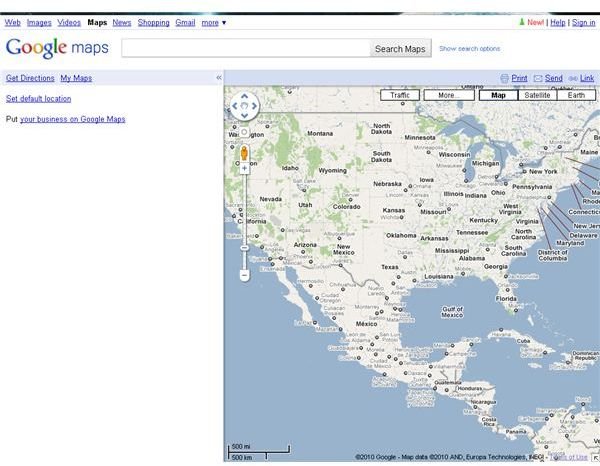 Google Maps - Free Online Web-based Mapping Service
Google Maps is a popular free online mapping service that lets users browse satellite maps and aerial imagery of Earth. It also helps users get images of locations and information about driving directions. In fact, there are many uses of this web-based service, from information about walking directions to satellite image viewing. Google Maps has a simple Map view as well as a Satellite view.
Quite often, users want to copy a particular Google map of an important location to their slide presentations or personal blogs. It can be very useful to capture a particular Google map and add it to a document or use it as desktop wallpaper. One can easily copy maps from Google maps using the computer's screen capture feature and an image editing program. Here's a step-by-step guide to copy a Google map:
Easy Steps to Copy Maps from Google Maps
1. On your web browser, type https://maps.google.com/. Google Maps has useful on-screen tools and a search box. You can search for a particular location – city, town, airport, major landmark, tourist attraction, etc. – via the search box and then use the zoom tool to have a close view of the location. You can also switch to satellite view by clicking the "Satellite" button located on the top-right corner of the map.
2. To capture a full view of the map, first press the F11 key. This will switch the browser to full screen view. You can access the full screen command via the View menu on your browser. You can also hide the left hand side panel by clicking on the small arrow. This will hide the left panel, giving you a complete view of the map.
3. On your keyboard, press the Print Screen key to capture or copy the Google Maps image. While there are different screen capture programs available free on the Internet, the Print Screen button can come in handy to capture any image quickly without any software.
4. Now, open any image editing software. You can use Adobe Photoshop, but the easiest tool is Microsoft Paint as it has simple tools to select or crop and it can save any captured image in different file formats. Click All Programs>Accessories>Paint.
5. Next, click Edit>Paste to paste the captured Google map.
6. On the tool box, click Select and select the area which you want to copy to your slide presentation or any other document.
7. Click Edit>Copy. This will copy only the selected area of the screen image.
8. Open Microsoft PowerPoint. Click New Slide and select Blank Slide. Click the Paste button on the Home tab.
These simple steps will surely help you copy maps from Google maps and paste them on your PowerPoint slides or any other document.
Important:
Remember, Google Maps is a free web-based mapping service for non-commercial use only. You cannot use the image for any commercial or business use. For more information, see the Google Maps' Terms and Conditions.