Google Chrome makes it easy to download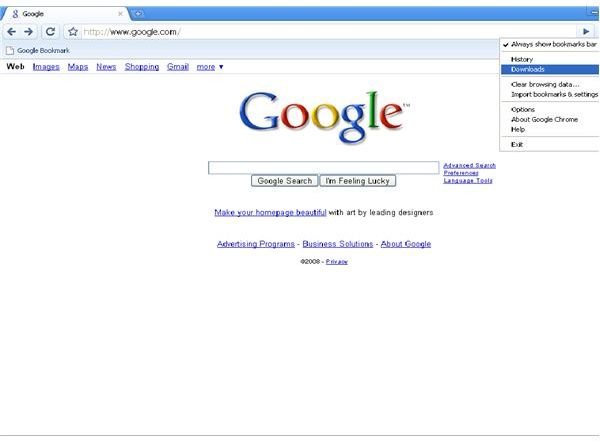 How Google Chrome makes it simpler to download
When you download a file in Google Chrome, instead of the download dialog box which most browsers use, the status of the download is shown at the bottom of the window or tab in Chrome. The download bar shows download progress, as well as the time remaining until downloading is complete.
This makes tracking the download as simple as glancing down, rather than accessing a download dialog box from time-to-time. It's also simpler to open a downloaded file. Click the download in the download bar to open the file. Clicking on the download bar before downloading is complete will tell the file to open as soon as it completes downloading. You can drag the downloaded file from the bottom of the tab to your desktop or to any other open folder and then open the file there. Or you can click the arrow on the download bar for more options.
To pause a download, select Downloads from tools. This will open a tab which displays all your downloads. Click Pause next to the download to briefly stop the download.
By default, Google Chrome clears your download history every 24 hours. To erase your download history from a longer period, select Clear browsing data from under Tools. From the dialog-box that pops-up select Download history and from the drop-down menu select the period you want your download history to be erased from and click the Clear browsing data button.
You can also modify the settings to open the downloaded files. You can set certain files such as .doc or .xls to open soon after downloading while the other files will prompt you for further action. You access these controls by clicking the arrow in the download bar and selecting Always open files of this type. You can also clear all your settings so none of your files open automatically. To do this, click the wrench symbol on the right of the address bar and select Options. Click the Under the hood tab and click Clear auto-opening settings.
Google Chrome has a default location where it downloads all your files. It stores all the files at location \Documents and Settings\\My Documents\Downloads. To customize these settings, click tools menu, then options and then minor tweaks tab. Under the Download location section, click on Browse and select the folder where you want your future downloads to be saved.
You can watch a video about downloading in Google Chrome here: https://www.google.com/support/chrome/bin/answer.py?answer=95759&topic=14681
How to download in Google Chrome
This post is part of the series: Everything You Need To Know About Google Chrome
Google's entry into browser development is the talk of the 'net. We cover everything you need to know to get the most out of Google Chrome.