Google Business Center - Getting Started with Google Places for your Business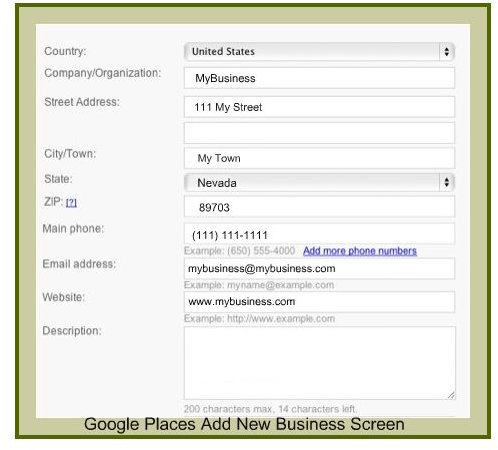 What is Google Places?
Goggle has created a way for local businesses to get found through Google Places. Renamed and re-launched from Local Business Center to Goggle Business Center to Google Places in April of 2010, the web based application offers free advantages to small and local area business owners.
The Local Business Center was first developed to coincide with Place Pages, an online application that allows people to log in and check out over 50 million different types of businesses such as restaurants and hotels. Also, included with types of reviews created by Google Places users is the information collected and shared on schools, museums, parks and other non-business type places for people to see and visit. The same information is available to be created for business and that is where Google Places comes in. The new name and the alignment to Place Pages brought on even more features for users on the business end of unlimited information online.
One of the new features developed for Google Places is the ability to communicate with their costumers online. When someone comments on the business information that the business owner creates, the owner can then respond to those comments and even use their listing as a way to announce new products and services to their customers. Perhaps the main benefit to business owners that utilize Google Places is in the ability to retain how and what information is displayed in conjunction to their business. Business owners can manage their information online by posting location, hours of operation, what products and services are available and even display images along with that information.
Sign Up at Google Places
In order to get started using the Google Places and get your business information out there on the web for free, you need to first have a Goggle account. If you have a Gmail account, then you can use the same information to sign up with Google Places. If you need to create a Gmail account, see the article Find Out How to Set up a Gmail Account. Once you create a Google Places listing, you will be able to insert your email address that is associated with your business URL for customers to contact you through.
Once you sign in with your Gmail account information, click on the Add New Business button and you will be taken to a new web page. In this first information page, you need to fill out the following information: name of business, street location of business, business contact phone number and business website. Click on the image to the left for a larger view of the information screen.
Next you need to click on the categories that your business falls under, for example gift shop, and Goggle Places will allow for five category spots to be filled in. When the first section of information has been completed, you will then need to fill in the business hours of operation and then the acceptable payment options that the business will take in.
Images are up next in information that can be added for your business. Google Places allows for ten photos to be added to a listing, with each photo being either uploaded from the hard drive to direct linking to your business websites URL of the image. You can also add a video in through the use of a YouTube account and upload up to five videos in regards to your business listing. Adding engaging videos and images to your listing can go a long way in promoting your information in the Google business center online.
Once you are done entering all of your business information, Goggle requires a verification of this information either by phone or by postcard. Follow the instructions in the open window that appears when you click on Verify. Choosing to verify by phone is a much faster process and will lead to Google Places calling you at the business contact number that you provided.
For more information on Google Places, visit their main web site at: https://google.com/places