Sync Google Docs without Google Gears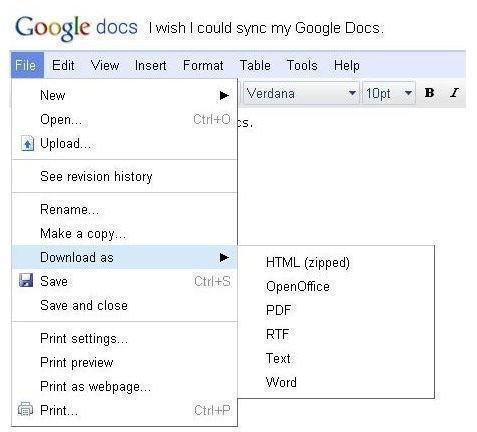 In the past, users could sync Google Docs to a folder on a local computer if they had Google Gears installed. This enabled them to save their documents for offline viewing and editing. As of May 3, 2010, this functionality was discontinued by Google. The following message is found on the Google Docs help site: "On May 3rd, 2010 we disabled offline access to Google Docs, and it's no longer possible to access Google Docs while disconnected from the Internet." Google implies that the sync functionality may be restored in the future, but if you need to synchronize Google Docs now, this won't help.
Meanwhile, you can still save your Google Docs to your hard drive, although there is no synchronization capability. In Google Docs, click "File" and then "Download as". You can choose to save your document in several different formats.
Sync Google Docs Using OffiSync
OffiSync is a plugin for Microsoft Office that allows users to Sync Google Docs. OffiSync has both a free and a premium version that can be downloaded from its Web site. This plugin allows you to access Google Docs directly from Microsoft Office applications and save them to Google Docs or your local hard drive. OffiSync also adds a dashboard to Microsoft Office applications that allow you to set collaboration options without leaving the application.
To use this plugin, you need to have Microsoft Office and a Google Docs account. When you run the OffiSync setup program, it will check to make sure your computer has all the required components installed (including .NET Framework).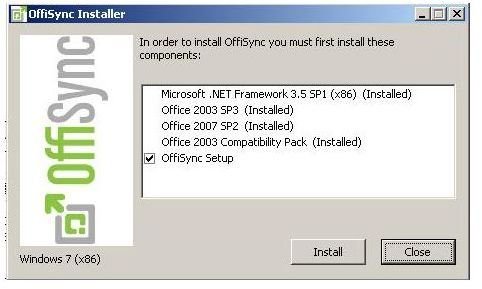 When you click the "Install" button, an "OffiSync Setup" window appears with another "Install" button. Click it and follow the on-screen instructions. Once the plugin is installed, you can save, share, synchronize and update any file on your computer to Google Docs and vice versa using the "OffiSync" tab on the Office ribbon.

Sync Google Docs Using Syncplicity
Syncplicity offers a free and a premium synchronization service for Google Docs. To try it, visit the Syncplicity Web site and then create an account. Once you do this, you can download and install the Syncplicity application.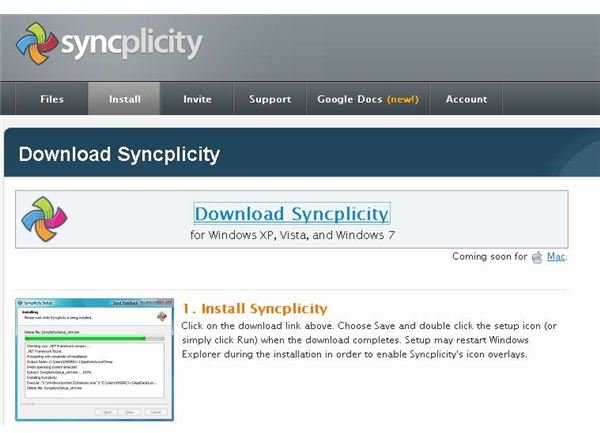 If you want to sync Google Docs, click the "Google Docs (new!)" option on the Syncplicity Web site menu.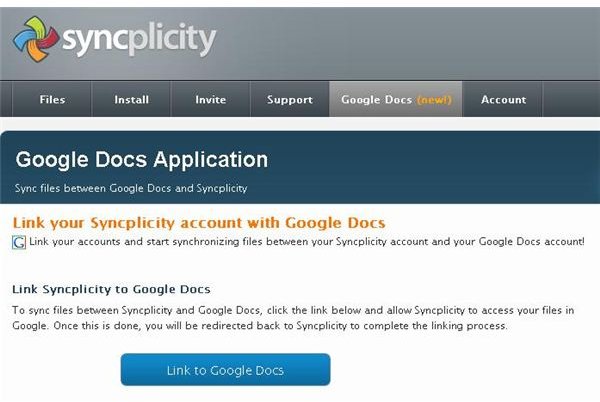 When you click the "Link to Google Docs" button, you are prompted to authorize your Syncplicity account to communicate with your Google Docs account. You then can choose a folder to synchronize with Google Docs or optionally create a new one. The free version of Syncplicity allows you to synchronize up to 2 GB of documents between your hard drive and Google Docs. Paid versions of Syncplicity allow up to 50 GB of files to be synchronized. Now Google Docs can be emailed from your local machine or from your Google account with ease.
Syncplicity actually maintains two versions of your files: the Google Docs version online and your local rich text version on your hard drive. This means that Microsoft Word features like comments and change tracking will not be available from the Google Docs version of your file. When changes are made to the online version, Syncplicity will create a new version of the document on your hard drive rather than overwriting it. Another thing: Syncplicity is not able to sync Google Docs that have been deleted, moved, or renamed.