Guide to creating Application shortcuts in Google Chrome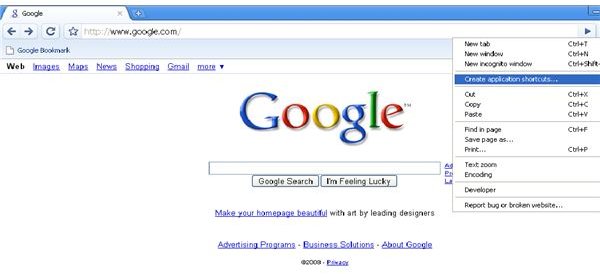 How to create Application shortcuts in Google Chrome
Google has included some very innovative features in their new web browser, Google Chrome. One of them is the ability to create application shortcuts.
What are application shortcuts? Let's say you have favorite website or an application online which you access all the time or need to access pretty fast. Instead of going the traditional way of opening up a web browser, typing in the website URL and navigating to the page you want or maybe even accessing your bookmarks, you can create a shortcut of that website and place it on your desktop. The next time you need to access the website, simply click on the shortcut on your desktop and the website or application opens up in a new special Google Chrome web browser. Very simple and time saving!
Steps to creating an application shortcut:
1. Open the Google Chrome browser and navigate to the website, specific webpage or application you need easy access to.
2. Click the page menu which is a white paper icon on the right of the address bar.
3. Select Create Application shortcut… from the drop-down menu.
4. A dialog-box with the title Google Gears will pop-up. You will see the name of the application or web browser and options to create the shortcuts in three different places: Your Desktop, Start menu and Quick Launch bar. You can choose to create shortcuts in any one or all three places. Click OK to create your shortcuts.
5. When you need to access the application, click on the shortcut from your Desktop and it will open in its own special Google Chrome window. You can also use some of these applications offline.
The difference between Google Chrome web browser and the special Google window is that application windows don't have tabs, address bars, buttons are menu. If you need to access a link in the application window, it will open in a new Google Chrome window.
You can also watch a video about Application shortcuts at the Google Chrome website: https://www.google.com/support/chrome/bin/answer.py?answer=95710&hl=en
Application Shortcuts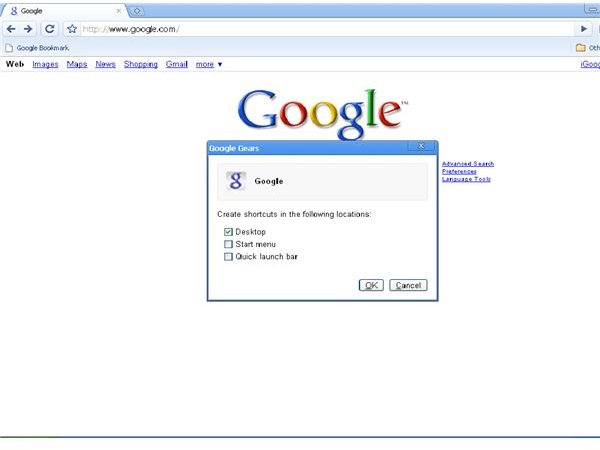 This post is part of the series: Everything You Need To Know About Google Chrome
Google's entry into browser development is the talk of the 'net. We cover everything you need to know to get the most out of Google Chrome.