Share Notes with Your Contacts in Google Reader - ARCHIVED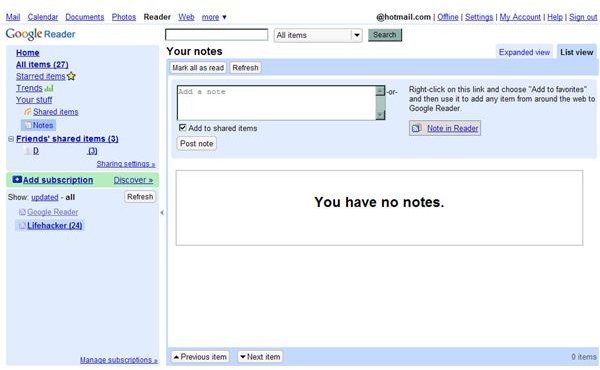 Editor's Note: Google Reader is being shut down on July 1, 2013. Users are encouraged to use Google Takeout in order to transfer their accounts to other RSS feeds. This article was orginally published in 2008 and has been archived but left up for informational purposes.
Your Notes
From your Homepage > Notes. Notes is located under Your Stuff on the navigation menu. From your Notes page you can add a note to shared items. Type your note in the text box > Post Note. This will send the note to your shared contacts as an individual item. Your Notes page also contains a link to add to your favorites. Right-click > Add to Favorites. Save it to your toolbar folder for easy access. The link allows you to share any page and add a note while browsing.
Share While Browsing
With the link you added to your favorites, you can share items and notes while browsing. You do not have to add a feed from the site to your Google Reader to share items using the link. When you land on a page you want to share with your Google Reader friends, just click the Note in Reader shortcut. A small window will pop up. This might get blocked by pop-up blockers, so be sure to allow it. The window has the item title, a brief summary, and a text box. Type your note in the text box > Post Item. A confirmation is shown briefly. The item is instantly sent to Google Reader, along with your note, and shared. The best part is you're not redirected to Google Reader, so you can keep browsing.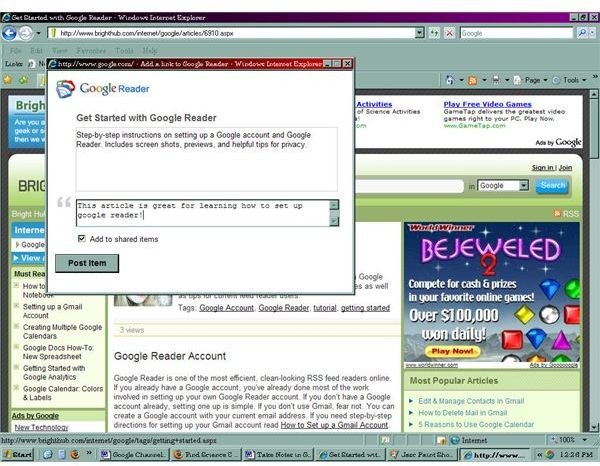 Add Notes in Google Reader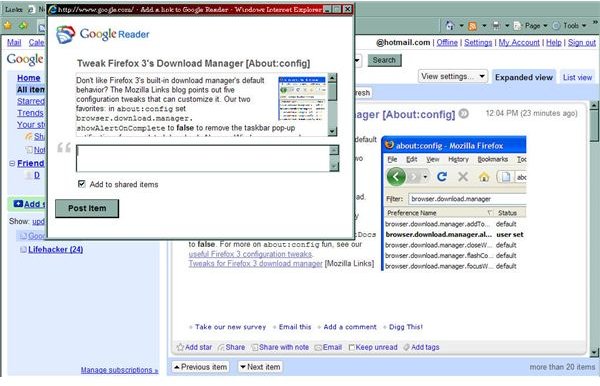 You can also share items with notes from within Google Reader. If you want to share an item, but also add your own commentary, just scroll to the buttons below it > Share with Note. The same note window will pop up. Enter your note > Post Item. You will receive a quick confirmation, then the window disappears. You'll still be viewing the same item in Google Reader.
View Your Notes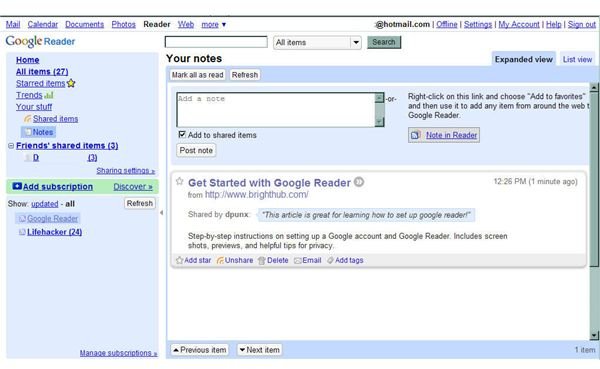 On the navigation menu you can view your notes or all shared items, including those with notes. To view only your notes >Your Stuff > Notes. A list of all items you've attached notes to will come up, so you can read the article and your note. You can also go to You Stuff > Shared Items. This will show all items you've shared. If you attached a note to any of them, it will be viewable when you expand the item.
This article has been placed in our archives.
This post is part of the series: Google Reader
Google Reader is an easy to use, popular web-based feed reader. In this series learn the basics, tips and tricks, and add-ons to enhance your user experience.