Understanding Google Translation Tools

Google Translate Web Tool
Google Translate web tool is the first translation tool offered by Google. I remember bookmarking this site and opening it up whenever I needed to translate a website written in a foreign language and from time to time when chatting with people from other countries who use their native languages.
It is a pretty useful and effective tool, although some of the languages are not fully supported and translations were kind of loose especially for Asian languages. Nonetheless for basic translation, this online Google Translation Tool is good enough as it supports around 50 languages.
Website Translator Gadget

Google also made available some translation tools and gadgets that you can use to add Google translation tools on your websites and blogs. To add a Google translation tool on your blogs or websites, you just need to copy some snippets of code and paste them to your site's or blog's HTML code. You can also specify a default language to translate websites, text or documents right on your site/blog. This is also useful for your readers, especially those whose language is different from your site's default language.
Google Translate on Browser Toolbar
For your personal use, especially if you're browsing foreign-language websites, you can install the Google translate tool on your browser's toolbar. This toolbar is pretty useful as you can just point your mouse cursor to a particular word and Google Word translator will display the word's meaning in your own language. The Google Translate Toolbar translates from English to Chinese (Traditional and Simplified), Japanese, Korean, French, Italian, German, and Spanish.
Alternatively, you can grab specific language translation buttons from this site and drag them to your current browser's toolbar. This will give you a one-click translation tool whenever you are browsing any foreign language websites.
If you are using the Google Chrome browser, you can enable a pretty useful and nifty plugin that lets you translate websites that you are browsing. What's good about this plugin is that it automatically pops-out on the top most part of your screen whenever the website that you are browsing is different from your browser's default language. The plugin immediately recognizes the language of the site and suggest to translate it to your default language. Once you've translated a site's homepage, clicking on links to its subpages are automatically translated to the language you selected as well.
Google Translated Search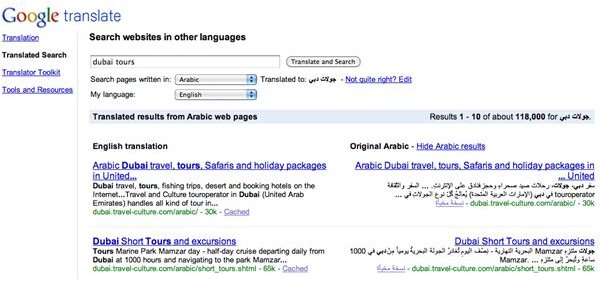 Another useful Google Translation Tool is translated search. This tool lets you conduct a usual Google search, specify the language of the website which Google will translate and specify the language which Google will use to display the search results. Google Translated Search will then display the search results in your language side by side with the results in the original language it was written.