Publish to Blogger using Google Docs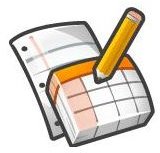 Introduction
One of the best advantages of using Google products, apart from the excellent functionality and that they are freeware, is their integration potential. Mostly all Google products will integrate with each other without the hassles of configuring the connections.
For example, Blogger users who use images in their posts will find that all their images are stored in a folder in Picasa. Therefore, there is no need to actually create an account with Picasa, but one that is associated with the Blogger login will be setup automatically. Then if the user so chooses, Picasa is available for free online photo management options.
Similar easy integration is available with other Google products, and here we focus on the various uses of using Google Docs with Blogger.
What are Google Docs and Blogger?
Google Docs is a convenient method of sharing documents with other people on the Internet. It avoids the process of creating a document offline, uploading it into an email attachment and sending it to someone. Apart from the obvious effort involved, there are other considerations like compatibility of word processors, operating systems and even versions that come into the picture.
With Google Docs, it is merely a question of creating the article online, setting the permissions for public sharing, and sending the link to the recipient. The interface is entirely web-based, therefore there is no question of compatibility. Plus attachments are avoided altogether, which can sometimes be a security sticking point in many cases.
Blogger is a popular blogging platform used by many people worldwide to post their thoughts onto the Internet. It presents an intuitive interface which people with limited computing skills can navigate easily. There are readymade templates for blogs, with the option to override them for customization as well. In short, one does need to have web designing expertise to host a blog; a fact that was fairly daunting previously.
Publishing to Blogger using Google Docs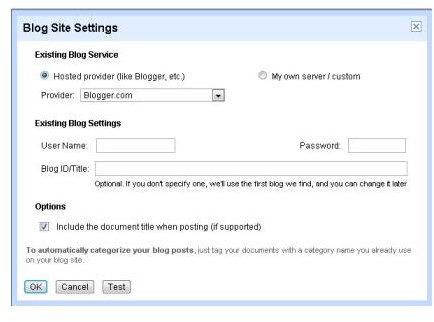 Blogger's interface, while easy to use, has rather simplistic formatting tools available for use. For example, it is a chore to add images to a draft because the images are uploaded before they appear in the draft. There is no way to add captions, or image borders, without a great deal of effort and prior planning.
It is much easier to use a publishing program or a word processor to generate the post first, and then publish it to the blog. This is where Google Docs comes into the picture; it is easy to create a post, rich with multimedia content and publish it quickly to the blog.
The settings are straightforward, as both products are Google and essentially use the same login details. The configuration merely involves specifying the blogging platform and the login details.
The advantage of being able to do this is that the functionality is not limited to just documents; Google Docs supports spreadsheets, presentations and even PDF files, which all can be uploaded a blog as downloads.