Top 10 Google Gadgets and Widgets for your Desktop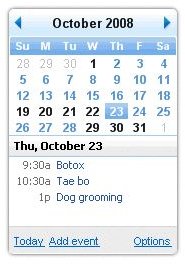 Google Calendar gadget
This Google desktop gadget is very useful if you are using Google's calendar service. The interface is pretty cool in its glossy appearance aside from being useful for keeping track of you activities at a glance. If you install this Google gadget, take note that some who've used it already are experiencing problems with regards to refreshing the items. Otherwise, the gadget is pretty useful and a worthy addition to your desktop. Download link.
Google Docs gadget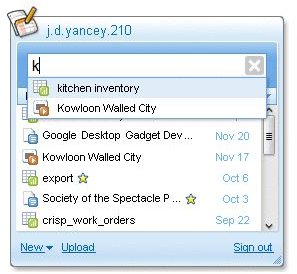 This Google desktop gadget lets you find, open and upload Google Docs files easily and quickly. It loads fast, works fast, and is a pretty good way of accessing your Google Docs account without needing to open up a new browser window to open Google Docs. The gadget also lets you drag and drop file from your file manager onto the gadget itself. Download link.
Weather gadget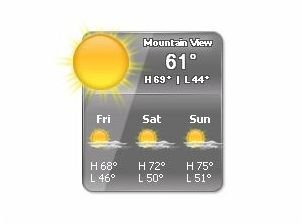 Weather-related app is perhaps one of the most used applications, be it on mobile platform, web or desktop. This third-party Google desktop gadget shows weather for specified locations. You can select a specific city weather bulletin and have it displayed on your desktop until you changed it to another location. Download link.
Media Player Remote gadget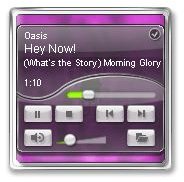 Here's a useful Google desktop gadget that lets you control your music and video play from anywhere on your desktop. The interface was beautifully designed and will entice you to use the gadget more often. One feature that the gadget lacks though is the functionality to create playlist. It would be great if this gadget will be update to have the said feature. Otherwise, this desktop gadget is a must-install. Download link.
Wikipedia Search gadget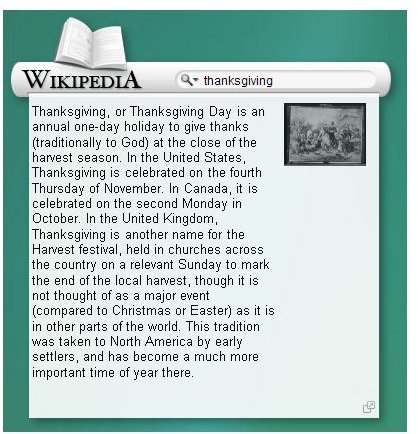 If you use Wikipedia a lot, you need to have this gadget installed on your desktop. Basically it lets you search Wikipedia quickly from your desktop. The gadget display search results referenced from Wikipedia on the gadget's window. You can then click on the link to view the entire results from the Wikipedia site. Download link.
Calculator gadget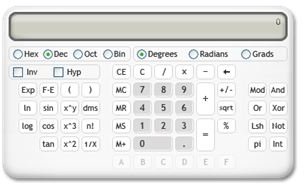 If you use your computer's default calculator application a lot, you might want to get this Google desktop gadget instead. It's almost the same in appearance, functionality, and interface as most default calculator programs of most computers. This gadget was sized perfectly and will not occupy too much of your computer screen. Download link.
Tetramino Game gadget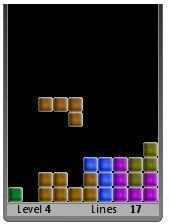 Want to play Tetramino game in your sidebar or on your desktop? Then download this Google desktop game gadget. It's a pretty cool game actually built to work fine on your desktop's sidebar. Now, who would have thought that you can actually play a game on your desktop's sidebar? But you can, try it with this gadget. Download link.
Answer Ball gadget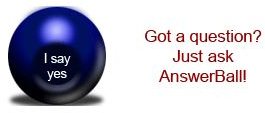 Now here's an awesome Google desktop gadget that could actually blow your mind away. This gadget lets you ask a question and it will give you a response quickly. You can ask anything at all and the gadget will try to give the most appropriate answer. Of course, it's just for sheer fun and you should not take the answer it gives seriously. Download link.
Online Dictionary gadget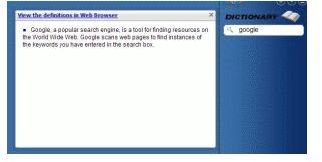 This gadget lets you look-up for definition of words or phrase with needing to open a web browser or to fire up an application. If you find yourself looking up for definitions of terms often, this Google desktop gadget would definitely come in handy. Download link.
System Monitor gadget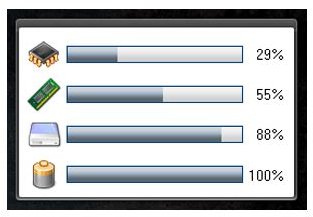 This Google desktop gadget displays your computer's CPU usage, memory usage, disk status and battery status. It's a great app for quickly knowing problems and issues with your computer whenever you notice something different with its performance. Download link.