What to Expect When You Sign Up with Google Voice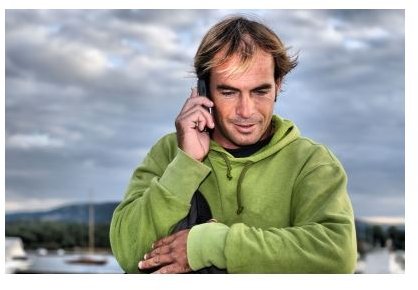 Google Voice Gives You Plenty of Choices
Google Voice is similar to having a personal assistant to direct your calls to the phone of your choice whether you are on the road or at home or work. It is not a conventional phone service, so you won't have to buy a new smart phone or sign-up for a multi-year contract. The service is free which means that you can forget about paying any tacked on connection fees.
With Google Voice, you have lots of options. For example, you can either add a voice mail to an existing phone number or select a new number from Google which gives you additional features, such as call screening, call forwarding, blocking calls, and sending and retrieving SMS text messages. Google recently added portability so that new and current users can import their current mobile phone number as their Google number for a one-time fee of $20. If you choose this option, your contract with your current mobile provider will be automatically canceled, but you will receive all the additional features Google has to offer. If your current mobile provider is Sprint, Google has a special arrangement where Sprint customers can keep their Sprint service and still receive the same benefits as if they had a Google number.
The Registration Process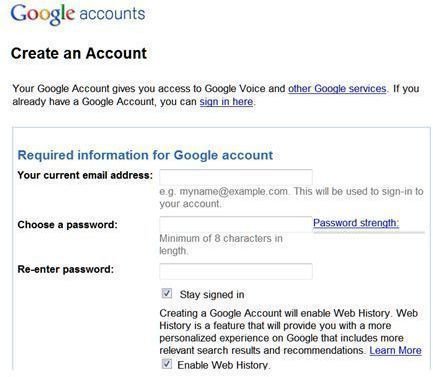 When Google Voice was first rolled out, you had to request an invitation to start using this service, which took a couple of weeks to receive a reply. Now anyone can get started immediately by simply going to the homepage of Google Voice and creating an account online.
The registration process is pretty routine. First, you will be asked to provide your current email address and create a password. Google provides a password strength analyzer and suggestions on how to create a secure password. You will also have the opportunity to setup your Google profile, if you don't have one and sign up for Google's Web History, a service that tracks, stores, and analyzes your Google searches to provide you and Google with a log of your web activity and trends.
What You Should Know Before Signing Up
As a new Google subscriber, it is good idea to read the company's terms of service and privacy policy statement to understand how Google collects, retains, and protects your personal information. For example, by signing up for Google Voice you give them the right to store, process, and maintain your call history, voicemail greeting(s), voicemail messages, SMS messages, recorded conversations, and other data related to your account. As the user of the account, you can always delete these entries or terminate the service at any time, but you should be aware that residual copies of deleted data and accounts may take up to 90 days to be removed from Google's active servers and may remain in their offline backup systems. Also, the call history for billable calls, such as international calls, will remain visible on your account and be retained in Google's systems for accounting purposes. For a review of what should be covered in a privacy policy, check out this article on privacy policy provisions.
For more on the registration process, including how to select your phone number, continue to page 2.
Choosing Your Google Voice Phone Number
After finishing the preliminary registration steps, you will be prompted as to whether you want to continue the setup using your existing mobile phone or by selecting a new phone number.
Picking your existing number entitles you to these benefits:
Voice mail
Voice mail transcriptions
Custom voice mail greetings for different callers
International calls at reportedly lower priced rates
Choosing a new Google number or porting your mobile number as your Google number gives you all the above features plus these extras:
Call forwarding to as many as six other phones in the United States
Call recording
Free SMS text messaging from the account
ListeninTM which enables you to listen live to the voice messages to decide whether to pick up
Conference calling
Call Blocking
Note: Sprint customers can keep their Sprint number and integrate it with Google Voice to get all the features available, except for the voicemail. But you can even pick up this feature if you get a Google number and display it when making calls and sending texts from a Sprint handset.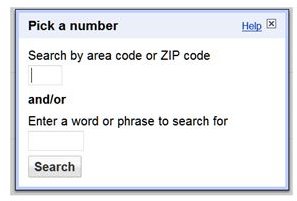 To help you choose your number, Google prompts you to enter either your zip code or a word or phrase (great for businesses). If you choose the zip code your first three numbers will match your local exchange. I used my area code and scrolled through the numbers until I found a sequence that I could easily remember.
The bottom line is that if you are simply looking for a voice mail service that will transcribe and archive your messages then adding Google Voice to an existing line makes the most sense. However, if you want the convenience of having one number to ring all your phones and a "virtual" assistant to monitor, filter, and direct your calls then you should go for a new Google phone number with all the bells and whistles.
How to Reverse Your Google Voice Sign up Choice
If you have selected to setup a Google Voice account with a non-Google number, you can add a Google number later for free without any additional wait. Simply click the Get a Google number link on the Phones tab of your Settings and follow the prompts to add a Google number to your account. Always choose your Google number carefully because if you want a different Google number there is a $10 one-time fee to change. Once you have your account activated, you can setup your individual phones to work as one powerful integrated phone system.
Reference and Image Credits
Google Voice Support at https://www.google.com/support/voice/bin/static.py?page=guide.cs&guide=22635
Screenshots by author
Photo Credit: Federico Stevanin/freedigitalphotos.com
This post is part of the series: Getting Started with Google Voice
This is a multi-part series that explains how to get started in setting up and and using Google Voice.