Uploading Multiple Files to Google Docs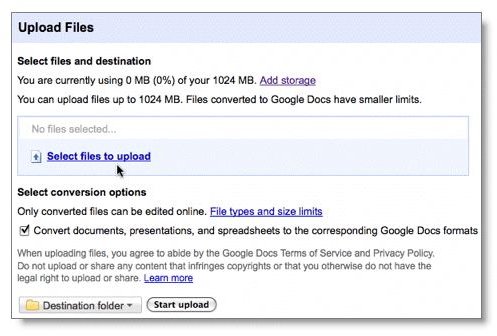 Google Docs - Office suite on the move!
Cloud applications are programs that exist only on the internet and yet allow you to work with your data and carry them around when and wherever you want. Google has been steadily rolling out several cloud based applications of which Google Docs is a fully functional office suite that should satisfy most users. Google docs is completely compatible with Microsoft Office file formats which means it can read and edit Microsoft office files as well as export files to Office format that can be opened and edited again on any computer.
Google Docs offers a simple and effective interface to work with files, and uploading files to your Google docs account is again a very simple process.Using the web interface on google docs, click "Upload" button located at the left side of your screen beside the "Create New" button. The upload files screen comes up with instructions as to how to proceed.
Click the Select files to upload link and a dialog box pops up where you have to select the files from your local hard drive that you wish to upload. When you wish to upload multiple files simply hold the shift key (on Windows & Mac) and perform a multiple selection (consecutive files only) or the control key (Command key on a Mac) to make individual non-consecutive selections and hit open. Now you have screen that shows the progress of your file uploads to Google Docs and you can work with them once the upload completes.
On the "Upload Files" screen you can also choose the destination folder or create one where the uploaded files will go into. Make sure the "Convert documents, presentations, and spreadsheets to the corresponding Google Docs formats" checkbox is checked, since if it is not then you cannot work/edit with your files on Google Docs interface.
Google Docs Uploader - Windows only!
Uploading multiple files on Windows machines is a breeze with the Google Docs uploader application. The Google Docs file uploader utility available from the Google Data team that runs in the background in your system tray and by just calling up this application you can select the files that you want uploaded to Google Docs. This application also adds the "Upload to Google Docs" menu option in the right click menu, making it easier to upload single files as well. Unfortunately, the Google Docs Uploader application is available only on the Microsoft Windows platform and is not of use to users of Mac or Linux operating systems.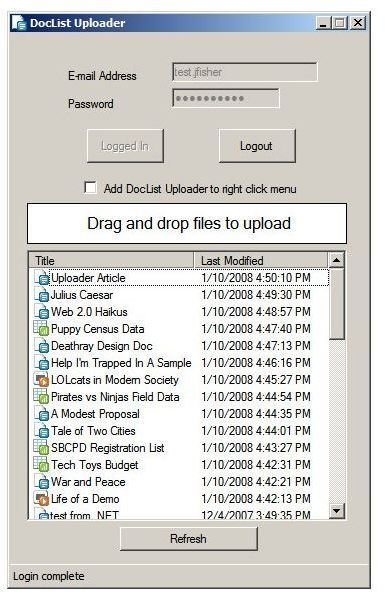 Remember that you can upload as many files as you want until you run out storage space on the your Google Docs account which also shares space with Google's Picasa. There are also restrictions on the type of files you can upload, such as only Microsoft Word files not exceeding 500Kb are allowed, Powerpoint files have a size limit of 10mb and spreadsheet Excel files of upto 1Mb per file are allowed.
If you are a user of Google's Gmail, then you can easily import files that you receive by email directly into your Google Docs interface and read and edit them directly. If you do receive multiple files as attachment you can of course import each of the files by clicking on the "open with Google Docs" option that comes up besides the attachment.