Understanding How To Locate A Satellite In Space Using Google Earth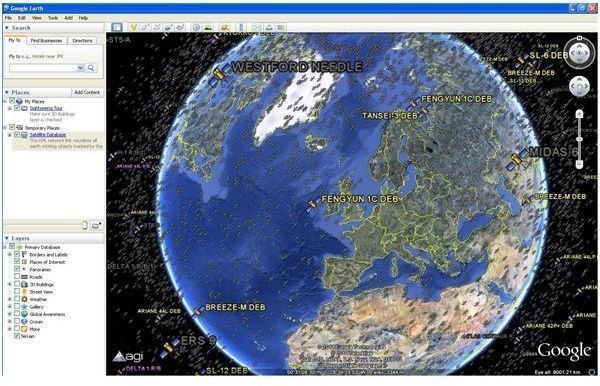 View Artificial Satellites in Google Earth!
There are over 13,000 objects in orbit around the earth, many of which are active satellites. However a great deal of what is up there is also junk, lumps of useless metal and plastic left drifting following space missions, decommissioning of satellites and collisions.
Tasked with tracking these objects, the US Strategic Command releases a regular list of the objects that they monitor, which includes both active and retired satellites as well as debris and you can see this information in Google Earth.
It is a visualization that can easily be imported into your Google Earth in such a way that it can be saved as a regular source of information – and it really is fascinating to be able to view these manmade near-earth objects suspended in orbit around our planet. Follow these steps for how to locate a satellite in space using Google Earth.
How to Locate a Satellite in Space using Google Earth
Using Google Earth to view these satellites is very simple and straightforward. To begin, make sure you have Google Earth updated to the most recent version. Download an update from earth.google.com.
Next, you will need to get hold of the visualization. This can be downloaded from adn.agi.com – simply click the link and your browser will open the file in Google Earth. The recognizable image of the Earth will then be added to by 13,000 satellite images, the majority of which you won't be able to see. Many are labeled and can be zoomed into to a certain extent. Although you can see the names of these satellites, no other information is available – presumably along with domestic relays, there are a fair few military satellites in orbit.
Saving the Information
Now that you have discovered how to locate a satellite in space using Google Earth, it is probably worth saving the information. You can do this in the Places menu – initially the visualization is available as a Temporary Place, but by saving under My Places you can regularly view this visualization of your home planet surrounded by satellites.
To save in My Places, right-click the entry for Satellite Database in the Places section and select Save Place As…
With the visualization added to your regular views, you can then use the check box to enable and disable the Satellite Database – this might be useful if you wish to carry on with other tasks, as the database seems to update the view in Google Earth every few minutes as the planet rotates. Sadly, the satellites aren't searchable, but if you're looking for a specific device and know where it should usually be found, it shouldn't take too long to find!