How To Easily Sync Google Calendar And Windows Live Calendar
Unifying Calendars in "The Cloud"
Two superb online calendar services, Google Calendar and Windows Live Calendar can be synced. This represents a great advantage to the vast number of people with accounts with both services – by synchronizing these services you're unifying two very different and very useful "cloud" resources.
For example, you can synchronize Windows Live Calendar with Outlook using Outlook Connector. If you then sync Google Calendar and Windows Live Calendar you will have 3 very different calendar systems synced and accessible from a range of devices, either via a webpage, through a PC, Mac, Linux device or any number of mobile devices from Windows Mobile, Android, BlackBerry, Palm Pre and iPhone to Symbian devices.
To begin of course, you'll need to make sure you have a GMail account (often @gmail.com but also ending in @googlemail.com) and a Windows Live account (this can be @hotmail.com, @live.com or @msn.com, or any international variation).
How To Sync Google Calendar and Windows Live Calendar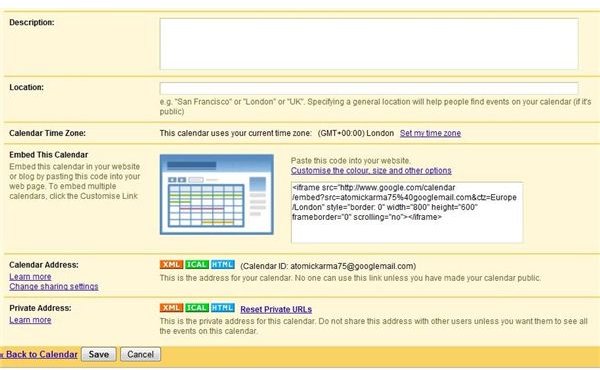 In order to successfully sync Google Calendar and Windows Live Calendar, you will need to follow the following instructions to acquire a secure URL to your Google Calendar, and apportion access to this in your Windows Live Calendar.
To begin, open Google Calendar, and browse to Calendar > Calendar settings (via the small cog in the top-right corner) > Calendars > Share this Calendar > Calendar Details.
At the foot of this page is the section marked Private Address. Clicking the ICAL button will reveal a link such as https://www.google.com/calendar/ical/USERNAME%40googlemail.com/public/basic.ics. This address will give you secure access to your Google Calendar from Windows Live Calendar.
Following this, in Windows Live, sign in to your account and then then go to Calendar > Subscribe and in the Calendar URL field paste the link acquired from your Google Calendar.
Note that this method can be used in both the online version of Windows Live and the Vista OS Windows Live Calendar tool.
One Way Sync
One drawback of this method is that it is only a one-way sync – your Google Calendar has been added to your Windows Live Calendar, rather than vice versa. Updating this Google Calendar (which can now be viewed in Windows Live Calendar) will lead to a pretty quick update to the synced calendar in Windows Live. Only by also synching your Google Calendar with Microsoft Outlook can you get unified 2-way sync – using three data sources to achieve this is unfortunately a little unwieldy.
This is the state of affairs in 2010 – a level of synchronization between the most popular formats and devices that is considerably more advanced than the level of synchronization on offer just 2 years ago.
Although there might be some disappointment with what is currently available (and a de facto calendar standard would go a long way in making such data easier to sync) it is likely that as time progresses more suitable calendar syncing between Windows Live Calendar and Google Calendar becomes available.