How To Use Google Calendar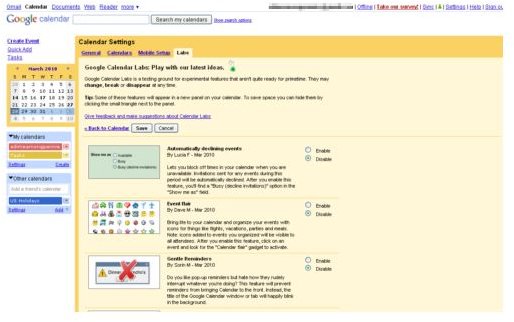 Getting Started with Google Calendar
Learning how to use Google Calendar isn't difficult at all. To begin visit https://www.google.com/calendar. If you have a Google account, sign in. If not, click the "Create an Account" button in the bottom right of the screen. Enter first name, last name, location and time zone. By default your calendar will open, displaying the current week view, and the name of the calendar will be [email protected]. (To change the calendar name refer to Changing Calendar Settings below.)
Creating and Managing Google Calendars
The bulk of learning how to use Google Calendar is in the creation and management processes. To create additional calendars, go to the My Calendars section in the left sidebar, click Create. Under Calendar Details enter a Calendar Name, Description, Location, Time Zone and edit other minor settings.
Adding Events and Tasks
There are a number of ways to add events to your calendar. Choose the most convenient option for you. Your options are as follows:`
Create Event. Better suited for events requiring more details, clicking here will allow you to add the event name, time, location, the calendar you would like to add the event to, and a description. Set guest settings and other options such as reminders and privacy settings.
Quick Add. As the name states, this feature allows you to add a feature using only the specifics (i.e. Guitar Rehearsal tomorrow at noon).
Tasks. This link opens the Tasks window in the right hand side panel. To add a task, click the + symbol (at the bottom of the Task window), click on the open field in the task bar and begin typing.
Changing Calendar Settings
As you learn how to use Google Calendar, you'll realize there are a variety of ways to go about editing calendar settings. For instructional purposes, we will take the easiest route. To begin go to the My Calendars section and click Settings. The tabs available are as follows:
General. This section allows you to make changes to the date and time format, location, time zone, viewing options, invitation settings, weather and other features.
Calendar. This section lists your calendars, task lists and calendars you are viewing. Click the corresponding link to edit notifications, subscriptions or delete a specific calendar.
Mobile. Enable mobile notifications by adding your country and phone number. A verification code will be sent via a text message to your mobile phone. Return to this screen and enter the verification code to complete the process.
Labs. Labs are features currently being tested by Google. There is no guarantee the feature will always be available. To give Google's latest apps a try select Enable, and Disable to turn off the lab app.
* Remember to save your changes using the Save button located at the bottom of the screen.
Viewing Your Google Calendar
There are tabs conveniently located across the top of the Google calendar. Your viewing options are Day, Week, Month, 4 Days and Agenda. Click the desired hour, date or event name to view more details or edit existing information. As you learn how to use Google Calendar you will realize which view is most convenient to work with.
Notifications and Sharing Google Calendars
To share a calendar return to the Calendar Settings dialogue box. Click Share this calendar. Click the Make this calendar public box if you would want your calendar to be indexed by Google search engines. To share with specific people, enter the email address and permission settings and the individual will receive an invitation to view your calendar.
To edit notifications, click Notifications (also in the Calendar Settings dialogue box). Set event reminders and how you would like to be notified. You options are via mobile phone, email, and pop-ups.
Additional Features
Print. To print your calendar, click the print icon located next to the Viewing tabs.
Search. To search for a particular calendar or event, type it into the search box at the top of the screen.
Sync. To sync to your mobile device, Outlook account or other device this link provides instruction for them all.
Tasks. Very easy to use; clicking the Tasks link will open your task list in a separate pan on the right side of the screen. You can create as many task lists as you like and edit them as you wish. Click the "x" to close the Task pane at anytime.
Embed. To insert the calendar onto your website or blog, in the My Calendars section, click the small arrow located next to the calendar being shared. Click Calendar Settings and in the Embed this Calendar section is a code. Copy and paste this code onto your website.
Learning how to use Google Calendar can be a fun and overall rewarding process. With its easy navigation, sharing capabilities and other features, it's no surprise Google Calendar is becoming one of the most used planning applications.
Images