Google Buzz is Google Wave minus the Steroids
For many, Google Buzz is almost like Google Wave, another controversial and ambitious product of Google which is aimed at making its presence felt in the real-time, social collaboration arena. But while Google Wave tends to lean on the complicated side, Google Buzz made everything, oh, so simple.
To explain it simply, Google Buzz is a new way of starting conversations about the things you find interesting. What makes it so simple to use is the fact that it is built right into Gmail. For some, this is a nice characteristic of Google Buzz, but for others, it's quite annoying.
Being built inside Gmail worked to Google Buzz's advantage. Google was clever enough to take advantage of Gmail's user base and make it instant user base for Google Buzz. As soon as it was announced, Gmail users became curious and started trying it out. It was very easy to start using Google Buzz then. You don't need an invite like Google Wave. And most of your friends and contacts can also use it right away, so Google didn't have a hard time getting people to use Google Buzz.
Google Buzz Features
Google wants you to go beyond status messages, like what Twitter allows you to do. Hence, Google Buzz lets you share updates, photos, videos, and more. It also lets you start conversations about the things you find interesting.
Among the many features of Google Buzz are sharing of ideas publicly or privately, integration with your Gmail Inbox, photo friendliness, and most importantly it connects with other sites you already use including Twitter, Picasa, Flickr, and Google Reader. Google Buzz also lets you see updates in real time- that is new posts and comments pop in as they happen. You don't need to hit that refresh button anymore. And lastly, Google Buzz recommends only the interesting posts and weeds out those you are most likely to skip reading.
How Google Buzz Works

Like we said, Google Buzz is built right into your Gmail Settings. As soon as it was rolled out, the Buzz link was placed on the right side navigation of your Gmail Inbox, alongside your Inbox, Sent, Spam, and other Gmail links.
Google Buzz already took care of setting up the initial friends that you'd follow- the people you email and chat with the most or your Gmail contacts.
To post a buzz, all you have to do is type your message on a familiar "status message" box. Below this box, you can insert a link or attach a photo to your buzz. And below that box you can also choose to post the buzz publicly on the web where everyone can read it or just post to your Google profile where only your followers can read it.
Once you've posted a buzz and people read and comment on it, you'll immediately see it posted on your Buzz account. You will also receive an email notification once some activity happen on the buzz you've created.
And the process continues as your followers do the same thing. It's like a circle of conversation- a chat room built within Gmail.
How to Opt Out of Google Buzz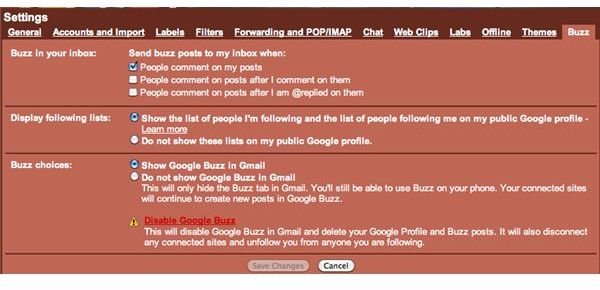 Since Google didn't give us a chance to decide whether we want to opt-in to Google Buzz, at least recently we were given the chance to opt-out. So if you don't like Google Buzz populating your Gmail Inbox there are several ways how you can opt-out of Google Buzz… or at the least control the noise level of Google Buzz.
To do this, go to the Buzz tabs on your Gmail account Settings. You'll find three options on how you want updates be sent to your Gmail Inbox accounts- people comment on your posts, people comment on posts after you comment on them, and people comment on posts after you've @replied to them.
If you want to completely shut down Google Buzz on your account, simply choose the link that says "disable Google Buzz." Clicking on this link will disable Google Buzz on your account, delete your Google profile, and disable all the sites that link to your Google Buzz and un-follow you from anyone you are following.
Other Google Buzz Issues, Concerns
At this stage, Google Buzz continues to receive some criticisms from those who don't like the service. Majority of these critics are concerned about privacy, while others are simply annoyed by the noise created by Google Buzz in their Gmail account.
The good news is that the Google Buzz folks are up on their feet making changes to Google Buzz to make it more likable, useful, and safe.