Gmail POP Settings: How to Set Up Gmail for POP3 Mail Access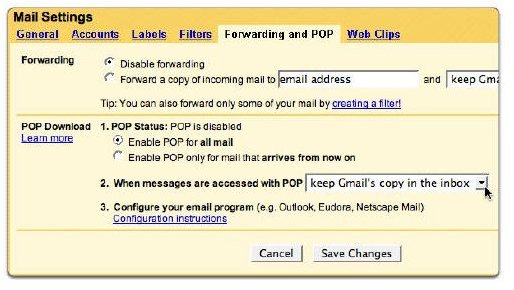 Gmail: Email from Google
Email is the biggest communication boon that has changed the way people communicate after perhaps training messenger pigeons! From the days of the AOL dialup connections to the super-fast broadband of today, most users have become dependent on email for their daily activities. Google came up with Gmail and successfully pulled in numerous users towards their mail service. For some time now Google has been constantly improving the Gmail experience. As a Gmail user myself, I did not find the inclusion of their POP3 & IMAP protocols as a significant improvement because I had completely fallen in love with the web interface that Gmail provided. In today's world of netbooks and mobile internet devices, perhaps it's not necessary to access the web interface, but rather make use of device interfaces like the iPhone and other mail clients to access your email. So let's see how to configure your Gmail to allow downloading and sending of messages from mail clients using the POP3 protocol.
Configuring POP3 with Gmail
Gmail offers support to the following email clients
Apple Mail
Outlook Express
Outlook 2002,2003,2007
Thunderbird 2.0
Windows Mail
The setup process for each client varies slightly, but there are a couple of basic settings that are in common for all. By default the POP & IMAP download feature is disabled and has to be enabled before configuring your email clients.
Login to your Gmail account
Go to the Mail Settings tab by clicking the Settings link on the top right of the screen.
Now click on the Forwarding and POP/IMAP section
Here you need to select either "Enable POP for all Mail" or "Enable POP only for mail that arrives from now on." If you do choose the second option, you might be in for a long wait as your email client will download almost all mail to the present moment from your Gmail Inbox! I suggest using this with caution.
Next you need to select whether to leave Gmail's copy of the mail on the server after download or delete or archive the copy.
You are now finished with configuring your Gmail email account for POP access. Further configuration should be done on your email client and should follow the following general settings.
Incoming Mail Server: Settings
Incoming mail Server (POP3): pop.gmail.com
User Name: (your Gmail address, including '@gmail.com')
Password: (your Gmail password)
Outgoing Mail Server: Settings
Outgoing Mail Server Name: smtp.gmail.com
Server port: 25 or 587
Use Secure Sockets Layer (SSL):
Authentication: Password
Using the above settings in conjunction with the fabulous help section provided by Gmail should make it a breeze for anybody to easily configure their Gmail POP capabilities and Gmail server settings.