Google vs. Yahoo Calendar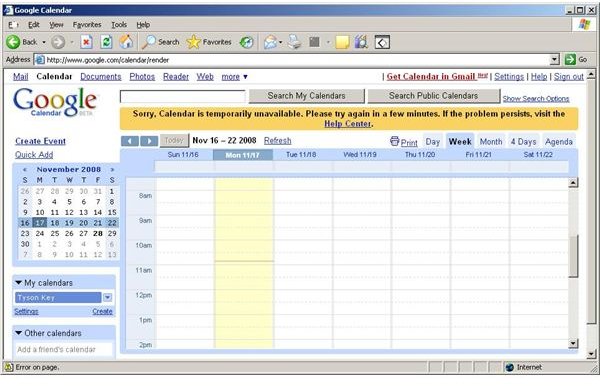 There are many benefits of online calendars. A user can check appointments and events from any location with Internet access, schedule reminders for these events, and invite others to join in these events via the Internet. Obviously, this allows access to the calendar from more locations, such as the office, school, or library. Which online calendar is best? Here are some features offered by Yahoo! and Google.
Benefits of Yahoo Calendar
Like most online calendars, Yahoo! offers the ability to set up reminders for scheduled events. What is unique about Yahoo! calendar is that these reminders can be sent to messenger, an email address, or a cell phone via text message. Google calendar lacks the option for sending event reminders by text message or messenger. Google calendar does allow event reminders to be sent by email or pop-up.
Yahoo! calender is also unique in that it allows users to track tasks. Yahoo! calendar users can prioritize these tasks and mark them as complete. Yahoo! calender also allows more options for customizing the overall look and feel of the calendar themes and colors. Synchronizing the Yahoo! calendar with an offline calendar, such as Outlook Express, is easier than synchronizing Google's calendar. Yahoo! offers a better interface for this synchronization. Finally, Yahoo! calendar allows a user to access contacts from Yahoo! mail and invite them to an event.
Benefits of Google Calendar
Google recently released it's calendar in Beta version. The Google calendar allows more functionality when it comes to inviting guests to an event. When setting up the event, the owner of the calendar has the option to allow invited guests to invite more people or see the entire guest list. This is not an option in Yahoo!
Google calender is a little quicker to navigate, requiring fewer clicks to enter a new event. Google's calendar also offers keyboard shortcuts, for savvy users to save time doing repetitive tasks, such as entering a new event. Yahoo! calendar does not offer these keyboard shortcuts. Similar to the option in Yahoo! calendar to access Yahoo email contacts, Google calendar auto-populates feilds with names from Gmail. However, Google calendar doesn't actually allow you to directly view a list of Gmail contacts.
Google vs. Yahoo Calendar
An online calendar user that plans to utilize the invitation functionality, would obviously benefit most from sticking with the same service used for email. For example, someone using Yahoo! mail and hoping to begin using an online calendar would find it easy to share their calendar with their contacts already set up in their Yahoo! mail account. Likewise, a Gmail user will find it easier to invite others to calendar events because name feilds autopopulate with people from their Gmail account. In short, it is a good idea to stick with the same service being used for email if a user plans to share their calendar with others.