How to Recover Your Gmail Password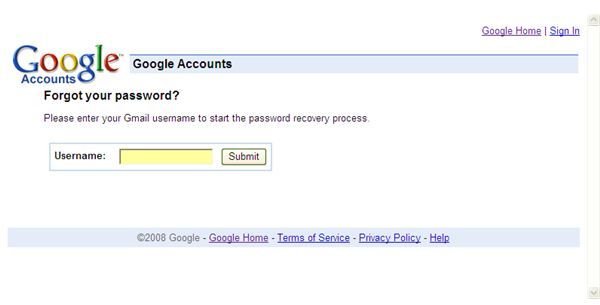 Recovering Your Gmail Password
If you forget your password to sign into Gmail, it can be recovered. It will be easier to recover your password if you have an active secondary email address, but it is not required.
The following steps need to be taken to recover your Gmail password;
Click the I forgot my password link on the sign in page.

Enter your user name. Make sure to include any dots (.) used during the setup process of your Gmail account. Your user name consists of all information before @gmail.com.

Select Submit.
If your user name is accepted, you will now need to enter the letters seen in captcha (the box with the distorted letters) and click Submit.
Once you have entered your user name and successfully entered the captcha letters seen, a password reset message will be sent to your secondary email address. The process may take a few minutes. Once you have received the password reset message, follow the instructions given to reset your password.
If you do not have an active secondary email address, you will now have to cease ALL login attempts (including via POP, IMAP or mobile) for the next 24 hours.
When the 24 hour period has passed, you will have the opportunity to answer the secret question that you chose when you set up your Gmail account.
To answer your secret question
Click the I forgot my password link on the Gmail sign in page; this will take you to the password recovery page.
Enter your user name (with all dots (.) that should be included, if any).

Select Submit.

Type in the letters in the captcha.

Click Submit.

Answer your secret question.
If you successfully answered your secret question, you will be redirected to the Gmail password reset page. Once you follow the steps provided you will be able to use your Gmail account again.
*Note* If you are unable to access an active secondary email account or answer your secret question successfully, you will be unable to reset your password or access your Gmail account.
Images