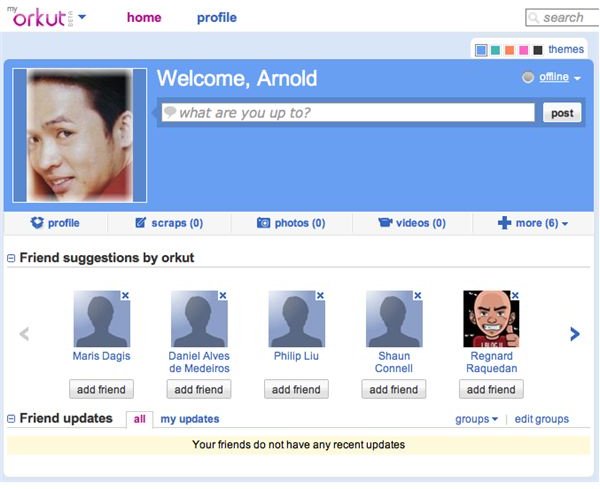 Orkut History
In bullet points, here are the things you should know about Orkut:
Orkut was named after its creator - Orkut Büyükkökten.
As of December 2009, 51.09% of Orkut members are from Brazil, 20.02% from India and only 17.28% are from the U.S.
Orkut is managed by Google Brazil
Orkut ranks 60th in Alexa Traffic count
Current Orkut members - 100 million
Orkut Social Networking Features
Orkut works and runs just like any other social networking site. You create a profile, build a network of friends, and then interact with the community by posting updates about yourself, uploading photos and videos, and practically everything else that you normally do in a social networking site. Nothing special here, really.
One notable feature of Orkut is a facility for integrating Gmail's Instant Messaging service- GTalk. That means you can chat directly with your Gmail contacts right inside your Orkut profile page. You can also create community polls from time to time to ignite activities in your Orkut update stream.
Another feature of Orkut which I find cool is the facility for rating your friends. You can indicate whether a particular friend is "Trustworthy", "Cool", or "Sexy" on a scale of 1 to 3. This is aggregated in terms of percentage.
One feature which you may not like is that Orkut allows everyone to see your profile even if they are not in your list of Orkut friends. If you're a Facebook user, you might not like this feature. But if there is a particular person that you don't want to allow viewing of your profile, you can simply put them in your "ignore list."
Other features of the Orkut social networking site include profile customization, profile restriction, a "Crush List", and listing of friends by the order of their login time on the site.
MySpace and Facebook? Actually, Ning is a more direct competitor, as they allow creation of social networks which are similar to Orkut's communities.
Problems, Issues, and Challenges of Orkut
Like many other social networking site that runs on a free environment, Orkut also faces several problems including spammers, flooders, users who create false or misleading profiles, users with malicious intent, and more. But the Orkut team are quick to address each of these problems. While some may have successfully rectified these problems and issues, some may still be prevalent. Some of the measures implemented by Orkut are automated systems for preventing spam, restrictive policies on the Orkut community forums, stricter anti-worms and anti-virus systems, and many other programs and systems.
When it comes to challenges, I would be inclined to think that Orkut's major challenge is its inability to achieve exponential growth to at least reach the popularity levels of major social networking sites. You would expect that a web service owned and managed by Google would be able to achieve such status. Unfortunately, Orkut does not achieve this.
Perhaps, Google might want to take a closer look into Orkut, evaluate, examine and come up with a viable marketing strategy to spike user interest in Orkut. Orkut needs Google's support badly.