Review of Google Picasa - Features and Functionality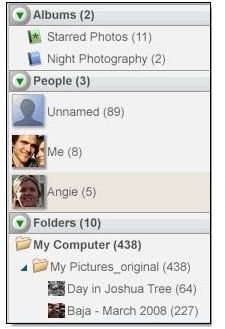 Google Picasa Software Review
First things first, Google Picasa lets you organize, edit, and upload your photos from your computer in quick and easy ways. According to Google, there are two things that you should remember about Picasa software- it does not store the photos on your computer and it preserves your original photos when using the Picasa Software editing tools. After editing your photos, Picasa creates a new version of the photo with your edits.
Google Picasa Review - Photo Organization
Picasa lets you organize your photos into folders, albums and people. Folders represent the folders in your computer where your photos reside originally. Anything you do in your Picasa Folders is synchronized with Picasa online. So when you delete a photo from your Picasa folder, that photo is also deleted in your computer. Albums on the other hand exist only in Picasa. You use them for creating virtual groups of photos taken from multiple folders on your computer. Think of an album as a playlist for your photos. "People" collections let you organize your photos by people through facial recognition technology. This is by far one of Picasa software's greatest features.
Google Picasa Review - Photo Editing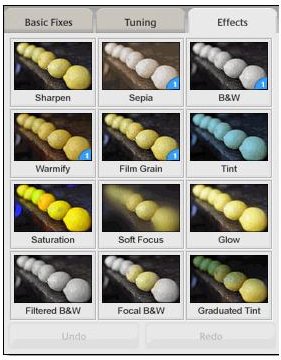 Picasa lets you edit your photos through various ways. It's similar to popular photo editing tools such as Adobe Photoshop although with less powerful features. Basically Picasa lets you do three types of modifications to your photos- Basic Fixes, Tuning, and Effects.
Basic fixes lets you crop, straighten, remove red eye, retouch blemishes, or add text to your photos. You can even use its auto-fix features through the "I'm Feeling Lucky" all-in-one lighting and contrast fix.
Picasa Effects lets you apply various effects to your photos to make it more interesting. You can use from twelve different effects including sharpen, sepia, black and white, warmify, tint, saturate, film grain, soft focus, focal B&W, filtered B&W, glow, and graduated tint.
Picasa photo tuning lets you adjust the color and lighting aspects of your photo to make it more visually enticing.
You can use all these photo editing tools without the fear of losing your original photos as Picasa saves them and produces a replica that you can work on.
Google Picasa Photo Sharing
Picasa lets you share your photos directly to your friends via email or by uploading it to Picasa Web albums. Sending your photos via email can be done by bulk or one by one. If you're sending too many photos, you may want to consider creating a Picasa Web Albums account and upload your photos there then share a link to your friends and family.
Google Picasa Advanced Features
Aside from those basic features, Picasa Software can still do many things. Among its advanced features include - adding captions, printing photos, adding tags, mapping photos, syncing to the web, uploading to Blogger.com, backing up your photos on a CD/DVD, making collages, and more.