Best Google Chrome Twitter Extensions - Clients, URL Shorteners, and Search Tools for the Google Chrome Toolbar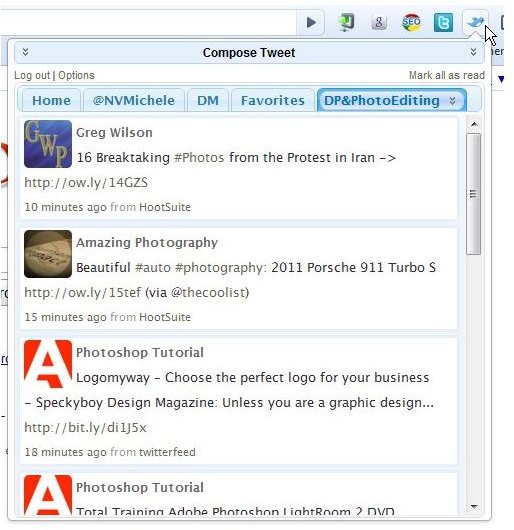 Variety of Twitter Extensions for Google Chrome
Now that Google Chrome supports extensions, we are starting to see more and more utilities that add a lot to the web browser's functionality. It's not surprising that many of these extensions are Twitter-related. After all, Twitter users are always looking for faster and easier ways to manage their accounts, as well as for tools and clients that provide seamless integration between Twitter and other applications.
Before you rush out and start adding all possible extensions to Chrome, it's a good idea to evaluate each one. Not only can certain extensions impact browser performance, but the icons for these add-ons take up valuable toolbar space. Of course, if you do try out a particular extension and find that you don't like it, you can always disable or uninstall it from Chrome's Extension page.
Chromed Bird
One of the most popular Twitter extensions for Google Chrome is Chromed Bird. The add-on sports a tabbed interface that lets you navigate between your Twitter home page, direct messages, Twitter lists, your favorites, and replies/mentions. The extension also includes a handy URL shortener that you can use when linking to web pages in your tweets.
The toolbar icon for Chromed Bird keeps track of new tweets that have recently arrived, so you can quickly see how much activity has taken place on your account. In addition, the developers of Chromed Bird continue to release new features and fix reported problems with the extension. Chromed Bird also has a number of customizable options that can be modified from the Extension page in Google Chrome. With all of these features, it's not surprising that Chromed Bird has quickly become one of the best Google Chrome Twitter extensions.
TwitterWatch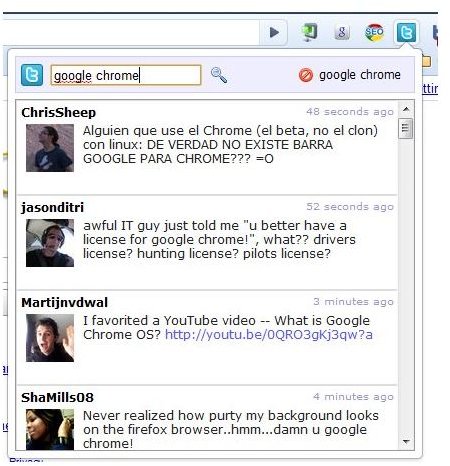 One of the best Google Chrome Twitter extensions for search is Twitter Watch. With this extension, you can enter any keyword or phrase and monitor the latest tweets on that topic. Although it's not a full client like Chromed Bird, it is a very nice supplement that requires very few system resources. In fact, Chromed Bird and TwitterWatch work quite nicely together as the first tool lets you read, write, and manage tweets while the second adds that much-needed search capability.
Once you enter a search term, you can close the extension window and TwitterWatch will continue to collect tweets on that same topic. The TwitterWatch icon on Chrome's toolbar will report the number of new tweets on the topic, so you don't have to keep entering the same search information over and over.
Metrist - Twitter Client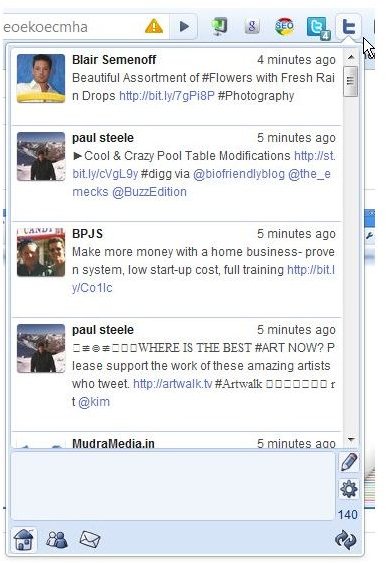 Another Twitter client extension for Google Chrome that is starting to gain quite a following is Metrist. Three icons at the bottom of the extension window let you navigate between your Twitter home page, direct messages, and replies/mentions.
Although you can modify how often Metrist requests tweets from Twitter through the extension's customizable options on Chrome's Extension page, you can request an immediate update at any time by clicking on the Request icon in the extension's window. If you hover the cursor over this icon, you can also see how many minutes have passed since the last tweet update has been requested.
goo.gl Shortener + Share on Twitter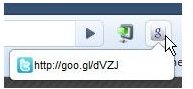 To make it easier to add shortened URLS to tweets, the goo.gl Shortener + Share on Twitter extension for Google Chrome converts the URL of the current web page you are viewing to the shortened goo.gl form. It also includes a button that you can push to immediately tweet that specific URL. The tweet will not actually post until you click the update button, so you can preview and edit the tweet before actually adding it to your Twitter stream.
Although this add-on is one of the simplest extensions on this list, it is fast becoming one of my favorites. In fact, I've abandoned my long-time favorite tinyURL shortener in favor of goo.gl just because of this extension.
TwitterBar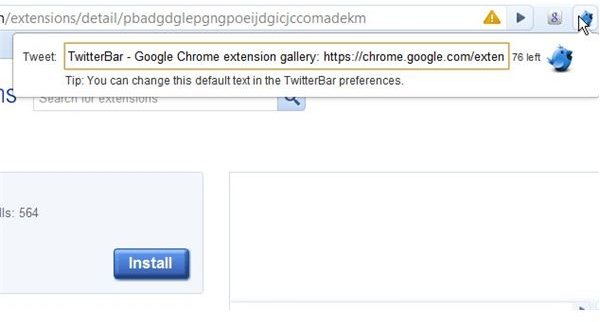 If you're really just looking for a quick and easy way to tweet from the Chrome toolbar, TwitterBar is a great extension. The add-on has customizable options that let you create a default setting for your tweets. For example, you can set up the extension so that it automatically prefills the page title and URL in the tweet textbox when you click on the TwitterBar icon. You can even specify which URL shortener you'd like to use, although the current choices are limited to is.gd, tinyURL, and the Twitter default service.