Plugins for Sketchup - Rendering Software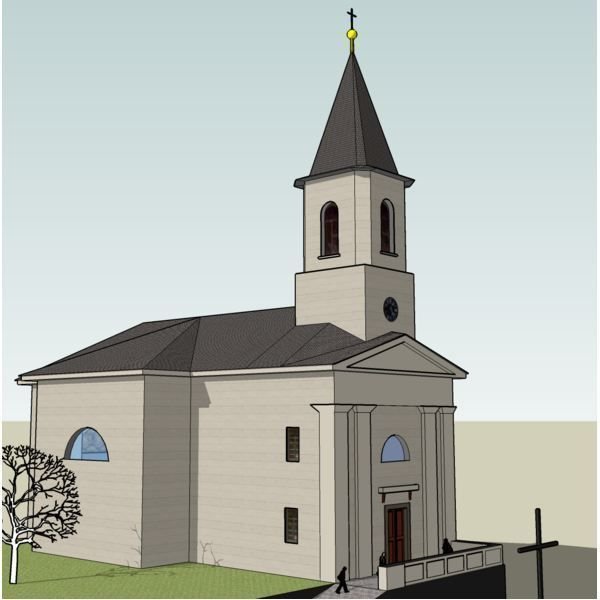 SketchUp can be introduced as a 3D modeling program designed for technical persons like civil engineers, architects, game developers, film producers, and related professions. Google has offered a free version of SketchUp with limited functionalities since 2006. You have to use rendering software with SketchUp for rendering purposes. Kerkythea, TrueSpace, Blender, Vue, and Podium are among the most popular rendering applications for SketchUp.
Kerkythea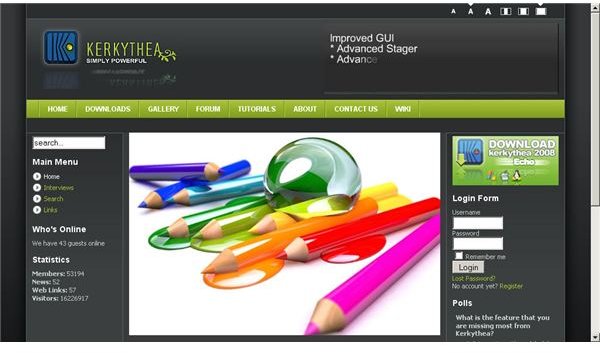 Kerkythea is a freeware application with almost all the features needed for realistic rendering. It has a SketchUp plug-in so you can enjoy the benefit of both modeling and rendering systems for free. This is very beneficial if you seek low cost software (because many related commercial programs are very costly). It is a powerful and high quality program for rendering purposes. Also it is very easy to get help for Kerkythea from their website. You can download Kerkythea for free at www.kerkythea.net/joomla.
TrueSpace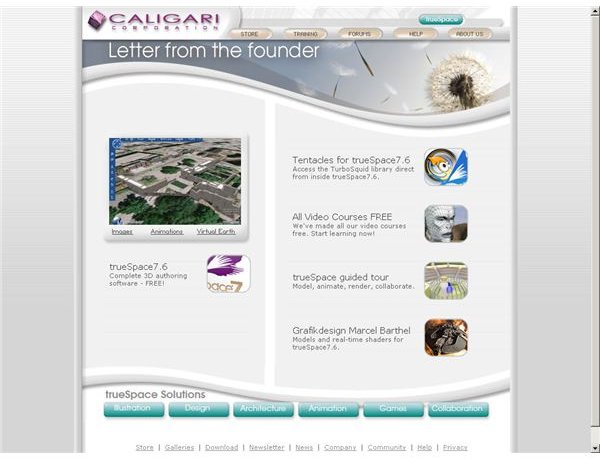 TrueSpace is rendering software for SketchUp that supports Windows operating systems. TrueSpace is a great solution for 3D modeling, light, animation, and rendering. TrueSpace 7 introduces the use of VBScript and JavaScript as scripting tools for the purpose of developing interactive scenes and plugins. TrueSpace can create animations and visualizations with realistic lighting and organic modeling. You may visit their official website at www.caligari.com
Currently TrueSpace supports two internal rendering engines that are LightWorks (from LightWork Design Ltd) and VirtuaLight. It supports the VRay rendering engine too.
Blender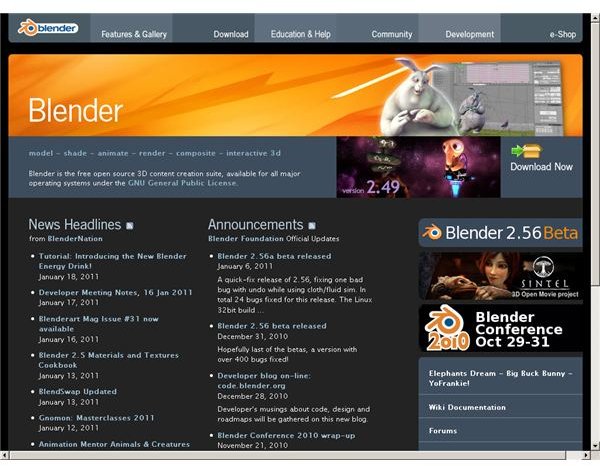 Simply, Blender is an all-in-one 3D modeling and animation suite that can be used as rendering software for SketchUp. You can produce computer generated images and movies using this open source freeware. It supports most of the operating systems including Windows, Mac OS, Linux, and Solaris. This is very easy to learn, so it is good software for new users too. If you got an eye for beauty and patience, you could create spectacular creations with Blender. You can download Blender at https://www.blender.org/ for free. The file size of Blender is very small compared to most other rendering software.
Vue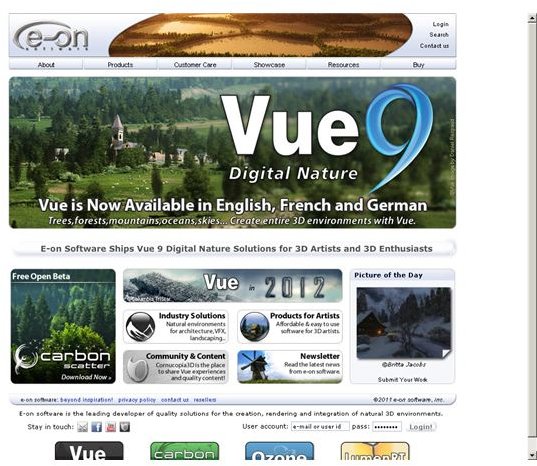 When talking about SketchUp rendering programs, Vue is very powerful software that is being used by television networks and motion picture studios. Pirates of the Caribbean: Dead Man's Chest is a major motion picture that used Vue's sky creation engine and natural landscapes. Even if you are unfamiliar with 3D programs, Vue's basic features are very easy to access and become familiar with. Since this is professional software, the cost is around US$ 700 for the Vue 6 Infinite version. You can get more details from their e-onsoftware.com website.
Podium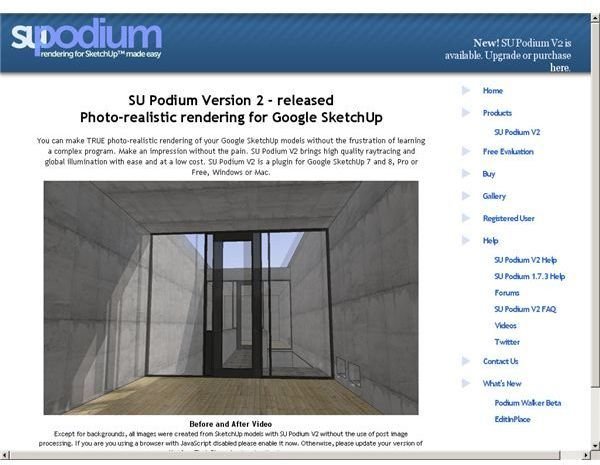 SU Podium is rendering software for SketchUp that offers one-click integration with the SketchUp environment. Podium supports Windows and Mac OS X. The cost is around US$ 180 for SU Podium 1.5, so it is affordable when comparing with other rendering engines such as Vue. Podium works entirely inside SketchUp and uses the surfaces, views, shadows, and background colors of SketchUp. The interface of Podium is fairly simple and it basically has two sliders for light and reflection. You can also set anti-aliasing and speed versus quality of the render. Official website of Podium is suplugins.com
A number of rendering software applications are available for SketchUp. If you need a high quality output you have to consider a costly option like Vue or Podium. Otherwise you can use a free SketchUp rendering utility like Kerkythea or TrueSpace for your own use.
V-Ray for SketchUp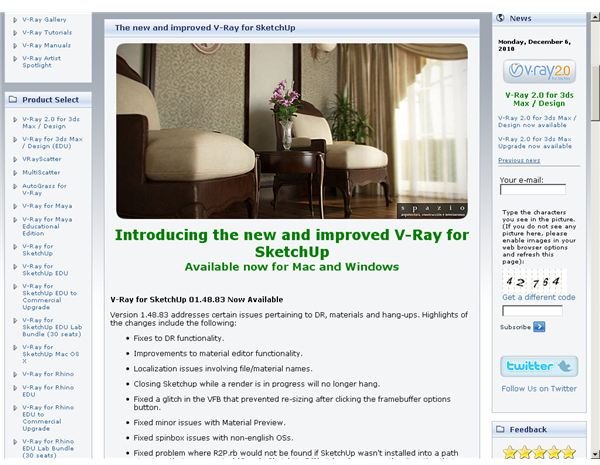 V-Ray is one of the best known plugins for SketchUp. Also this is a must have software if you are looking for Google SketchUp downloads. Many people consider that V-Ray is one of the best 3D modeling tool in the world. Also SketchUp is the best rendering engine. That's why V-Ray for SketchUp can be the best solution for your rendering requirements. With the introduction of the latest version, many new features have been added to enhance its powerful capabilities. Ambient occlusion, material layer arrangement, faster parsing times, ward reflection shader type, IES lights and spotlights, and support for SketchUp transparency and Alpha transparency are among the new features.
You can download V-Ray for SketchUp for free as a 30 day demo version. Both Mac and Windows versions of this software are available. Also there's a version for students and training centers with an educational discount. There is a free vismat material collection at their website and it's useful to enhance your designs.
Artlantis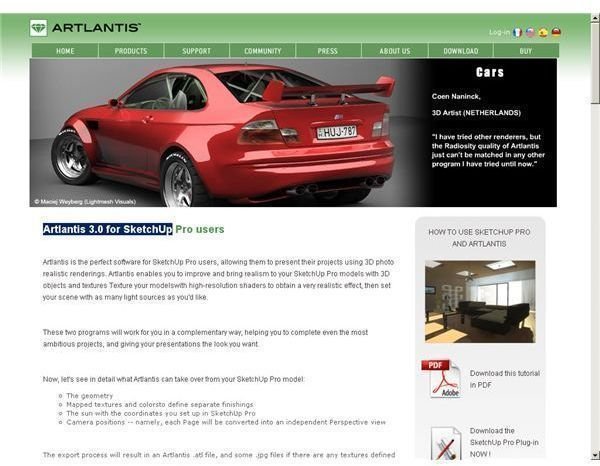 If your need is 3D photo realistic renderings, Artlantis is a software that you can't forget. Due to its fairly low learning curve, this is great software for beginners. Renderings of Artlantis are really stunning and have an intuitive user interface. Although you can create excellent animations, price is the biggest drawback with this rendering software. Artlantis Studio v3 is available at Objectsonline.com for a price tag of $1,385.00.
Latest version is Artlantis 3.0 and it is one of the best tools for Google SketchUp users. You have the ability to improve SketchUp Pro models using 3D objects and textures with Artlantis. Its high resolution shaders enable you to create extremely realistic effects. A demo version is available at Artlantis website. Make sure to add Artlantis to your free Google SketchUp downloads collection and feel the difference.
Indigo for SketchUp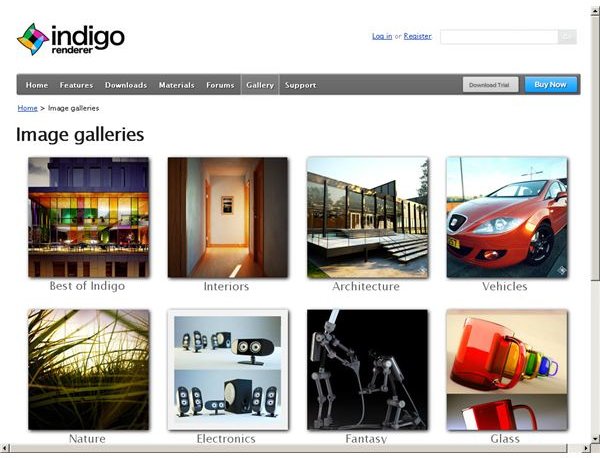 Indigo is software that has extremely good integration with Google SketchUp. You can download it from IndigoRenderer.com website. Indigo Renderer is capable of producing the highest levels of realism that is needed by architects and other professionals. It's capable of simulating very complex lighting situations. In Indigo, light acts the same way that it do in the real world. That makes its visualizations are near perfect. This is a result of using purely physically based parameters for the materials and light movements.
The latest version, Google SketchUp Pro 8 is now available to download free with 8 hours of unlimited use. To get the maximum of free Google SketchUp downloads and unveil your creativity, you need to have great rendering software like V-Ray, Artlantis, or Indigo.
Image Credit: Indigo Image Gallery
This post is part of the series: Google SketchUp Rendering Software
There are number of Google SketchUp rendering software available and it's difficult to find a better fit. If you need to find best options have a look at these articles.