How to Open a Gmail Account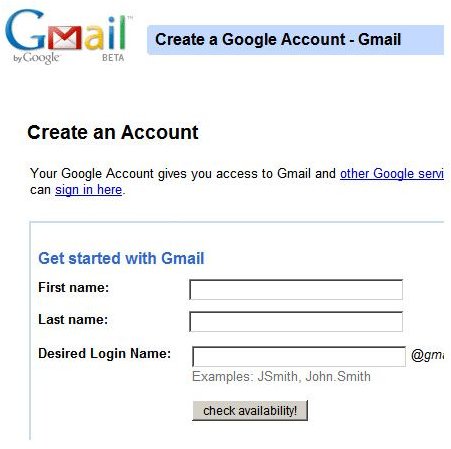 Google's Gmail Service
Gmail is Google's free email service. The service began as a Google Labs project that opened for use in 2004 by invitation only. Since 2007 Gmail has been open to the public and invitations by other Gmail users are no longer required to get set up with their service.
Setting up a Gmail account is fast, easy, and free. One of the best features of using Gmail is that you automatically have room for over 7GB of storage. Having this much space allows you to keep your email when other free email service begin to charge for extra space once your account has a certain amount of activity. Gmail also comes with a wide range of features that are not available with other services such as Google Calendar, Google Docs and Gtalk which is their chat client that also allows for video, audio, and texting options.
Sign Up for a Google Account
The first step to getting started with Gmail is to sign up for a Google Account. Go to the main accounts page and enter your information here: Create a Google Account
On this page you will need to type in your current email address and password information. This information will help Gmail import your other email address contacts for you. Underneath this information you will have the option of letting Google create a web history which will help Google cater your searches towards what you normally look for. This is not required and you can deny the creation of a web history by un-selecting the check box.
The next step on the same page will be to enter your country and then read through the Google Terms of Service. The terms of service outlines what Google agrees to do with your information, what your privacy rights are, and what rules you agree to follow when using their services. After you have read through the terms, click on the button stating I accept. Create my account.
Choose a Log-In Name and Password
Choosing a log-in name and password for the new account can be a little daunting. When you consider that there are thousands of users and just as many, if not more user names being used, there are really only two options available. The first option is to go with your name. Variations can be made such as first name followed by a number or first and last names can also be used. If the desired named that you type in is already in use on another Gmail account that is not connected to you, then Gmail will offer a short list of suggestions to use as your log-in name. Keep in mind that your log-in name will also be the beginning of the email address. For example if your log in is Sarah Doe, then your Gmail address would be [email protected].
After you have chosen your log-in name, Gmail will then prompt you to choose a password. As you go through typing the right password for your account Gmail will also judge its security strength and a colored bar will be highlighted next to the password you type in to let you know how safe it will be once put to use. This will be followed by a series of security questions that you can choose from to help Gmail recognize that it's you should you wish to change your password or if you forget your password in the future.
Once these steps have been completed, you will then have a new Gmail account established. The next step is get started exploring all the features that Gmail has to offer and get active in using your new email service.
For more information on Gmail, visit Google's main Gmail page with news, updates and the latest features being added on through Google Labs.
.