Sync Outlook Contacts with Gmail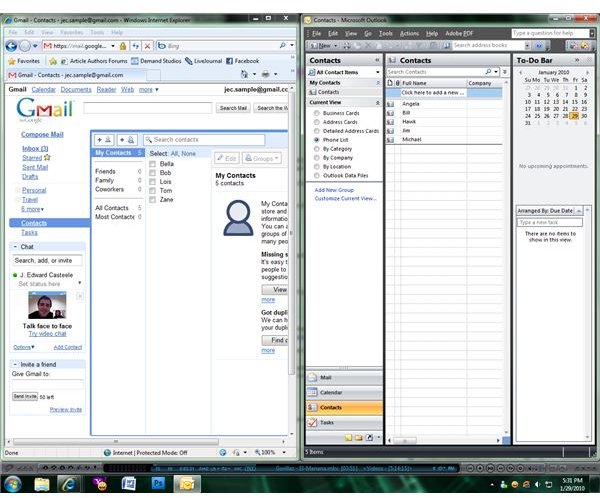 Out-of-Sync Contact Lists
Using more than one email service can lead to contact lists becoming out of sync, meaning that contacts appear on the contact list of one client or service that do not appear on the other. Some services allow for contacts to be automatically synchronized as a basic function of the service, preventing you from having to manually enter the contact information of each missing contact into each email service. Unfortunately, automatic synchronization is not directly possible if you are using Gmail and Outlook. This does not mean that you can't sync Outlook contacts with Gmail, of course; there just isn't a built-in syncing solution.
Manual Sync
The most basic method used to sync Outlook contacts with Gmail is to perform a manual sync using "comma separated values" (CSV) files. To manually sync contacts, you will need to generate a CSV file in either Outlook or Gmail and then import it into the other. Once imported, a new CSV file will need to be created and imported into the first mail client.
To create a CSV file in Outlook, open the "File" menu and then select "Import and Export…"; choose "Export to a File", and then "Comma Separated Values (Windows)" to select your file type. Choose to export the "Contacts" folder, and then choose a name for the CSV file that will be created. Gmail uses a similar procedure, though the import and export functions are linked to from the "Contacts" tab itself. Select "Export", then choose "Everyone (All Contacts)" and set the file type to "Outlook CSV Format" before hitting the "Export" button.
To import contacts, simply use the "Import and Export…" menu item in Outlook or the "Import" link in Google to begin the import process. Select "Import from Another Program or File" in Outlook and choose "Comma Separated Values (Windows)" to reach the CSV selection panel, or select "Import" in Gmail and choose the CSV file to be imported when prompted.
Google Apps Sync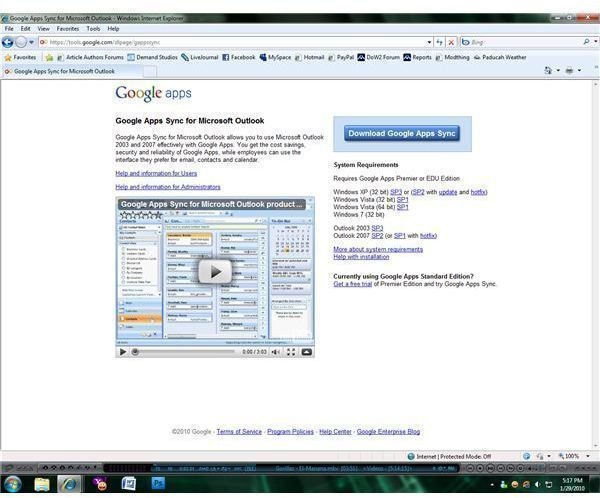 Google has released an Outlook plugin called Google Apps Sync, allowing users to sync Outlook contacts with Gmail as well as keeping appointments and other Outlook functions up-to-date with Google Apps. Unfortunately, Google Apps Sync is only available for individuals who are using the Premier Edition or Education Edition of Google Apps. Standard Edition users are encouraged by Google to upgrade to the Premier Edition if they wish to make use of Google Apps Sync, but with a cost of $50 per user each year this isn't feasible for casual email users who merely wish to sync their personal contacts.
Other Sync Solutions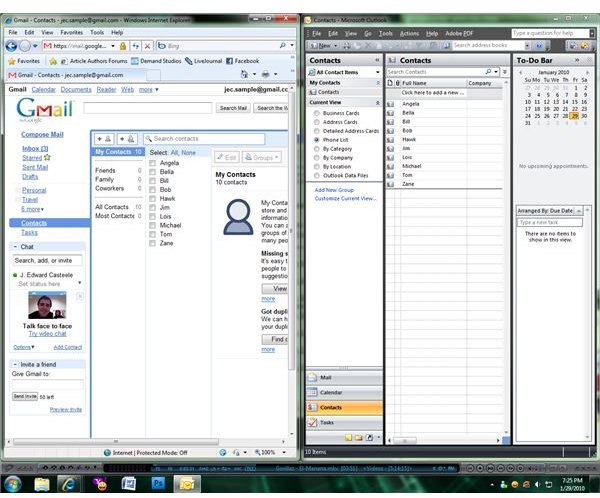 Due to the lack of a simple automatic solution for syncing Outlook and Gmail contacts, a number of third-party software products have been developed to allow users to synchronize their contacts effortlessly. Many of these third-party solutions are shareware, meaning that they need to be purchased in order to enjoy their full functionality; a few free options do exist, however. The most popular plugins and programs used to sync Outlook contacts with Gmail include CompanionLink (14-day free trial), KiGoo (30-day free trial), and Soocial (free with signup.) Many of these applications can be used to sync both Outlook and Gmail with other services and devices as well.