What Is Google SketchUp 3D Warehouse?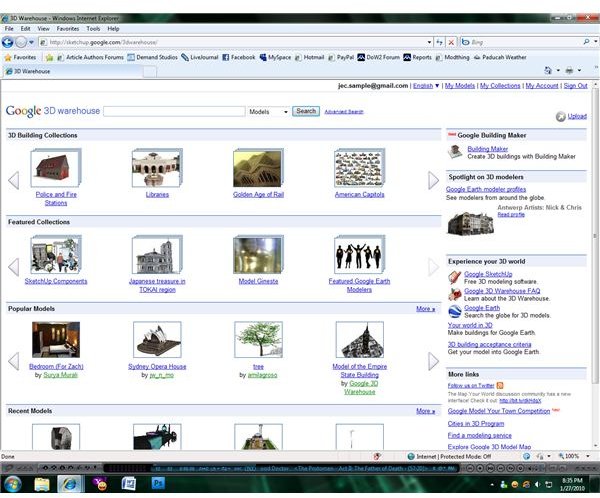 Google 3D Warehouse
Google 3D Warehouse is a website dedicated to the display and storage of models that were created using Google SketchUp 3D design software. The website features an easy-to-navigate interface that lets users view new and popular models that have been uploaded by the user community so that others might integrate their work into scenes of their own. Users can get to know other SketchUp modellers, learn about modeling competitions, and find models either separately or as part of a larger collection with ease. The best features of the Google Warehouse aren't located on the website, however; Google has integrated their 3D Warehouse into SketchUp itself, making the process of uploading or downloading content as easy as possible for those who wish to share their own designs.
Uploading Models to 3D Warehouse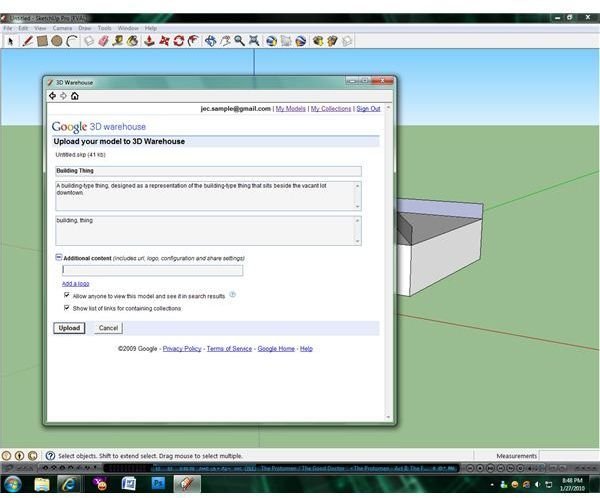 Make sure that you have the model that you want to upload opened in Google SketchUp. Open the "File" menu and select "3D Warehouse" from the menu options in order to access the controls for uploading content. A submenu will open, giving you the option to "get" or "share" models. Choose the "Share Model…" option, after which you will be asked to sign in to your Google account. Once you are signed in, fill out the requested information on the upload page. You will be asked to provide a name for the model, a brief description, and keywords that could be used to describe your model other users will be better able to find it when they search. Click the "Additional Content" listing to expand it and add your website or logo and any restrictions that you might have for the availability of your model. Once this is done you simply need to click the "Upload" button so that your model can be uploaded and reviewed to make sure that it doesn't violate Google SketchUp Warehouse regulations.
Downloading Content from 3D Warehouse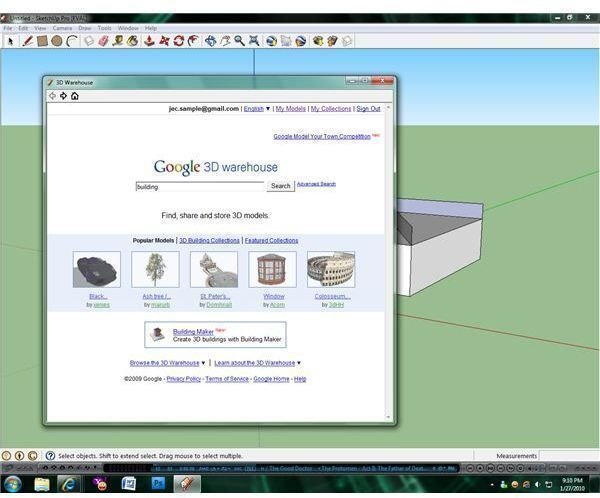 Downloading from the 3D Warehouse site is even easier than uploading content. Open the "File" menu and select the "3D Warehouse" option just like you would if you were uploading, but choose the "Get Models…" option this time. A dedicated browser window will open within SketchUp, displaying a search field and select Google 3D Warehouse models and collections. Enter a search term to describe the type of model that you're looking for and click the "Search" button; the search results will show you every model with the keyword that you searched for. Click the "Download Model" link beside the model or models that you wish to download, answering "Yes" when prompted if you want to download the model directly into your SketchUp scene or "No" if you would like to save the model on your computer. The download will begin automatically, either saving the model to the location that you specify or loading it into SketchUp for you to place wherever you wish in your scene.
Image Credits: Screenshots by J. Edward Casteele