How to Use Google Maps Aerial View

Among a variety of different views, Google Map's aerial satellite view is the most popular. Using satellite view, you can zoom in and out and see the earth from a completely new perspective. Free to use and packed with features, learn how you can use Google Map's satellite view for entertainment and work.
Starting Up Google Maps Satellite View
To begin using satellite view on Google Maps, go to the Google Maps website. There is no need to log in, create an account, or pay any money to use Google Maps. When you go to Google Maps, the current map view is in the default Map Mode which functions like an interactive atlas.
Look at the upper right hand side of the map and you will see three buttons: Map, Satellite, and Terrain. Simply click on the Satellite button to enter satellite or aerial view. When you click on the satellite button, you will notice that you have the option to leave Show Labels on or uncheck the box to turn labels off. Which you choose depends on how you intend to use satellite view. For now, leave labels turned on.
Satellite View Features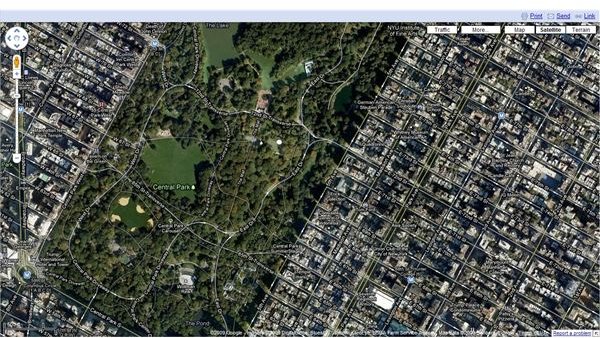 Using your mouse, you can use the scroll wheel to zoom in and out on Google Maps. This feature makes it easy to navigate and find what you are looking for. For example, by clicking in the general vicinity of New York City, you can zoom in using your wheel mouse for a bird's eye view of Central Park.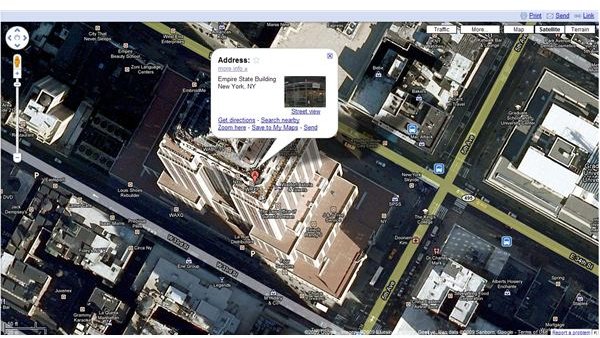 If you are looking for a specific location, use the search box at the top left of the screen to search for the location. For example, type in "Empire State Building" and Google Maps will instantly show you a satellite view of the famous New York City landmark. Notice the red arrow pointing to the building. If you click on it, you will discover some of the more advanced of Google Maps.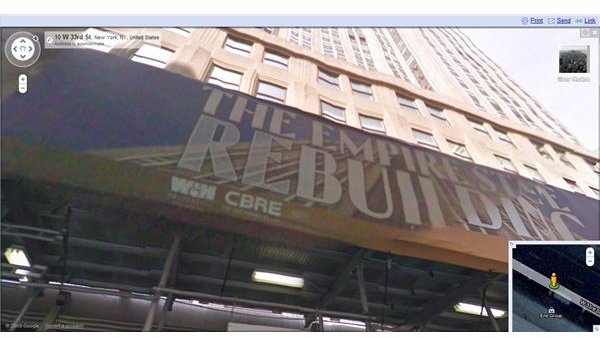 When you click on the red arrow, Google Maps opens an information bubble that provides some key information about the location you are looking at. For example, you can immediately see the address of the location and you can click on the More Information link to learn more about what you have located. In addition, you can get directions to this location, search for nearby locations, zoom in further, or save the location to My Maps. You can also e-mail a direct link to this location on Google Maps to yourself or someone else.
Another interesting feature is the ability to see a street view of the location. Click on the Street View link in the information bubble and you enter an interactive view of the street. In this mode, you can zoom in and out of street features and look all around as if you were there. Not all locations support this view but many metropolitan areas are likely to offer a street view.
Tips on Using Satellite View
1. Map out a jogging route. If you are a jogger or runner, why not map out a new route to break with your old routine?
2. Help with Landscaping. Print out an overhead shot of your home and plan your landscaping project.
3. Use it to Help Sell Your House. If you are in the process of selling your house, use an overhead satellite image from Google Maps to show prospective buyers where important locations are in your neighborhood. Point our shopping, grocery stores, parks, schools, and whatever else you think is important to potential buyers.
4. Buying a House? Use Google Maps satellite view to find those same locations.
5. Entertainment. See how long it takes you to find the neighborhood where you grew up. You'd be surprised how different things look from a bird's eye view.
This post is part of the series: Satellite View, Driving Directions, and Sightseeing with Google Maps
The first article in this series discusses how to use the aerial satellite view in Google Maps. The second article explores how to use Google Maps to get driving directions. The third article discusses sightseeing with Google Maps.